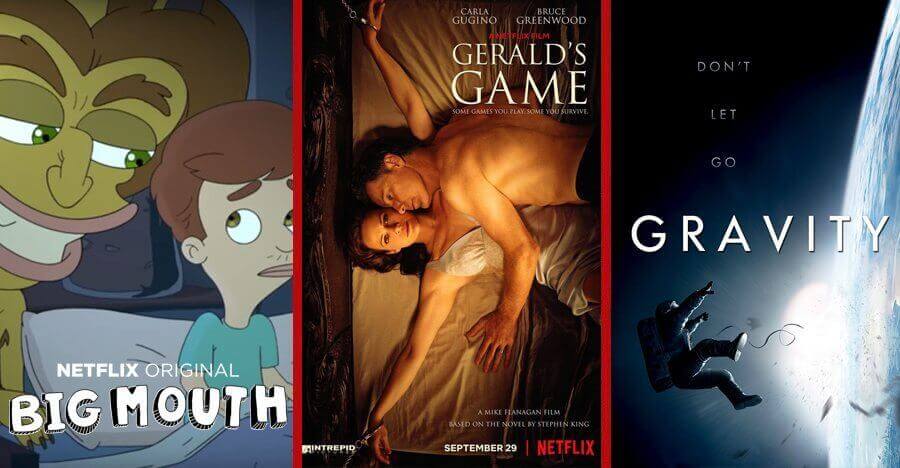 October has just arrived, and coming with it is loads of new great movies and TV series that should keep you busy. A total of 127 titles have been added consisting of 67 movies, 14 Documentaries and a final 46 TV series. As usual, we have picked out three of our favorite titles that have been welcomed to Australian Netflix this week. Take a look through the list and if you see anything we have missed, please feel free to let us know in the comment.
Our first pick for this week is the 2013 sci-fi Drama 'Gravity' starring Sandra Bullock and George Clooney as two astronauts aboard the International Space Station. After they embark on a seemingly routine spacewalk, the worst happens. A freak storm destroys the station and leaves the two drifting through the vast emptiness of space, only tethered to themselves. The film won a mind-blowing 7 Oscar awards and is an excellent thriller to sit back and stream.
Netflix has just released their new Horror film 'Gerald's Game', an adaptation of Stephen King's novella of the same name. The new film stars Carla Gugino and Bruce Greenwood as a couple who while in their remote lake house, decide to spice up their sex-life. Things go bad to worse for Jessie (Carla), as she becomes helplessly handcuffed to her bed, and must know fight for survival. The film has been praised by many King fans as a great adaptation and defiantly worth a watch.
Article Continues Below...
Our final pick for this week is the new Netflix Original 'Big Mouth'; an animated comedy centered around kids going through puberty. Puberty is personified as either the "Hormone Monster" or the "Hormone Monstress" depending on their gender, and seemingly manipulate the kid's bodies and actions. The show takes a unique, funny approach on puberty that results in some great comedy. Big Mouth defiantly isn't for everyone, but if you are into adult cartoons like Rick and Morty, or Family Guy you should give it a go.
Read on for the full list of all 127 new releases:
67 New Movies Streaming to Netflix Australia
Much Loved (2015)
Def Comedy Jam 25 (2017) Netflix Original
Manhattan Romance (2014)
Gravity (2013)
Werewolf: The Beast Among Us (2012)
Our Souls At Night (2017)
Like Crazy (2011)
Gerald's Game (2017)
Fantastic Beasts and Where To Find Them (2016)
시간위의 집 (2017)
만남의 광장 (2007)
Welcome to Dongmakgol (2005)
Veteran (2015)
Vanishing Time: A Boy Who Returned (2016)
Tunnel (2016)
The Wailing (2016)
The Throne (2015)
The Scarlet Letter (2004)
The Perfect Couple (2007)
The Himalayas (2015)
The Handmaiden (2016)
Spirits' Homecoming (2016)
Running Wild (2006)
Phantom Detective (2016)
Operation Chromite (2016)
Ode to My Father (2014)
My Annoying Brother (2016)
Mr. Housewife (2005)
Master (2016)
Marrying the Mafia 2 (2005)
Marathon (2005)
Luck-Key (2016)
Inside Men (2015)
Familyhood (2016)
Big Bang (2007)
Beautiful Sunday (2007)
Asura: The City of Madness (2016)
Assassination (2015)
A Violent Prosecutor (2016)
You're Next (2011)
Wrong Side Raju (2016)
Wicked Flying Monkeys (2015)
Verónica (2017)
The President's Barber (2004)
The Lion Woman (2016)
The Innocents (2016)
The Hills Have Eyes (2006)
Sticky Notes (2016)
Silence (2016)
Shallow Hal (2001)
Paintball (2009)
OFFICE (2015)
Next Friday (2000)
Loktak Lairembee (2016)
Justin Timberlake + the Tennessee Kids (2016) Netflix Original
Joint Security Area (2000)
Jennifer's Body (2009)
I'm in Love with a Church Girl (2013)
How to Steal a Dog (2014)
Ghost Patrol (2016)
Forever the Moment (2008)
Don't Kill It (2017)
Cart (2014)
A Guy Thing (2003)
26 Years (2012)
Security (2017)
Rodney Carrington: Here Comes the Truth (2017) Netflix Original
14 New Documentaries Streaming to Netflix Australia
Restless Creature: Wendy Whelan (2016)
Emergency – Season 1 (2015)
Drug Wars – Season 1 (2015)
Being Canadian (2015)
Teach Us All (2017)
Bobby Sands: 66 Days (2016)
Out of Thin Air (2017)
Long Shot (2017)
Too Much Stress From My Heart (2015)
Tokyo Idols (2017)
Ice Guardians (2016)
Generation Iron 2 (2017)
Franca: Chaos and Creation (2016)
Forks Over Knives (2011)
46 New TV Series Streaming to Netflix Australia
Worst Thing I Ever Did – Season 1 (2014)
The Devil You Know – Season 2 (2013)
Super Wings – Season 1 (2014)
Sports on Fire – Season 1 (2015)
See No Evil – Season 1 (2016)
Mega Builders – Season 2 (2010)
Dangerous Persuasions – Season 2 (2015)
Angel of Decay – Season 1 (2015)
50 Ways to Kill Your Lover – Season 2 (2015)
Touch – Season 2 (2012)
Don't Trust the B—- in Apartment 23 (2012)
Designated Survivor – Season 2 (2016)
Beautiful Secret – Season 1 (2015)
Very Bad Men – Season 3 (2013)
The Magic School Bus Rides Again – Season 1 (2017)
The Fall – Season 3 (2014)
Satu Hari – Season 1 (2014)
Real Rob – Season 2 (2015)
Paul Hollywood's Big Continental Road Trip – Season 1 (2017)
Mak Cun – Season 1 (2015)
Club de Cuervos – Season 3 (2015)
Big Mouth – Season 1 (2017)
The Royal House of Windsor – Season 1 (2017)
The Mind of a Murderer – Season 1 (2015)
The Hunt – Season 2 (2012)
The Beat – Season 1 (2012)
Jane the Virgin – Season 3 (2015)
Heartland – Season 10 (2009)
Crazy Ex-Girlfriend – Season 2 (2016)
Backstage – Season 1 (2016)
What She Put on the Table – Season 1 (2017)
The Level – Season 1 (2016)
The Dream Catchers – Season 1 (2009)
The Break – Season 1 (2016)
Sudden – Season 1 (2013)
Race for the White House – Season 1 (2016)
My Horrible Boss – Season 1 (2016)
Lockup: Disturbing the Peace – Season 1 (2017)
Justice in the City – Season 1 (2012)
Fantastic – Season 1 (2016)
Equestria Girls: Tales of Canterlot High – Season 1 (2017)
Bottersnikes & Gumbles – Season 2 (2016)
Beyblade Burst – Season 1 (2016)
Footprints in the Sand – Season 1 (2011)
The Blacklist – Season 5 (2016)
Canada's Worst Handyman – Season 2 (2016)