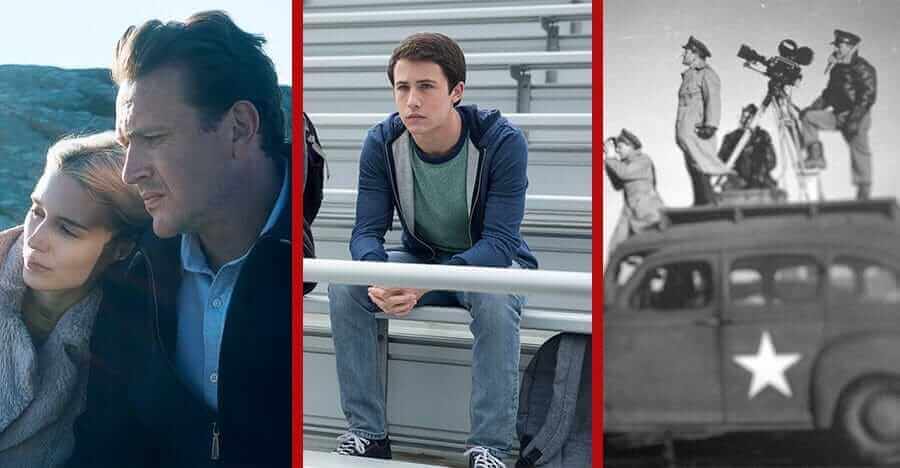 April has now begun, and with it has arrived an insane amount of content for all you Australian viewers. A total of 260 new titles have been introduced, consisting of 154 new Movies, 49 New Documentaries and an additional 57 new TV series for all you lucky Netflix users to enjoy. But with a number that big, you won't know where to start, that's why we are picking three titles that deserve to be mentioned individually.Our first choice for this week is the new Netflix Original series 'Ingobernable', which is a primarily  Spanish-speaking show, set around the First Lady of Mexico following the demise of her and her Husbands relationship, which puts her in the spotlight as she is faced
Our first choice for this week is the new Netflix Original series '13 Reasons Why' starring Katherine Langford and Christian Navarro. The show is a Drama/Mystery following Clay Jensen, a teenager who receives 13 tapes from a girl who committed suicide. He must undercover the 13 reasons she ended her life. Viewers have been deeply affected by this meaningful story, and so far the series has had very high praise. It is definitely worth your time, if you have not started watching already.
Article Continues Below...
Our Second choice for this week is the new Documentary produced by Netflix, called 'Five Came Back' which is a Biography depicting the wartime efforts of the five main prominent Film directors of the Second World War. The show is hosted and joined by many big names, including Steven Spielberg, Meryl Streep and Francis Ford Coppola, who call help pay tribute to the Brave directors who risked their lives to show what the war was really like to the world.
Lastly, we have chosen to mention the new Netflix Original film 'The Discovery' that released on the 31st of March. The film is a Thriller about a Scientist who uncovers undeniable scientific proof that the afterlife does indeed exist. A year after this discovery, the world's suicide rate has rapidly increased, and the scientist who made this breakthrough and his son, must come to terms with this earth-shattering discovery and all the consequences it has caused. The plot is very intriguing and has been carried out well.
Read on for the full list of all 260 new releases:
154 New Movies Streaming to Netflix Australia
Jo Koy: Live from Seattle (2017)
The Conjuring 2 (2015)
Clueless (1995)
The Heartbreak Kid (2007)
Tangled (2010)
Vicky Cristina Barcelona (2008)
The Women (2008)
The Whistleblower (2011)
The Parent Trap (1998)
Pan's Labyrinth (2006)
Margarita with a Straw (2014)
Gone (2012)
Centurion (2010)
Aladdin (1992)
A Bug's Life (1998)
When a Stranger Calls (2006)
Walk of Shame (2014)
Vantage Point (2007)
Underworld: Evolution (2006)
Underworld (2003)
Ultraviolet (2006)
Thirteen Ghosts (2001)
The Way We Were (1973)
The Ugly Truth (2009)
The Muppets Take Manhattan (1984)
The Missing (2003)
The Karate Kid Part III (1989)
The House Bunny (2008)
The Glass House (2001)
The Forgotten (2004)
The Evil Dead (1981)
The Discovery (2017)
The Devil's Own (1997)
The Dark Crystal (1982)
The Craft (1996)
The Covenant (2006)
The Client List (2010)
The Bounty Hunter (2010)
The Book of Eli (2010)
The Benchwarmers (2006)
The Art of the Steal (2013)
Terminator Salvation (2009)
Takers (2010)
Surf's Up (2007)
Stuart Little 2 (2002)
Street Fighter (1994)
Stomp the Yard (2007)
Stepmom (1998)
Stalingrad (2013)
Smashed (2012)
Seven Years in Tibet (1997)
See No Evil, Hear No Evil (1989)
Secret Window (2004)
RV (2006)
Rudy (1993)
Robin Hood: Men in Tights (1993)
Riding in Cars with Boys (2001)
Rent (2005)
Radio (2003)
Priest (2011)
Philadelphia (1993)
Paul Blart: Mall Cop (2009)
Parker (2013)
Obsessed (2009)
Night Of The Living Dead (1990)
Muppets from Space (1999)
Mummy, I'm a Zombie (2014)
Mr. Deeds (2002)
Monty Python's And Now for Something Completely Different (1971)
Monster House (2006)
Marie Antoinette (2006)
Made of Honour (2008)
Look Who's Talking Too (1990)
Look Who's Talking Now (1993)
Little Man (2006)
Les Misérables (1998)
Labyrinth (1986)
In the Line of Fire (1993)
I Spy (2002)
How Do You Know (2010)
Hostel: Part III (2011)
Heavy Metal (1981)
Heaven Is for Real (2014)
Gridiron Gang (2006)
Gattaca (1997)
Gangs of New York (2002)
Fun with Dick & Jane (2005)
Fools Rush In (1997)
FirstBorn (2016)
Finding Forrester (2000)
Final Fantasy: The Spirits Within (2001)
Faster (2010)
Europa Report (2013)
Escape Plan (2013)
Enough (2002)
Easy Rider (1969)
Drinking Buddies (2013)
District 9 (2009)
Deuce Bigalow: European Gigolo (2005)
Death at a Funeral (2010)
Charlie's Angels: Full Throttle (2003)
Charlie's Angels (2000)
Carandiru (2003)
Bridget Christie: Stand Up for Her (2016)
Bonnie & Clyde (2013)
Blue Streak (1999)
Bewitched (2005)
Battle: Los Angeles (2011)
Bad Santa (2003)
Baby Geniuses (1999)
Baby Boy (2001)
Baabul (2006)
Azhar (2016)
Awakenings (1990)
Are We There Yet? (2005)
Are We Done Yet? (2007)
Anger Management (2003)
Adaptation. (2002)
A Thousand Words (2012)
8MM (1999)
30 Minutes or Less (2011)
1941 (1979)
Trauma (2016)
The Unbeatables (2013)
Sniper: Legacy (2014)
Salaakhen (1975)
Pieles (2017)
Pájaros volando (2010)
Only for One Night (2016)
O Amor no DIvã (2016)
Nayok Jamai (2015)
Morris aus Amerika (2016)
Merantau (2009)
Little Women (1994)
Lazy Eye (2016)
La Sangre Del Gallo (2015)
Hero Quest (2015)
Frances Ha (2012)
Five Nights in Maine (2015)
Elaan (1971)
Deuces (2016)
Dancing Quietly (2016)
Buddymoon (2016)
Boy Bye (2016)
A Weekend with the Family (2016)
The True Story of Puss 'n Boots (2009)
First Sunday (2008)
A Nightmare on Elm Street (2010)
The Courageous Heart of Irena Sendler (2009)
Stand Up Guys (2012)
Louis C.K. 2017 (2017)
Chasing Mavericks (2012)
Blue Jasmine (2013)
Barbershop 3 (2016)
49 New Documentaries Streaming to Netflix Australia
Yellowstone: Battle for Life – Season 1 (2009)
WWII: Report from the Aleutians (1943)
Wild Arabia – Season 1 (2013)
Why We Fight: The Battle of Russia (1943)
Undercover: How to Operate Behind Enemy Lines (1943)
Tunisian Victory (1944)
Thunderbolt (1947)
The Negro Soldier (1944)
The Memphis Belle: A Story of a Flying Fortress (1944)
The Last Nazis – Season 1 (2009)
The Battle of Midway (1942)
South Pacific – Season 1 (2009)
San Pietro (1945)
Prelude to War (1942)
Nazi Concentration Camps (1945)
Michael Jackson's This Is It (2009)
Mark Zuckerberg: Inside Facebook (2011)
Let There Be Light (1946)
Know Your Enemy – Japan (1945)
Inside Job (2010)
In Louboutin's Shoes (2015)
Great Raids of World War II – Season 1 (2016)
Great Barrier Reef – Season 1 (2012)
Galapagos – Season 1 (2006)
Five Came Back – Season 1 (2017)
David Attenborough's Natural Curiosities – Season 3 (2015)
Attenborough & The Giant Egg (2011)
Atlantic: The Wildest Ocean on Earth – Season 1 (2015)
Africa – Season 1 (2013)
Tower (2016)
The Pearl of Africa (2016)
The Human Factor: The Untold Story of the Bombay Film Orchestras (2013)
The Bad Kids (2016)
Silicon Cowboys (2016)
Pet Fooled (2017)
Peninsula Mitre (2016)
Mostly Sunny (2016)
Lucha Mexico (2016)
LIFE 2.0 (2010)
Joe Cocker: Mad Dog with Soul (2017)
Jane & Payne (2016)
Humano (2013)
Don't Look Down (2016)
Celluloid Man (2012)
Born to Be Free (2016)
Boca (2015)
Beyond All Boundaries (2013)
Among the Believers (2015)
2057: The World in 50 Years – Season 1 (2007)
57 New TV Series Streaming to Netflix Canada
Line of Duty – Season 3 (2014)
Yes, Minister – Season 3 (1986)
Whitechapel – Season 4 (2013)
Trailer Park Boys – Season 11 (2015)
Top Gear – Season 6 (2014)
The Musketeers – Season 1 (2014)
The Lizzie Borden Chronicles – Season 1 (2015)
The House That Made Me – Season 3 (2015)
The Honourable Woman – Season 1 (2014)
The Game – Season 1 (2014)
The Client List – Season 2 (2013)
The Bear Familt and Me – Season 1 (2011)
Small Shots – Season 1 (2013)
Pride and Prejudice – Season 1 (1995)
Party of Five – Season 6 (1999)
Orphan Black – Season 4 (2014)
Ocean Giants – Season 1 (2011)
Moone Boy – Season 3 (2015)
Maggie & Bianca: Fashion Friends – Season 1 (2016)
Madagascar – Season 1 (2011)
Life Below Zero – Season 4 (2016)
Last Tango in Halifax – Season 3 (2015)
Lands of the Monsoon – Season 1 (2014)
Inside No.9 – Season 1 (2015)
Ice Age Giants – Season 1 (2013)
"Him & Her – Season 4 (2013)"
Hidden Kingdoms – Season 1 (2014)
Helix – Season 2 (2015)
Hatfields & McCoys – Season 1 (2012)
Happy Valley – Season 1 (2014)
"Great Rift: Africa's Wild Heart – Season 1 (2010) "
Getting On – Season 3 (2012)
Doctor Who – Season 9 (2014)
Dinotrux – Season 4 (2015)
Death in Paradise – Season 4 (2015)
Come Fly With Me – Season 1 (2010)
Chesapeake Shores – Season 1 (2016)
Call the Midwife – Season 4 (2013)
Atlantis – Season 2 (2015)
Absolutely Fabulous – Season 3 (2012)
13 Reasons Why – Season 1 (2017)
Satrangi – Season 1 (2014)
Razia Sultan – Season 1 (2015)
Pokémon the Series: XYZ (2016)
Odd Squad – Season 2 (2014)
Mega Builders – Season 1 (2010)
Maharakshak: Aryan – Season 1 (2014)
Khelti Hai Zindagi Aankh Micholi – Season 1 (2013)
Highway Thru Hell – Season 4 (2012)
Gambler – Season 1 (2012)
Departures – Season 3 (2010)
Badalte Rishton Ki Dalstaan – Season 1 (2013)
Archer – Season 7 (2014)
The Blacklist – Season 4 (2013)
Terrace House: Aloha State – Season 2 (2016)
How to Get Away with Murder – Season 2 (2014)
Chewing Gum – Season 2 (2015)