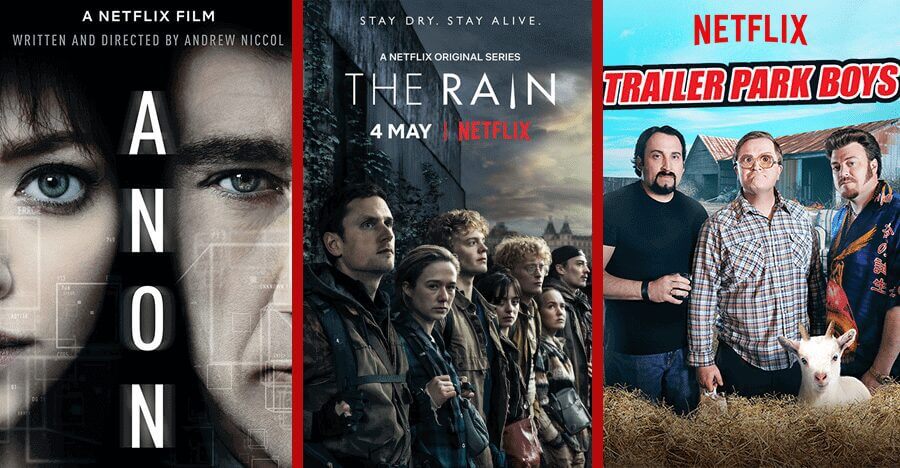 As May begins we once again see a mass of new titles arrive to Australian Netflix on the 1st of the month. Below we have covered the last week of titles that have beed added, including 43 Movies, 10 Documentaries, 12 TV series and an additional 3 Standup shows. If you feel like finding something new to watch on Netflix it can often prove quite hard, especially with so many titles being added on a weekly basis. That's why we've written three brief paragraphs highlighting some titles that we feel are worth your attention.
We have just welcomed the new Netflix Original series 'The Rain'. The Thriller takes place in Denmark after a couple of young siblings emerge from their bunker to find that a deadly virus has wiped out most of the population. After meeting a group of survivors they begin an expedition to find any sign of life. If you don't mind either reading subtitles and having the show dubbed over, this is a great thriller we recommend you check out.
Our next pick for this week is not just one film, but two. Both the original 2006 movie 'Trailer Park Boys: The Movie' and sequel 'Countdown to Liquor Day' have become available to stream on Netflix. If you're a fan of the Trailer Park Boys you will already know that their TV series and most of their other content is already on Netflix, but it's nice to know some of their older films have now arrived. The group has also collaborated with Netflix a number of times on Original content.
Article Continues Below...
Lastly, we have chosen to mention the new Sci-fi Thriller 'Anon'. The show is a Netflix Original taking place in a world where everyone's every move is recorded from their eye. But after the appearance of an unknown hacker, everyone security is suddenly put at risk, as reality can seem to be manipulated at will. The film stars Clive Owen and Amanda Seyfried and despite receiving slightly mixed reviews we still think it's worth a watch if you get some time.
Important notice: Australia's weekly roundups have now moved to Fridays. The reason for this is because this is when the majority of Originals are released. 
See the full list of 68 new titles available on Netflix Australia this week:
43 New Movies Streaming on Netflix Australia
Ajji (2017)
Anon (2018) Netflix Original
Another Mother's Son (2017)
Billu (2009)
Booty Call (1997)
Christine (2016)
CIA: Comrade In America (2017)
Darc (2018)
Devi(L) (2016)
Downfall (2004)
End Game (2018) Netflix Original
Get Squirrely (2015)
Gridiron Gang (2006)
Guess Who (2005)
Gurgaon (2017)
I'm Not Crazy! (2018)
Jailbreak (2017)
Little Giants (1994)
Little Man (2006)
Live Wire (1992)
Lo más sencillo es complicarlo todo (2018)
Love Ni Bhavai (2017)
Made in America (1993)
Maximum Risk (1996)
My Father and My Son (2005)
My perfect romance (2018)
Nibunan (2017)
Pocoyo and the Space Circus (2008)
Running Shaadi (2017)
RV (2006)
Si saben como me pongo ¿pa que me Invitan? (2018)
Sila Samayangalil (2016)
Stay (2005)
The Battle Of Chosin (2016)
The Clapper (2018)
The Quest (2017)
The Sweetest Thing (2002)
Thi Mai, rumbo a Vietnam (2018)
Toc Toc (2017)
Trailer Park Boys: Countdown to Liquor Day (2009)
Trailer Park Boys: The Movie (2006)
Waiting (2015)
Whatever It Takes (2000)
10 New Documentaries Streaming on Netflix Australia
27: Gone Too Soon (2018)
A Life Of Its Own: The Truth About Medical Marijuana (2017)
American Experience: Rachel Carson (2017)
American Experience: Tesla (2016)
Coffee for All (2017)
Going Clear: Scientology and the Prison of Belief (2015)
Jewel's Catch One (2016)
Le K Benzema (2017)
Roberto Saviano: Writing Under Police Protection (2016)
The Carter Effect (2017)
12 New TV Series Streaming on Netflix Australia
Boys Over Flowers – Season 1 (2009)
Busted! – Season 1 (2018) Netflix Original
Danger Mouse – Season 1 (2015)
Dear White People – Season 2 (2018) Netflix Original
Iris – Season 1 (2009)
Love Rain – Season 1 (2012)
Monty Python's Flying Circus – Season 2, 3 & 4 (1972)
PJ Masks – Season 1 (2015)
Queens of Comedy – Season 1 (2017)
Something in the Rain – Season 1 (2018) Netflix Original
Superstition – Season 1 (2017) Netflix Original
The Rain – Season 1 (2018) Netflix Original
3 New Stand Up Shows Streaming on Netflix Australia
Agustín Aristarán: Soy Rada (2018) Netflix Original
Dany de Boon des Hauts-de-France (2018) Netflix Original
John Mulaney: Kid Gorgeous at Radio City (2018) Netflix Original