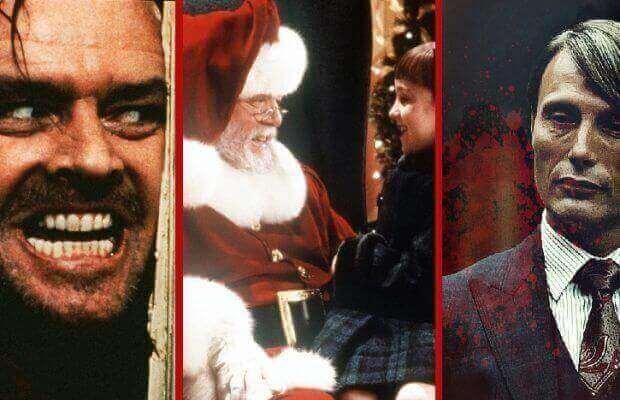 The first week of December brings a mass of 72 titles to the screens of Australian Netflix, an incredible amount consisting of 47 Movies, 11 Documentaries and 14 new TV series. Out of such a large amount we have chosen 3 that we feel are worth a mention this week.
Our first pick is technically 2 picks in one, lucky you! This Christmas you will be able to settle down and watch both versions of 'Miricle on 34th Street', the 1947 and the 1994 film. So if you're the sort of person who prefers classic original, you won't be disappointed.
Next, we have chosen a very different genre of film. 'The Shining' a cult classic Horror film about a family in an isolated hotel. Many horror fans will probably agree that it is an iconic Horror film that is a truly brilliant psychological horror that you can now enjoy on Netflix.
Lastly, Season 3 of the popular TV series 'Hannibal' has been added to Australia's screens and is a crime drama following Hannibal Lecter from the books; Red Dragon, The Silence of the Lambs, Hannibal, Hannibal Rising. If you were someone who read and enjoyed those books you are guaranteed to enjoy this TV thriller.
Read on for the full list of all 72 new releases:
47 New Movies Streaming to Netflix Australia
Willy Wonka & the Chocolate Factory (1971)
Thirteen Ghosts (2001)
Sommersby (1993)
Something's Gotta Give (2003)
Some Like It Hot (1959)
Shakespeare in Love (1998)
Rodeo & Juliet (2015)
Miracle on 34th Street (1947)
Miracle on 34th Street (1994)
Miami Vice (2006)
Les Miserables (1998)
Josie and the Pussycats (2001)
A Heavy Heart (2015)
God's Not Dead 2 (2016)
Freddy Got Fingered (2001)
Fear (1996)
Drone: This is No Game (2014)
Behond Bollywood (2013)
Atze Schroder – Schmerzfrei (2012)
Zero Point (2014)
Wall Street (1987)
Caution in Front of People (2015)
The Violin Player (2016)
Too Late (2015)
Tellur Aliens (2016)
The Shining (1980)
Richard Pryor: Live in Concert (1979)
Point Blank (2016)
The Negotiator (1998)
Metalhead (2013)
Messner (2012)
The Last Stand (2013)
Interrogation (2015)
Black Knight (2002)
The 10 Year Plan (2014)
White Girl (2016)
The Spirit of Christmas (2015)
Rainbow Time (2016)
How Sarah Got Her Wings (2015)
Across Grace Alley (2013)
Rezeta (2012)
Miss India America (2015)
Merry Kissmas (2015)
A Dogwalker's Christmas Tale (2015)
Angels in the Snow (2015)
Merry Kissmas (2015)
Mercenary (2016)
11 New Documentaries Streaming to Netflix Australia
Stretch and Bobbito
Nazi Gold in Argentina (2004)
1000 Rupee Note (2014)
Nintendo Quest (2015)
King Georges (2015)
Jedi Junior High (2014)
The Porshe 911 Story (2011)
For the Love of Spock (2016)
#Rucker50 (2016)
Newtown (2016)
Hip-Hop Evolution – Season 1 (2016)
14 New TV Series Streaming to Netflix Australia
Our Sandman – Season 1 (2012)
Love and Punishment – Season 1 (2010)
Good Witch – Season 1 (2015)
Friends with Benefits – Season 1 (2011)
1001 Nights – Season 1 (2006)
Meuchelbeck – Season 1 (2015)
The Girl I Loved – Season 1 (2011)
Stage 36 – Kangaroo and Co – Season 1 (2016)
The Bletchley Circle – Season 1/2 (2012)
Please Like Me – Season 1/3 (2013)
Hanibal – Season 3 (2013)
Fauda – Season 1 (2015)
Lost & Found Music Studios – Season 2 (2016)
Dicte – Season 1 (2013)