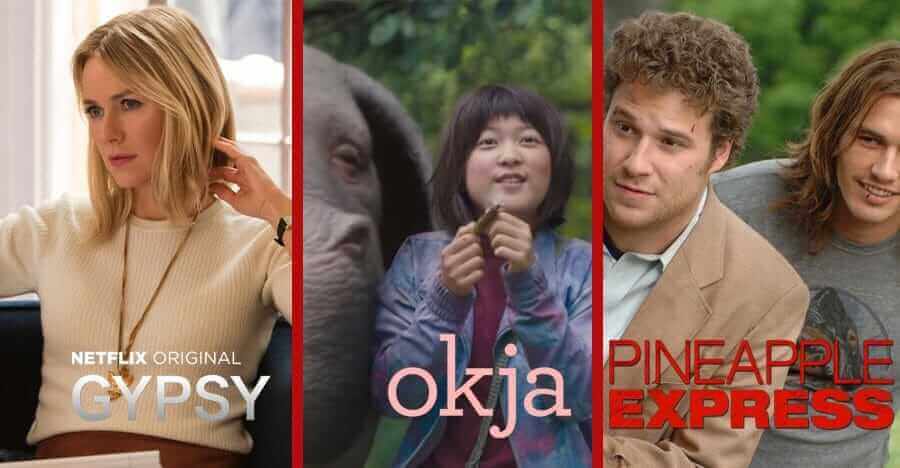 July has just begun and that means that Netflix welcomes plenty of new and exciting titles for you to enjoy over in Australia. A massive total of 125 new titles have been added and that includes 63 new Movies, 9 Documentaries, and a further 53 new TV series. Because there are so many we have decided to pick out and highlight three individual titles that we think stand out above the others. If you spot a title that you think should have been highlighted tell us in the comments below.
Our first pick is the new Netflix Original film 'Okja' that has been received very positively. Seo-Hyun Ahn plays a little girl who has befriended and lived with a massive mammal-like animal named Okja for a number of years. They lived in harmony until an evil conglomerate discovers the creature and decides they need it for scientific study. Now Mija must travel all the way to New York to save her beloved friend in this heartwarming adventure that you won't regret watching.
Next, Australian Netflix also welcomes the new drama/thriller Gypsy (Netflix Original) starring Naomi Watts as a Therapist who is struggling to keep her personal and professional lives separate. She seems to have it all, a handsome husband, a large house, brilliant daughter… but she can't stop getting too involved with her patients. If you like Psychological Drama's than you'll enjoy this show.
Lastly, we have picked the 2008 film 'Pineapple Express' with Seth Rogen and James Franco as their lives are turned upside down after witnessing the murder of their drug dealer. Unfortunately, Dale Denton (Seth Rogen) drops his very rare clump of weed (Pineapple Express) at the scene. Now they are on the run from one of the most powerful drug lords in the city, somehow staying one step ahead. This Action comedy is from the same people who brought us Superbad and if that's your thing, you'll love it.
Read on for the full list of all 125 new releases:
63 New Movies Streaming to Netflix Australia
Oz the Great and Powerful (2013)
The Magnificent Seven (2016)
Okja (2017) –

Netflix Original

Approaching the Unknown (2016)
Munich (2005)
Goat (2016)
The Intervention (2016)
The Weekend (2016)
Brother Nature (2016)
Snowpiercer (2013)
Maximum Ride (2016)
Lal Patthar (1971)
The Exorcism of Emily Rose (2005)
Ishqiya (2009)
The 9th Life of Louis Drax (2016)
Tik Tok (2016)
Aankhen (2002)
Contratiempo (2016)
Players (2012)
Big Brother (2007)
Dedh Ishqiya (2014)
Yaar Gaddar (1994)
Sarkar (2005)
Golden Years (2016)
Son of Alladin (2003)
Dashavatar: Every Era Has a Hero (2008)
Albion: The Enchanted Stallion (2016)
Alibaba (2002)
Zipi & Zape y la Isla del Capitan (2016)
Hawke (2010)
Toy Maker (2015)
Ankhon Dekhi (2013)
10 jours en or (2012)
13 Going on 30 (2004)
Wrong No. (2015)
Pineapple Express (2008)
Ajab Prem Ki Ghazab Kahani (2009)
Masti (2004)
Hancock (2008)
Friends with Benefits (2011)
Ishq Vishk (2003)
Shortkut: The Con Is On (2009)
Hans Teeuwen: Real Rancour (2016)
The Dirty Picture (2011)
Professor (1962)
Bheja Fry 2 (2011)
Hunterrr (2015)
Nerdland (2016)
Hot Tub Time Machine (2010)
Poltergeist II (1986)
Here Alone (2016)
Hellboy (2004)
Stasis (2017)
Waar (2013)
Amrapali (1966)
1 Chance 2 Dance(2014)
Ho Mann Jahan (2015)
Liar's Dice (2013)
Widows (2011)
The Tenth Man (2016)
Snowden (2015)
Killjoys – Season 2 (2015)
Bolt (2008)
9 New Documentaries Streaming to Netflix Australia
The House on Coco Road (2016)
Footprints: The Path of Your Life (2015)
Conviction: The Jill Meagher Story (2016)
The Waler: Australia's Great War Horse (2015)
The Truth Is in the Stars (2017)
Keep Quiet (2016)
Given (2016)
Magic of Houdini (2014)
extraordinary: the stan romanek story (2017)
53 New TV Series Streaming to Netflix Australia
The Disguiser – Season 1 (2015)
Inside the Mind of a Serial Killer – Season 1 (2015)
Chef & My Fridge – Season 1 (2016)
Code 1 – Season 1 (2015)
Little Witch Academia – Season 1 (2017)
Las Vegas Jailhouse – Season 2 (2010)
Gypsy – Season 1 (2017) –

Netflix Original

Miami SWAT – Season 1 (2009)
Limitless – Season 1 (2016)
Jail: Las Vegas – Season 1 (2015)
Bad Trips Abroad – Season 2 (2014)
Pyaar Tune Kya Kiya – Season 3 (2014)
Vegas Strip – Season 2 (2012)
Reggie Yates' Extreme – Season 1 (2017)
Life At – Season 4 (2014)
Agony – Season 2 (2015)
Danny Dyers Deadliest Men – Season 2 (2009)
Sporting Nation – Season 1 (2012)
Twentysomething – Season 2 (2013)
El Chema – Season 1 (2016)
Fungus the Bogeyman – Season 1 (2015)
Against The tides – Season 1 (2014)
Octonauts – Season 2 (2013)
Outback House – Season 1 (2005)
World At Your Feet – Season 1 (2014)
Jack Irish: The Series – Season 1 (2016)
Little Baby Bum: Nursery Rhyme Friends – Season 1 (2016)
46 – Season 1 (2016)
Yours Fatefully – Season 1 (2012)
Learning Songs by Little Baby Bum: Nursery Rhyme Friends – Season 1 (2015)
Mystic Whispers – Season 1 (2014)
Unriddle – Season 2 (2012)
8MMM Aboriginal Radio – Season 1 (2015)
Breakout – Season 1 (2010)
We Can Be Heroes – Season 1 (2005)
The Time of Our Lives – Season 2 (2014)
Sonic Boom – Season 1 (2014)
Offspring – Season 6 (2014)
Yes We Can! – Season 1 (2014)
The Oath – Season 1 (2011)
The Ultimatum – Season 1 (2009)
The Truth Seekers – Season 1 (2016)
Spice Up – Season 1 (2014)
Intersection – Season 3 (2016)
Power Without Glory – Season 1 (1976)
Momo Salon – Season 1 (2014)
Dance Academy – Season 2 (2011)
The Adventures of Figaro Pho – Season 2 (2015)
La Doña – Season 1 (2016)
Hostages – Season 2 (2013)
Sammy J & Randy in Ricketts Lane – Season 1 (2015)
Good Witch – Season 3 (2015)
The Standups – Season 1 (2017) –

Netflix Original

Miss Fisher's Murder Mysteries – Season 3 (2013)