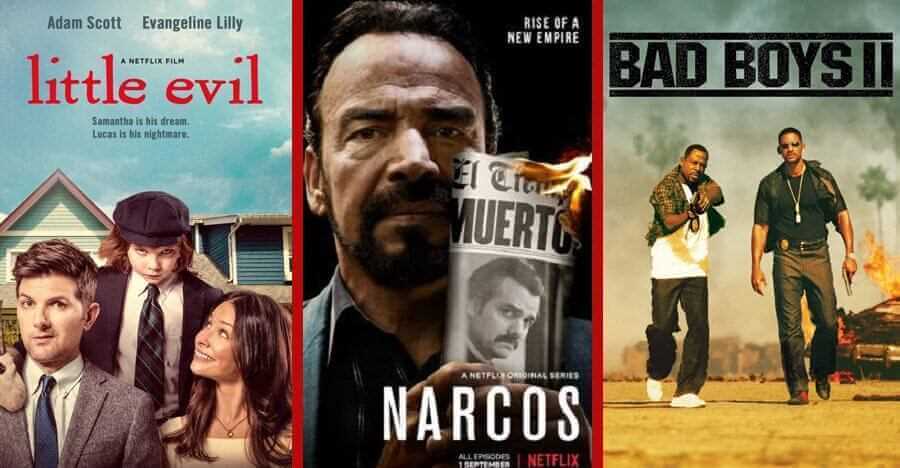 The first week of September has brought 87 new titles to Australian Netflix. We're here to give you a complete list, consisting of 51 new Movies, 9 Documentaries and 27 new TV series all for you to enjoy. If you are having a bit of trouble choosing what to watch, we have picked out three titles that have stood out to us. If you read through the list and spot something that you think we should have pointed out, please tell us in the comment area below.
Our first highlight is the third season of the critically acclaimed Netflix Series 'Narcos' which has just returned. The show is based on real life events, and the first two seasons followed the rise and fall of the notorious Drug lord Pablo Escobar. But now Escobar is out of the picture the 'Cali Cartel' step up to become the largest cocaine empire the world has even seen. The season has promised to be bigger and better and so far has not disappointed.
Next, we have done a 'two-in-one' and welcome both 'Bad Boys' and 'Bad Boys II' to Netflix. The popular comedy/action films star Martin Lawrence and Will Smith as two Hardcore Miami cops who don't always have to play by the rules to dish out Justice. If you are looking for an in-depth plot, full of emotion then these films are not for you. But you will find plenty of explosions, laughable moments and great action in these 'buddy cop comedies'.
Article Continues Below...
Our final highlight for this week is the Horror Spoof 'Little Evil', a Netflix original starring Adam Scott and Evangeline Lilly. The film takes inspirations from classic Horror films including 'Omen' and 'The Exorcist' and does a good job putting a comedic spin on it. Gary and Samantha have been recently married and now a step-dad, Gary must attempt to bond with the six-year-old who may, or may not be the literal 'Antichrist'.
This week's Honorable Mentions include: O Brother, Where Art Thou? (2000), xXx² – The Next Level (2005), and the first season of Lucifer (2016)
Read on for the full list of all 87 new releases:
51 New Movies Streaming to Netflix Australia
The Neighbor (2016)
O Brother, Where Art Thou? (2000)
The Chase (1966)
The Firm (1993)
Road to Perdition (2002)
The Drowning (2017)
Shelter (2010)
Bad Boys (1995)
The Marine (2006)
xXx² – The Next Level (2005)
Khoon Khoon (1973)
The Taking of Pelham 123 (2009)
Trespass Against Us (2016)
Aakhri Adaalat (1988)
Mujrim (1989)
Bad Boys II (2003)
Teesri Aankh (2006)
The Lost Brother (2017)
Max Steel (2016)
Gamba (2015)
The Guardian Brothers (2016)
Good Boy! (2003)
The Squid and the Whale (2005)
Margot at the Wedding (2007)
She's Gotta Have It (1986)
Everybody Loves Somebody (2017)
Greenberg (2010)
Mickey Blue Eyes (1999)
Fired Up (2009)
Little Evil (2017)

Netflix Original

Superfast! (2015)
Manoranjan (1974)
The Distinguished Citizen (2016)
Chadi Jawani Budhe Nu (1976)
Offline – Das leben ist kein bonuslevel (2016)
The Electric Horseman (1979)
Nick and Norah's Infinite Playlist (2008)
No Estamos Solos (2016)
Sohni Mahiwal (1984)
When Love Happens (2014)
Ek Jaan Hain Hum (1983)
Lunch Time Heroes (2015)
Lorai: Play to Live (2015)
Gbomo Gbomo Express (2015)
Invasion 1897 (2014)
Railroad Tigers (2016)
The Duplex (2015)
Out of Luck (2015)
Kicking and Screaming (1995)
Marc Maron: Too Real (2017)

Netflix Original

Carrie Pilby (2016)
9 New Documentaries Streaming to Netflix Australia
The Last Shaman (2016)
Rocco (2016)
Who the F**K is that Guy (2017)
Todo Sobre El Asado (2016)
Resurface (2017)

Netflix Original

Concrete Football (2016)
Million Pound Motors (2015)
Incorruptible (2015)
Whitney: Can I Be Me (2016)
27 New TV Series Streaming to Netflix Australia
Keep the Marriage as Jade – Season 1 (2016)
Great World Hotels – Season 1 (2011)
The Royals – Season 1 (2013)
Two Men in China – Season 1 (2014)
West Coast Customs – Season 5 (2011)
Two in the Top End – Season 1 (2008)
The Flying Winemaker – Season 1 (2014)
Agony – Season 5 (2015)
Robocar Poli – Season 4 (2012)
FINAL FANTASY XIV Dad of Light – Season 1 (2017)
Skin Wars – Season 3 (2015)
Miraculous: Tales of Ladybug & Cat Noir – Season 1 (2016)
Narcos – Season 3 (2015) 

Netflix Original

Lucifer – Season 1 (2016)
A House of Blocks – Season 1 (2017)
LEGO Elves: Secrets of Elvendale – Season 1 (2017)
Black Comedy – Season 2 (2014)
A Boy Name Flora A – Season 1 (2017)
Tip the Mouse – Season 1 (2014)
Wissper – Season 1 (2015)
Bananas in Pyjamas – Season 1 (2011)
Prisoner Zero – Season 1 (2016)
Love Through a Millennium 2 – Season 1 (2016)
Wynonna Earp – Season 1 (2016)
YooHoo & Friends – Season 2 (2012)
Maniac – Season 1 (2015)
Great Barrier Reef with David Attenborough – Season 1 (2015)