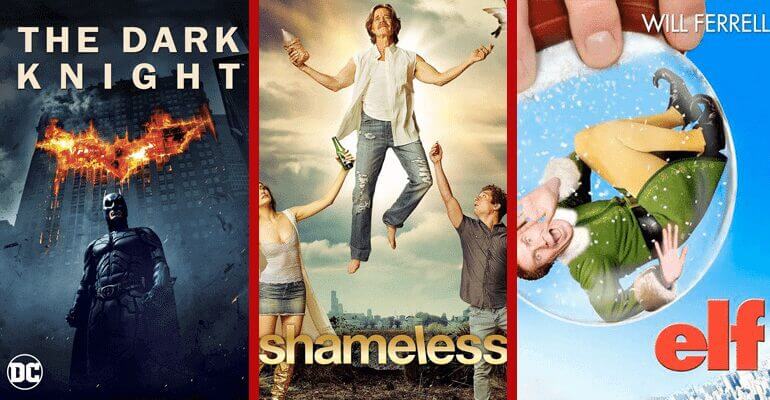 It's time to look at what's new on Netflix Australia for the past week and boy has it been a blinder of a week. Alex is away this week and I've chosen a great week to cover so I won't waste any more of your time.
Just in time for the holiday season, Netflix has launched an array of different Christmas movies including some incredibly popular ones too. Starting with Elf, the Will Ferrell movie is a must-watch. Both the old and new version of Miracle on 34th Street is now available as well as Christmas horror in the form of Krampus.
Elsewhere on the movie front quite possibly my favorite movie of all time arrived this week in the form of the second in the Batman trilogy directed by Christopher Nolan, The Dark Knight. We've also got Leonardo Di Carpio's thrilling performance in 2015's The Revenant plus Beauty and the Beast by Disney is now streaming on Netflix.
On the TV front, Shameless (US) has finally been updated with the seventh season so return to the southside and watch all hell break loose. Also, you have to check out the new Netflix Original series, Dark. It's a German show that's been compared to Stranger Things so if that sounds up your alley, add it to your list.
Here's the full list of the 88 new titles on Netflix Australia.
New Movies
45 Years (2015)
Beauty and the Beast (2017)
Beethoven's Christmas Adventure (2011)
Bhouri (2017)
Big Game (2014)
Birthday (2015)
Cabin Fever (2016)
Daddy's Home (2015)
Donnie Darko (2001)
DreamWorks Home: For the Holidays (2017)
Eh Janam Tumhare Lekhe (2015)
Elf (2003)
Enemy (2013)
Frankenstein's Army (2013)
Grace (2009)
Half Girlfriend (2017)
Hisss (2010)
Inland Empire (2006)
Jab Harry met Sejal (2017)
Jingle All the Way (1996)
Joe (2013)
Krampus (2015)
Lego Marvel Super Heroes: Avengers Reassembled! (2015)
LOL (2008)
May in the Summer (2013)
MI-5 (2015)
Miracle on 34th Street (1947)
Miracle on 34th Street (1994)
Monster Island (2017)
My Happy Family (2017) Netflix Original
Network (1976)
Nine Lives (2016)
Ocean's Eleven (2001)
People Places Things (2015)
Playing for Time (1980)
Prague (2013)
Quigley Down Under (1990)
Room (2015)
Sardaar ji (2015)
Steve Jobs (2015)
Supernova (2000)
Temple (2017)
Tezz (2012)
The Company Man (2010)
The Cutting Edge 3: Chasing the Dream (2008)
The Dark Knight (2008)
The Lunchbox (2013)
The Neon Demon (2016)
The Revenant (2015)
The Worthy (2016)
New TV Series
A StoryBots Christmas (2017) Netflix Original
All Hail King Julien (Season 5) Netflix Original
Dark (Season 1) Netflix Original
Dhia Sofea (Season 1)
Easy (Season 2) Netflix Original
Fate/Apocrypha (Season 1) Netflix Original
Good Morning Call (season 2) Netflix Original
Harry & Bunnie (Season 1)
Jake's Buccaneer Blast (Season 1)
Kantaro: The Sweet Tooth Salaryman (Season 1) Netflix Original
Lego Friends (Season 2)
Lego Ninjago: Masters of Spinjitzu (Season 1)
LEGO Ninjago: Masters of Spinjitzu: King of Shadows (Season 1)
LEGO Ninjago: Masters of Spinjitzu: Way of the Ninja (Season 1)
LEGO: Marvel Super Heroes: Maximum Overload (Season 1)
Man Down (4 Seasons)
Nexo Knights (2016)
Padamu Aku Bersujud (Season 1)
People Just Do Nothing (4 Seasons)
Prison Playbook (Season 1) Netflix Original
Rake (2014)
Shameless (Season 7)
Super Wings (Season 2)
New Standup Specials
Bill Bur: Why Do I Do This? (2008)
Craig Ferguson: Tickle Fight (2017) Netflix Original
New Documentaries
Boris Becker: Der Spieler
Breaking the Cycle (2017)
Diana: In Her Own Words (2017)
Dream Boat (2017)
Forbidden Games: The Justin Fashanu Story (2017)
Hired Gun (2016)
Jim: The James Foley Story (2016)
Motivation 3: The Next Generation (2017)
Springsteen & I (2013)
The Legend of 420 (2017)
Twenty Two (2015)
Voyeur (2017) Netflix Original
Winning (2016)