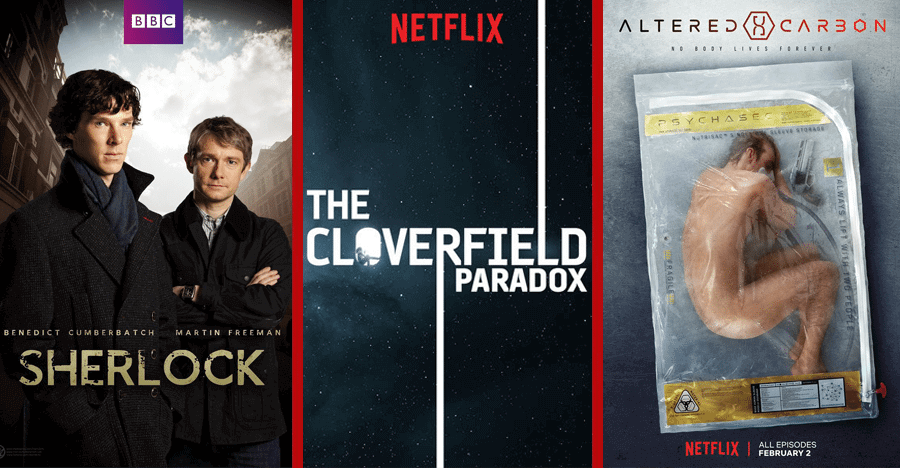 The first week of February 2018 is here and it's brought plenty of new titles to Netflix Australia. 25 new movies, 4 documentaries, 12 TV series and finally 1 Standup show is what makes up this past week's additions. Often it can be a task picking out something to watch specifically, especially on Netflix where there is so much to choose from. That's why we've made an effort in selecting three titles over the past week and briefly highlighting them below.
Our first pick for this week is the highly anticipated Netflix Original 'Altered Carbon'. This brand-new series is set in the distant future where the human consciousness can be compressed and stored in a hard drive. An Envoy soldier by the name Takeshi Kovacs is revived in a new body and is tasked with solving the murder of an incredibly wealthy aristocrat Bancroft. Even though the police have ruled it a suicide, Bancroft is convinced it was murder. The Sci-fi, Thriller has been received well so far and many can't wait to see what Netflix has in store for the series.
The first three seasons of the popular BBC show 'Sherlock' has just been welcomed to Australian Netflix. Staring both Benedict Cumberbatch and Martin Freeman as the modernized Sherlock and Watson. The three seasons include greatly crafted mysteries that are set on and solved by the brilliant Sherlock Holmes. The show has been nominated for a Golden Globe and has over the years picked up a worldwide audience.
Article Continues Below...
Our final highlight for this week is the Horror, Sci-Fi film 'The Cloverfield Paradox'. This Netflix original follows a crew of a space station orbiting the planet. While testing a device that is supposedly meant to solve the energy crisis, something goes deadly wrong and they end up releasing a whole alternate reality darker than their own. The film is linked to the 2008 horror film 'Cloverfield' where a mysterious monster tears up a large part of New York City.
Feel free to take a look through the list below, and if you spot something that you think we should have pointed out individually. Please let us know in the comments below.
Here is the full list of 42 titles added to Netflix Australia this week:
25 New Movies Streaming to Netflix Australia
The Witches Of Eastwick (1987)
American Fable (2016)
Black Beauty (1994)
78/52 (2017)
Road House (1989)
At First Sight (1999)
Popstar: Never Stop Never Stopping (2016)
Any Given Sunday (1999)
Addicted To Love (1997)
Robo-Dog (2015)
Bram Stoker's Dracula (1992)
Nightcrawler (2014)
National Parks Adventure (2016)
Barry Lyndon (1975)
Gun Shy (2017)
9 (2009)
Altered States (1980)
The Bros (2017)
Alaska (1996)
The Huntsman: Winter's War (2016)
The Final Girls (2015)
The Cloverfield Paradox (2018)

Netflix Original

Sharknado 5 (2017)
Princess Cyd (2017)
Holy Camp! (2017)
4 New Documentaries Streaming to Netflix Australia
Mortified Nation (2013)
42 Grams (2017)
John Mellencamp: Plain Spoken (2017)
FBI: Criminal Pursuit: Season 2 (2011)
12 New TV Series Streaming to Netflix Australia
Babylon Berlin: Season 1 (2017)

Netflix Original

Baby Ballroom: Season 1 (2017)
Hyori's Bed & Breakfast: Season 1 (2017)
Kakegurui: Season 1 (2017)
Damnation: Season 1 (2017)

Netflix Original

Luna Petunia: Return To Amazia: Season 1 (2018)

Netflix Original

Altered Carbon: Season 1 (2018)

Netflix Original

Ollie & Moon: Season 1 (2018)
Coach Snoop: Season 1 (2018)

Netflix Original

Sherlock: Series 1-3 (2010-12)
The Adventures Of Puss In Boots: Season 6 (2015)

Netflix Original

OCTB: Season 1 (2017)
1 New Standup Shows Streaming to Netflix Australia
Kavin Jay: Everybody Calm Down! (2018)

Netflix Original