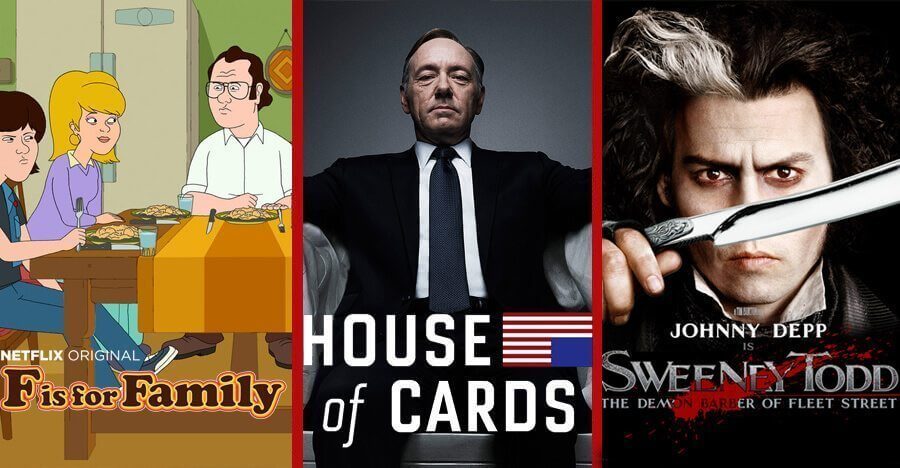 We are now a week into June and many new great titles have been introduced to Australian Netflix. 79 titles have been added, that consist of 35 new movies, 21 documentaries, and another 23 TV series for you all to enjoy. Due to the high number of titles added, we have taken it upon ourselves to specifically pick out 3 and highlight them individually for your benefit.
April welcomes the return of one of the largest and most popular Netflix Originals, 'House of Cards' which is now in its fifth season. The show follows the formidable and ruthless Congressman Francis Underwood who, along with his equally devilish Wife is on a quest for power using any means possible. The show has won 2 Golden Globes along with countless other awards and is regarded as a masterful show by users and critics alike. Anyone who watches House of Cards will be pleased to see that season 5 is now available to stream.
Our next pick is the Animated comedy 'F is for Family'. This Netflix Original was created and stars Bill Burr as Frank Murphy, the father in a somewhat dysfunctional family that was common in the 1970s. The show includes many cultural references from the era that brings back a sense of nostalgia that you don't get some other shows. The Murphy family has returned for a second season, to the delight of many fans that were taken by surprise by this genuinely funny cartoon, that is definitely not aimed at young children.
Article Continues Below...
Our final pick is slightly more unique, the 2007 Drama/Musical 'Sweeny Todd' is now available to stream on Netflix, and is known as one of Tim Burton's more dark and dramatical films (and that's saying something). Johnny Depp stars alongside Helena Bonham Carter, Alan Rickman, and Timothy Spall in a classic based off the hit Broadway musical. After Benjamin Barker is banished from London and ripped away from his wife and child, he slowly looses his mind and transforms into Sweeney Todd, a deadly barber who is fixed on returning and exacting his revenge on the corrupt Judge who did this to him.
Read on for the full list of all 79 new releases:
35 New Movies Streaming to Netflix Australia
Arms and the Dudes (2016)
Sarah Silverman: A Speck of Dust (2017)
Ben-Hur (2016)
Lawrence of Arabia: Restored Version (1962)
Of Mice and Men (1992)
Lens (2015)
Qila (1998)
Howard Lovecraft & the Frozen Kingdom (2016)
Little Boxes (2016)
1 Night (2016)
Catfight (2016)
Where the Heart Is (2000)
Oh Darling Yeh Hai India (1995)
Love.com (2017)
Chingo Bling: They Can't Deport Us All (2017)
Killer Klowns from Outer Space (1988)
The Man in the Iron Mask (1998)
Maya Memsaab (1992)
Aashik Awara (1993)
Prince (1969)
Devil's Bride (2016)
SUPERMODEL (2016)
The Vessel (2016)
Lucid Dream (2017)
The Lovely Bones (2009)
The Flintstones (1994)
What If (2013)
Los Últimos de Filipinas (2016)
True Story (2015)
Headshot (2016)
Acapulco La vida va (2016)
Sweeney Todd: The Demon Barber of Fleet Street (2007)
Jules and Dolores (2016)
The Wishing Tree (2017)
Gabriel Iglesias Presents Rick Gutierrez: I'm Not Mad, I'm Just a Parent (2014)
New Documentaries Streaming to Netflix Australia
Kardashian: The Man Who Saved OJ Simpson (2016)
Gringo: The Dangerous Life of John McAfee (2016)
The Real Sleeping Beauty (2007)
World of Compulsive Hoarders (2007)
How to Stage a Coup (2017)
Jackie: A Tale of Two Sisters (2017)
Yarn (2016)
Made in Bangkok (2015)
Without Gorky (2011)
Burlesque: Heart of the Glitter Tribe (2017)
The Mitfords: A Tale of Two Sisters (2017)
Amelia: A Tale of Two Sisters (2017)
Betting on Zero (2017)
The Woman with 7 Personalities (2004)
Michael Lost and Found (2015)
Virgin School (2005)
The Girl Whose Muscles are Turning to Bone (2005)
40 Year Old Virgins (2013)
Behind Closed Doors (2016)
Life in a Day (2011)
Saving Banksy (2017)
New TV Series Streaming to Netflix Australia
House of Cards – Season 5 (2015)
F Is for Family – Season 2 (2015)
Peaky Blinders – Season 3 (2013)
Animal Kingdom – Season 2 (2016)
Best Get Going – Season 1 (2015)
Rouge – Season 1 (2016)
West Coast Customs – Season 3 (2011)
The Golden Years with Javed Akhtar – Season 1 (2016)
Skin Wars – Season 1 (2015)
Fear Files… Har Mod Pe Darr – Season 1 (2015)
The Day Will Come – Season 1 (2016)
Iron Man: Armored Adventures – Season 2 (2011)
Inspector Gadget – Season 2 (2015)
Violetta – Season 1 (2013)
The Dream Job – Season 1 (2016)
Mind Game – Season 1 (2015)
From Dusk Till Dawn – Season 2 (2014)
Pyaar Tune Kya Kiya – Season 1 (2014)
Mutant Busters – Season 2 (2016)
Intersection – Season 2 (2016)
Jhansi Ki Rani – Season 1 (2009)
The Homecoming – Season 1 (2015)
Flaked – Season 2 (2016)