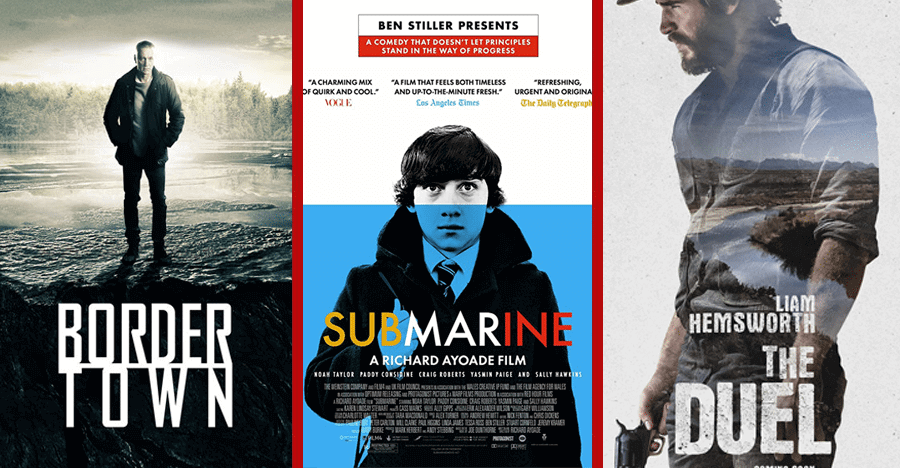 In the last week, a total of 67 new titles have been added to Australian Netflix, consisting of 38 new movies, 10 documentaries, 16 TV series and an additional 3 Netflix standup shows. Especially with so many new shows and movies arriving, it can often be hard to pick something out to start watching. That's why we've chosen three titles specifically to briefly talk about below. Feel free to look through the list below, and if you see something that stands out to you, we would love to hear in the comments below.
Our first pick for this week is the quirky rom-com called 'Submarine'. The film stars Craig Roberts (The Fundamentals of Caring) as a 15-year-old kid who is determined to repair his parent's marriage and lose his virginity before his next birthday. Oliver struggles to fit in and make friends but after a curious girl takes interest in him, he is adamant he's going to be the best boyfriend ever. The brilliant film was nominated for a BAFTA award and this coming-of-age story is definitely worth a watch.
Next, we have picked to highlight the 2016 western 'The Duel' starring both Woody Harrelson and Liam Hemsworth. A Texas Ranger is sent out to investigate a number of brutal and unexplained deaths that have turned up in the nearby river. Upon finding the town of Helena, the Ranger soon discovers that the preacher is not really who he claims to be. For any western fans who might be looking for something new to watch on Netflix, The Duel should definitely be on your list.
Article Continues Below...
A new Netflix Original that has also been welcomed to Australia is the Mystery, Crime, Drama 'Bordertown'. The Finnish show follows a quirky but talented detective who in an attempt to spend more time with his family, moves to a small town. Soon he is dragged into a web of murder and deception and must use his amazing deductive skills to piece the mystery together. The show is somewhat reminiscent of Sherlock and fans of the British series should keep an eye on this one.
Here is the full list of 67 titles added to Netflix Australia this week:
38 New Movies Streaming to Netflix Australia
Big Bear (2017)
The Mudge Boy (2003)
Last Knights (2015)
I, Robot (2004)
Frozen Ground (2013)
Shanghai (2012)
Hell (2011)
Queen Of The South, Season 1 (2015)
What's The Worst That Could Happen? (2001)
The Duel (2016)
Zoolander 2 (2016)
Dream House (2011)
The Silence (2015)
Tope: The Bait (2016)
Shakti: The Power (2002)
Something Huge (2017)
Hide & Seek (2010)
Let Me Go (2017)
Shaurya (2008)
The Purge: Election Year (2016)
Again Kasargod Khader Bai (2010)
Submarine (2011)
The Plan (2015)
The Shaukeens (2014)
Haseena Maan Jaayegi (1999)
Hans Zimmer: Live In Prague (2017)
Elser – Er Hätte Die Welt Verändert (2015)
Ricki And The Flash (2015)
The Chase (2017)
Balu Mahi (2017)
Run (2004)
Derren Brown: The Push (2018)

Netflix Original

Pork Pie (2017)
The Shack (2017)
F The Prom (2017)
Death In Venice 1971)
Deadly Impact (2010)
Hart's War (2002)
10 New Documentaries Streaming to Netflix Australia
Mayday: The Passenger Who Landed A Plane (2014)
The Layover: Season 1 (2011)
Kill Hitler! The Luck Of The Devil (2015)
The Last Secrets Of 9/11 (2014)
The Day They Dropped The Bomb (2015)
How Safe Is Your House?: Season 1 (2014)
Flint Town: Season 1 (2018)

Netflix Original

Ugly Delicious: Season 1 (2018)

Netflix Original

Bugs (2016)
Guy Martin's Spitfire (2014)
16 New TV Series Streaming to Netflix Australia
Nightmare Tenants, Slum Landlords: Season 1-2 (2015)
The Ugly Face Of Beauty: Season 1 (2010)
Escape To The Country Collection: Season 1 (2002)
Grand Designs: Season 11-12 (1999)
Bondi Ink Tattoo Crew: Season 1-2 (2015)
Queen Of The South, Season 1 (2016)
Love Your Garden: Season 1 (2011)
Beauty And The Beach: Season 1 (2015)
Bordertown: Season 1 (2016)

Netflix Original

Big Dreams, Small Spaces: Season 1 (2015)
21 Thunder: Season 1 (2017)

Netflix Original

B: The Beginning: Season 1 (2018)

Netflix Original

Hitler's Circle Of Evil: Season 1 (2017)
Weekend Aristocrats: Season 1 (2013)
Best Lover: Season 1 (2016)
Age Gap Love: Season 1 (2014)
3 New Standup Shows Streaming to Netflix Australia
Marlon Wayans: Woke-Ish (2018)

Netflix Original

Adel Karam: Live From Beirut (2018)

Netflix Original

Malena Pichot: Estupidez Compleja (2018)

Netflix Original