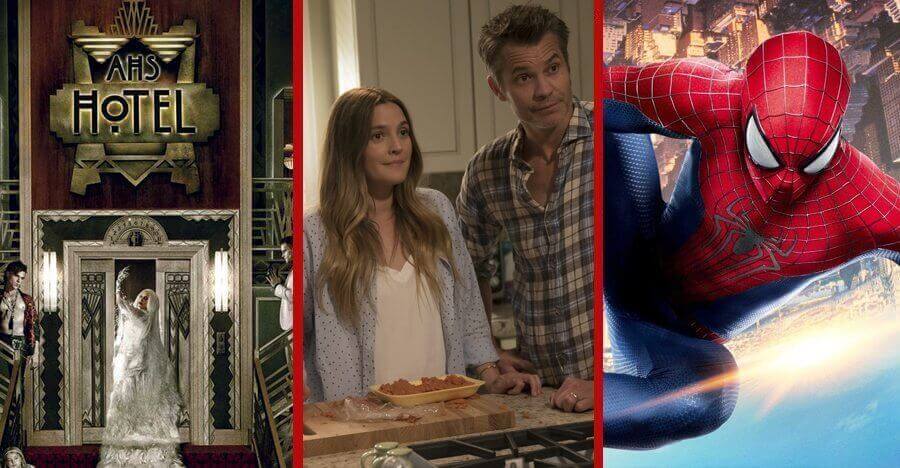 It's now the second week of February and Australia has had a total of 56 new exciting titles added onto the database, including 25 Movies, 16 new documentaries, and 15 TV series, all for your enjoyment. Speaking of your enjoyment, we have picked three titles that stand out to us, and we have chosen to dedicate a little time to outline these titles, in the hope that you might consider streaming them in your spare time.
Our first pick is the fifth season of the TV series 'American Horror Story' titled 'Hotel.' It first debuted on October 7th, 2015. The Season takes place at the Cortez Hotel in L.A and is loosely based on the infamous real 'Murder Castle' built by H. H. Holmes, where he used to trap, torture, murder and dispose of victims within its walls. This Fifth season is said to be the darkest so far and is the first season to not include the recurring characters (Jessica Lange and Frances Conroy). The hotel houses two dangerous killers, the 'Ten Commandments Killer' and "The addiction Demon."
The Amazing Spider-Man 2 has also been added to Australian Netflix, and is the second outing of the new Spiderman 'Andrew Garfield.' The city of new york becomes under siege by Oscorp and Spider-man must protect them, but for Peter Parker, being Spider-man and having all his responsibilities comes at a price, he is the only one who can save the citizens of new york from powerful adversaries, including his old friend Harry Osborn.
Our final mention for this week is the new Netflix original 'Santa Clarita Diet' starring Drew Barrymore and Timothy Olyphant. They are a married couple living in Santa Clarita, California as Real estate agents. Sheila (Drew Barrymore) unfortunately succumbs to death one day, but then rises again as a flesh-hungry zombie. Things get a little gruesome from then on. It's been met with positive reviews and this comedy horror should be worth your attention.
Read on for the full list of all 56 new releases:
25 New Movies Streaming to Netflix Australia
Sun Belt Express (2014)
My Little Pony: Legend of Everfree (2016)
Lift Me Up (2015)
La Ultima Fiesta (2016)
Hija Unica (2016)
Heroes Wanted (2016)
The Dead Lands (2014)
Confessions of a Shopaholic (2009)
Bill Burr: Walk Your Way Out (2017)
The Submarine Kid (2015)
Her (2013)
Happy New Year (2014)
Chauthi Koot (2015)
The Amazing Spider-Man 2 (2013)
Sand Storm (2016)
Imerical Dreams (2014)
Daniel Sosa: Sosafado (2017)
Semana Santa (2015)
Maroon (2016)
Haraamkhor (2015)
Elvira I will give you my life but i'm Using it (2014)
Dreamland (2016)
Dilwale (2015)
Trash Fire (2016)
Copenhagen (2014)
16 New Documentary Streaming to Netflix
Under Arrest – Season 4 (2015)
Paris is Burning (1990)
I am Your Father (2015)
Gun Runners (2015)
Extreme Animal Attacks (2003)
Extream Adventure Emergencies (2003)
The Eccentrics – Season 1 (2015)
Cut From a Different Cloth (2015)
Ashley Madison: Sex, Lies and Cyper Attacks (2016)
13TH: A Conversation With Oprah Winfrey and Ava Duvernay (2017)
Highly Strung (2015)
Star Men (2015)
Naga the Eternal Togi (2016)
The Karma Killings (2016)
I Am Sun Mu (2015)
Conmen Case Files – Season 1 (2011)
15 New TV Series Streaming to Netflix
The Ultimate Fishing Experience – Season 1 (2014)
Transformers: Robots in Disguise – Season 3 (2015)
Schitt's Creek – Season 2 (2015)
Odd Squad – Season 1 (2014)
Lindner's Fishing Edge – Season 1 (2013)
Les Beaux Malaises – Season 1/4 (2014)
Into the Drink – Season 1 (2013)
Babe Winkelman's Outdoor Secrets – Season 1 (2008)
American Horror Story – Season Hotel (2011)
Intersection – Season 1 (2016)
Battles – Kong: King of the Apes – Season 1 (2016)
Santa Clarita Diet – Season 1 (2017)
Shopkins – Season 1 (2014)
The Hunt – Season 1 (2012)
Most Haunted – Season 15 (2002)