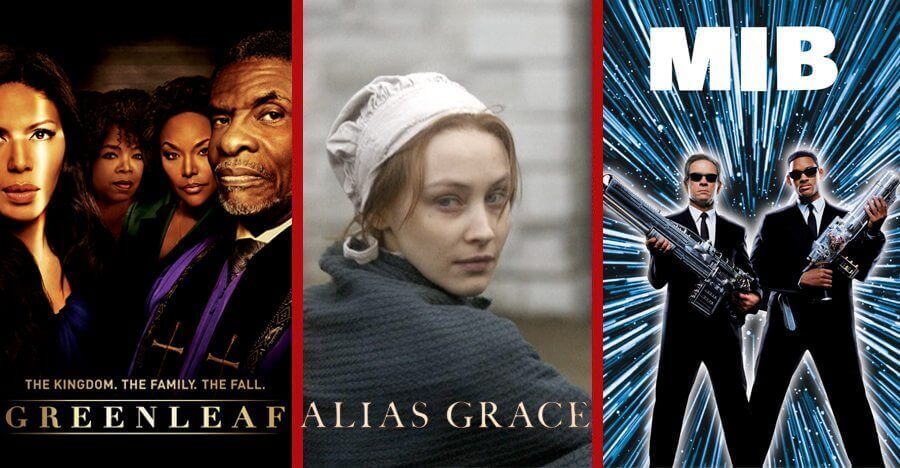 We're now a week into November, and 79 new titles have been added to Australian Netflix since October ended. 51 movies, 8 documentaries and an additional 20 TV series have been added, consisting of a good variety of entertainment for you to enjoy. As we normally do, we have picked out three titles individually to talk about, in the hope of giving you an idea where to start.
Our first highlight from the week's additions is not just one title, but three. All of the 'Men in Black' films are now showing on Netflix. The first movie debuted all the way back in 1997 and stars Will Smith and Tommy Lee Jones as two agents tasked with protecting the earth from all manners of aliens creatures. The Family, Adventure has a good mix of comedy and sci-fi elements to keep many coming back to this classic.
Our second pick is the new Netflix Original 'Alias Grace'. The crime drama is based on the true story of Grace Marks, a housemaid during in the 1840s who is accused and imprisoned for the murder of her employer. The mini-series follows Dr. Simon Jordan, whos trying to decipher whether Grace has really lost all memory of the event, or if she's guilty of the heinous crime. Recently Netflix has been doing a great job producing period shows and films set in the 1800s and this is another one to defiantly put on your watch list.
Article Continues Below...
The second season of the popular drama 'Greenleaf' has just come to Australian Netflix. The series originally belonged to the 'Oprah Winfrey Network' but has recently been picked up by Netflix as an Original series. The shows main premise follows a mega-church and it's controversial history and dark secrets that loom over the Greenleaf family. Starring Merle Dandridge, Keith David, Lynn Whitfield and even Oprah Winfrey herself.
Honourable Mentions this week include: The 2006 Will Smith film 'The Pursuit of Happiness' along with another Smith flick 'Seven Pounds'. And for Horror fans '28 Weeks Later' is also now available to stream.
See the full list of 79 titles added to Netflix Canda this week:
51 New Movies Streaming to Netflix Australia
Yaara O Dildaara (2011)
Where the Day Takes You (1992)
Waarrior Savitri (2016)
Undercover Grandpa (2016)
Trip To Bhangarh: Asia's Most Haunted Place (2014)
The Stanford Prison Experiment (2015)
The Pursuit of Happyness (2006)
The Omen (2006)
The First Time (2012)
The Bittersweet (2017)
Ten Thousand Saints (2015)
Son of the Pink Panther (1993)
Six Degrees of Separation (1993)
Seven Pounds (2008)
Sameer (2017)
Romeo Ranjha (2014)
Rivaaz (2011)
Punjab 1984 (2014)
Pettersson and Findus 2 (2016)
Moor (2015)
Mirror Game: Ab Khel Shuru (2017)
Men in Black II (2002)
Men in Black 3 (2012)
Men in Black (1997)
Kis Kisko Pyaar Karoon (2015)
Kacche Dhaagey (2016)
Hajwala: The Missing Engine (2016)
Golden Time (2013)
Getaway Plan (2016)
Flawless (1999)
Date Night (2010)
Crank 2: High Voltage (2009)
Coffee with D (2017)
Bruno and Boots: This Can't Be Happening at Macdonald Hall (2017)
Blackhat (2015)
Beiimaan Love (2016)
Adult Life Skills (2016)
6-5=2 (2014)
28 Weeks Later (2007)
Monster High: Scaris, City of Frights (2013)
Bandie (1978)
Sisters (2015)
Mubarakan (2017)
Inteqam: The Perfect Game (2003)
Home Delivery (2005)
Hanuman (2006)
Dil Maange More (2004)
Deha (2007)
Darna Zaroori Hai (2006)
Corporate (2006)
Ab Tak Chhappan (2004)
8 New Documentaries Streaming to Netflix Australia
Sound City (2013)
Roots (2016)
Romeo Is Bleeding (2015)
One Heart: The AR Rahman Concert Film (2017)
Le train d'Hitler – La bête d'acier (2017)
Sound of Torture (2013)
Williams (2017)
Jerry Seinfeld: Comedian (2002)
13 New TV Series Streaming to Netflix Australia
When Calls the Heart – Season 4 (2016)
Under Arrest – Season 7 (2015)
Together – Season 1 (2009)
The Truth – Season 1 (2008)
The Mind of a Chef – Season 5 (2015)
The Little Nyonya – Season 1 (2009)
The Golden Path – Season 1 (2007)
The Furchester Hotel – Season 2 (2014)
The Family Court – Season 1 (2010)
My Life My Story – Season 1 (2017)
Greenleaf – Season 2 (2016)

Netflix Original

Conspiracy – Season 1 (2015)
A Christmas Special: Miraculous: Tales of Ladybug & Cat Noir – Season 1 (2016)
Call My Agent! – Season 2 (2015) Netflix Original
The Big Family Cooking Showdown – Season 1 (2017)

Netflix Original

Alias Grace – Season 1 (2017)
Akulah Balqis – Season 1 (2015)
Cuckoo – Season 3 (2014)
The Sinner – Season 1 (2017)

Netflix Original

Project Mc² – Season 6 (2015)