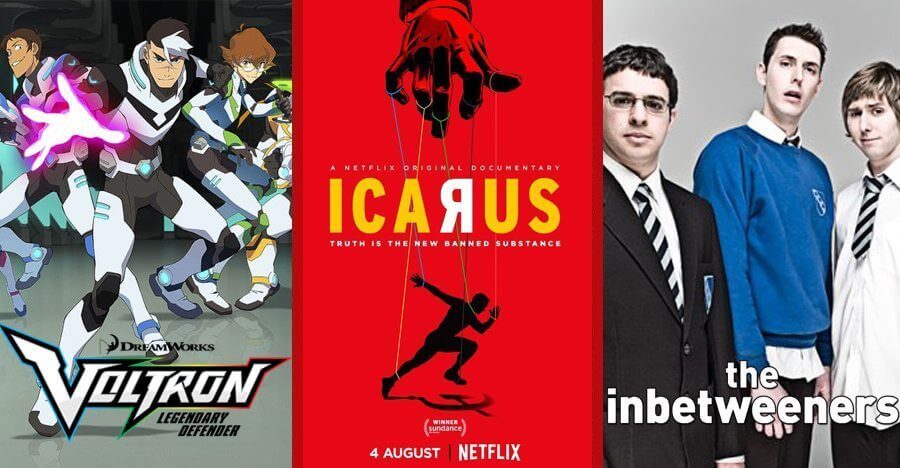 It's now the second week of August already and Australian Netflix welcomes a total of 64 new titles to its screens. 21 new movies have been added, along with a further 3 Documentaries and 40 new TV series. Just like we do every week, we are going to pick out three titles that stand out to us and briefly outline them. If you find something in the list that you think we should have highlighted, please tell us in the comments below.
Our first pick for this week is the documentary 'Icarus', a new Netflix original determined to uncover the real truth behind doping in sports and the biggest Olympic scandal in sports History. The 2-hour film follows Bryan Fogel as he explores this geopolitical thriller full of unexplained death and scandals. If you are a fan of documentaries or sporting drama, this film is perfect for you.
The third season of 'Voltron: Legendary Defender' has just made its way to Australian Netflix and is a remake of the classic 80's series Voltron. The show follows five teenagers who are chosen to defend the galaxy from the evil army led by King Zarkon. Many classic fans regard this series as an amazing remake and implore anyone who used to watch the old 80s series to give this a go, it will fill you with nostalgia.
Lastly, this week welcomes the third season of 'The Inbetweeners', a very well known and popular comedy that started back in 2008 and based in Britain. The show resonated with a large audience as it captured teenage life and relationships with amazing accuracy. Four completely different friends are attempting to survive their time at sixth-form (College) and hopefully, have some fun along the way. There were only three seasons of the show but they were followed up by 2 feature films, all worth a watch.
This week's Honorable Mentions include: Season 5 of Grimm, Wet Hot American Summer: Ten Years Later, and the 2012 film Mabo.
Read on for the full list of all 64 new releases:
21 New Movies Streaming to Netflix Australia
Jab We Met (2007)
Papa (2015)
The Invisible Guardian (2017)
Raising the Bar (2016)
Katt Williams: It's Pimpin' Pimpin' (2008)
The Machinist (2004)
Message from the King (2017)
Bhool Bhulaiyaa (2007)
Alan Saldaña: Mi vida de pobre (2017)
Enter the Warriors Gate (2016)
Prisoners (2013)
Mabo (2012)
Tucker and Dale vs. Evil (2010)
Mission: Destroy Love (2014)
The Black Room (2016)
Baahubali 2: The Conclusion (Hindi Version) (2017)
Baahubali: The Beginning (Hindi Version) (2015)
Justice League Dark (2017)
Queen of Katwe (2016)
Denis Leary: No Cure For Cancer (1992)
The Age of Adaline (2015)
3 New Documentaries Streaming to Netflix Australia
Icarus (2017)
Jago: A Life Underwater (2015)
Nat King Cole: Afraid of the Dark (2014)
40 New TV Series Streaming to Netflix Australia
Velvet – Season 4 (2014)
Gonul – Season 1 (2015)
Winter Sun – Season 1 (2014)
The Hollywood Masters – Season 1 (2016)
The Inbetweeners – Season 3 (2010)
When a Snail Falls in Love – Season 1 (2016)
Taste of the Country – Season 1 (2016)
Strange Creatures – Season 1 (2015)
How The World Ends – Season 1 (2017)
Paranormal Survivor – Season 2 (2016)
Rebel Without a Kitchen – Season 2 (2014)
Dino Hunt – Season 1 (2016)
Attack and Defend – Season 1 (2015)
Men on a Mission – Season 2 (2017)
Voltron: Legendary Defender – Season 3 (2016)
The Quon Dynasty – Season 1 (2011)
Buy Herself – Season 1 (2012)
Backroad Bounty – Season 2 (2015)
What's for Sale? With a View – Season 1 (2015)
Reno My Reno – Season 1 (2015)
Brojects – Season 3 (2016)
Wet Hot American Summer: Ten Years Later – Season 1 (2017)
Endless Yard Sale Showdown – Season 1 (2015)
Abnormal Summit – Season 2 (2016)
Chef & My Fridge – Season 2 (2016)
Life At – Season 5 (2014)
Back Roads – Season 2 (2016)
Luke Warm Sex – Season 1 (2016)
Two on the Great Divide – Season 1 (2012)
Julia Zemiro's Home Delivery – Season 3 (2016)
Grimm – Season 5 (2013)
Back Seat Drivers – Season 1 (2014)
Dinosaur Train – Season 1 (2014)
Country Town Rescue – Season 1 (2012)
The Ex-PM – Season 1 (2015)
Restoration Australia – Season 1 (2015)
Black Comedy – Season 1 (2014)
Julia Zemiro's Home Delivery – Season 4 (2016)
Chesapeake Shores – Season 2 (2016)
Janet King – Season 2 (2014)