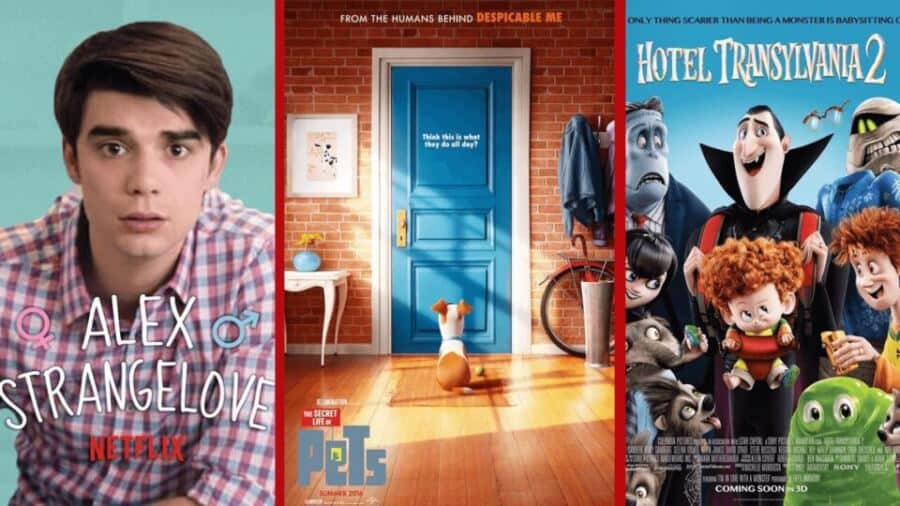 As we start to get further into June it's important to keep up with all the latest Netflix additions. Below you will find a full list of all the titles that have come to Australian Netflix throughout the past week. Although this may seem to be significantly less than what we saw arrive at the start of the month, this is perfectly normal. 9 Movies, 2 Documentaries, 5 TV shows and one standup special have been added, and we've taken some time to pick three titles that we think are worth watching.
Our first pick for this week is the 2016 animated film 'The Secret Life of Pets'. The comedy follows the quiet life of a terrier, Max who's life is turned upside down when his owner takes on a stray called Duke. The film is like Toy Story but for Pets, the animals live a secret life completely separated from their owners and get up to all sorts of mischief. The film was received as is a great family movie to get stuck into.
Secondly, we have chosen to highlight the new Netflix Original 'Alex Strangelove'. The comedy follows Alex Strangelove, a well mannered and above average high school student with a perfect girlfriend. But as soon as Alex meets a new friend and starts to feel the pressure for losing his virginity, he quickly begins to doubt his sexuality.
The last pick from this list comes in the form of another animated comedy 'Hotel Transylvania 2′. The film rejoins the occupants of Hotel Transylvania, including Dracula, a werewolf, mummy Frankenstein and of course Jonathan, the only human. Although not quite as popular as the first movie the sequel still received quite good reviews and is another great family now available on Netflix.
See the full list of 14 new titles available on Netflix Australia this week:
9 New Movies Streaming on Netflix Australia
Hotel Transylvania 2 (2015)
The Night Before (2015)
The Secret Life of Pets (2016)
Pat Garrett & Billy the Kid (1973)
One Missed Call (2008)
Nothing but Trouble (1991)
Dirt (2018)
Alex Strangelove (2018)

Netflix Original

Ali's Wedding (2018)

Netflix Original
2 New Documentaries Streaming on Netflix Australia
Martha Bakes – Season 1 (2011)
Genius of the Modern World – Season 1 (2016)
5 New TV Series Streaming on Netflix Australia
Janet King – Season 2 (2016)
Healer – Season 1 (2014)
Marcella – Season 2 (2018)
The Hollow – Season 1 (2018)
Sense 8 – Season 2.5 (2018)

Netflix Original
1 New Stand up Show Streaming on Netflix Australia
Franco Escamilla: Por la anécdota (2018)

Netflix Original