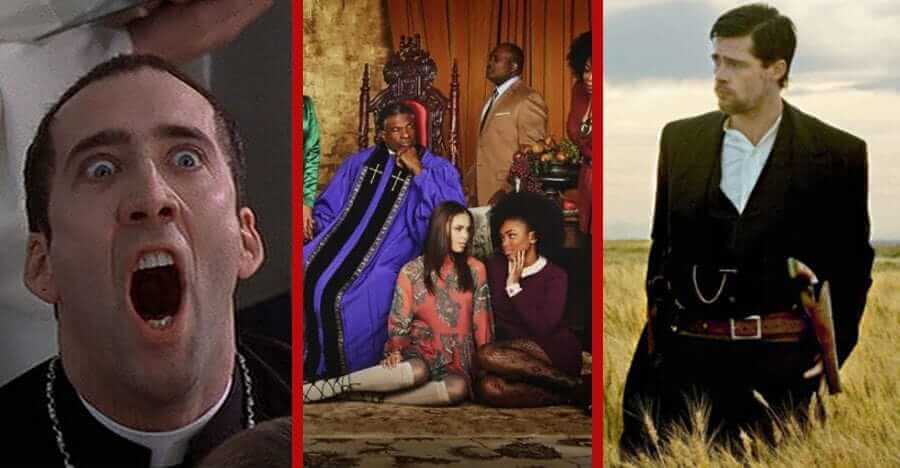 Now March has begun, it brings many new and exciting titles to all areas of Netflix. This article outlines the titles that have come to Australian Netflix this first week of March. 58 different titles have been added consisting of 19 new Movies, 23 Documentaries, and 19 TV Series. As usual, we have chosen three to talk about that you should consider giving a watch.
Our first pick is the new 'Greenleaf' produced by Oprah Winfrey's new television network 'OWN'. It has been recently taken on by Netflix as an Original. The show includes stars such as Merle Dandridge, Keith David, Lynn Whitfield and of course Oprah Winfrey herself. Ths show is about members of a mega-church who will do anything to stop their dark secrets being discovered. Both two season have been picked up by Netflix and they have received quite good reviews from both fans and critics.
Article Continues Below...
Our second choice for this week is the 2007 film 'The Assassination of Jesse James' starring Brad Pit and Casey Affleck. The film tells the tale of the infamous outlaw Jesse James and his many robberies during the 1880's, and how his life came to an end at the hands of Robert Ford. Jesse James is portrayed by Pitt not as a hero, but mean and cruel, in such a manner as to turn someone who idolized him, into an assassin. The film is very well made, both in writing and cinematography, and is definitely worth some attention.
Last choice for this week is 'Face/Off' an Action, Crime film starring John Travolta and Nicholas Cage that is known for its weird plot and great action. Castor Troy (played by Nicholas Cage) is a power criminal mastermind behind many brutal assassinations and plots who is being hunted by an FBI agent Sean Archer who is convinced he murdered his son. The FBI capture Castor during a raid, but soon find out that he has placed a destructive bomb that will destroy all of Los Angeles, and the only other person who knows about it is Castor's brother Pollux, who is locked away. The decide that the only was to find the bomb is for Archer to undergo extensive surgery to transplant Nicholas Cage's face onto his body, and Vise Versa. In an attempt to gain knowledge of the bomb. Yes, it is as weird as it sounds. But the movie is still regarded as a great action flick and a classic.
Read on for the full list of all 58 new releases:
19 New Movies Streaming to Netflix Australia
Singing With Angels (2016)
The Red Thread (2016)
Nise – The Heart of Madness (2016)
My Honor Was Loyalty (2015)
My All-American (2015)
Mike Birbiglia: Thank God for Jokes (2017)
The Man in 3B (2015)
Con Air (1997)
Batman: The Killing Joke (2016)
Ataud Blanco (2016)
Tiger (2016)
Meltdown (1995)
Capture the Flag (2015)
The Preacher's Son (2017)
The Assassination of Jesse James (2007)
Revelations (2016)
Nila (2016)
Better Off Single (2016)
Alice Through the Looking Glass (2016)
The Legend of Bagger Vance (2000)
Face/Off (1997)
Amy Schumer: The Leather Special (2017)
23 New Documentary Streaming to Netflix Australia
Witches: A Century of Murder – Season 1 (2015)
Why Sharks Attack (2014)
Ken Burns: The Roosevelts: An Intimate History – Season 1 (2014)
Ken Burns: The Civil War – Season 1 (1990)
Chandani (2010)
Bigfoot Files – Season 1 (2013)
Beak & Brain: Genuis Birds From Down Under (2013)
Anthony Bourdain: No Reservations – Season 7/8 (2005)
Nova: Who Killed Lindbergh's Baby (2013)
Nova: Manhunt – Boston Bombers (2013)
Nova: Cold Case JFK (2013)
Deadliest Tornadoes: Nova (2012)
Danny Says (2015)
Nova: Building Pharoah's Chariot (2013)
Parrot Heads (2016)
Hitler's Bodyguard – Season 1 (2008)
Fear Thy Neighbor – Season 1/2 (2014)
Bloodlands – Season 1 (2014)
Badlands, Texas – Season 1 (2015)
Sustainable (2016)
Rolling Stones: Crossfire Hurricane (2012)
The C Word (2016)
Unreported World – Season 1 (2015)
19 New TV Series Streaming to Netflix Australia
Tong: Memories – Season 1 (2016)
Sin Senos si Hay Paraiso – Season 1 (2016)
My Family Doctor – Season 1 (2014)
IT Champions – Season 1 (2014)
Island of the Future – Season 1 (2014)
Head 2 Head – Season 2 (2013)
Epid Drives – Season 2 (2012)
Beat Bugs – Season 1 (2016)
Bates Motel – Season 1/3 (2013)
12 Monkeys – Season 1 (2015)
Roadkill – Season 2 (2012)
Hot Rod Unlimited – Season 1 (2013)
Dirt Every Day – Season 1 (2013)
Crime Scene Investigation Center – Season 1 (2015)
Greenleaf – Season 1 (2016)
Monster Garage – Season 1 (2002)
Ignition – Season 1 (2012)
Homeland – Season 5 (2011)
American Crime Story: The People V O.J Simpson – Season 1 (2016)