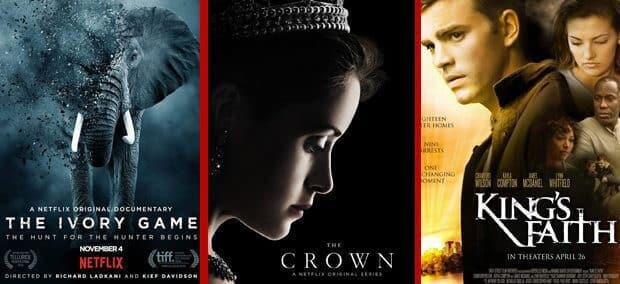 As usual, the new month brings a pile of new titles to Netflix Australia. November has given us 46 new movies, 17 Documentaries, and 20 New TV Series to be exact. This is my three picks from the large quantity of content imported into Netflix:
My first pick is the New Netflix Series 'The Crown'. After its release on the 4th of this month, it has been greeted with great praise due to its fantastic casting and production. It follows the reign of Queen Elizabeth II and the political rivalries she dealt with from her wedding in 1947 all the way to the present day. Currently, the first season (10 episodes) are available to stream. Another 5 seasons are in the pipeline and we can't wait!
A documentary by the name of 'The Ivory Game' was also released this week and is a gritty documentation of the wildlife activists and their hunt for the poachers who butcher the Elephants of Africa for the illegal trade of Ivory. This suspenseful almost drama like documentary is thrilling and really puts you in the shoes of the what it is like to put your life on the line to battle for a cause that you really care about.
Our last choice is the less known film 'King's Faith' which is now streaming in Australia and is a story about an Eighteen-year-old ex-gang member who is trying to leave his old life behind and become 'clean'. His old life comes back to haunt him and all the people he has come to care about in his new life. This is an enthralling title that deserves some well needed attention.
Read on for the full list of all 83 new releases:
46 New Movies Streaming on Netflix AU
Victoria (2015)
Spanish Affair 2 (2015)
The Skin I Live In (2011)
The Rebound (2009)
Puncture (2011)
Practical Magic (1998)
One for the Money (2012)
Ondine (2009)
November Rule (2015)
The Nanny Diaries (2007)
Mothers of the Bride (2015)
The Man from the Future (2011)
Lost Boy (2015)
King's Faith (2013)
I Wont Candy (2007)
Henry Gamble's Birthday Party (2015)
The Grudge 2 (2006)
The Grudge 3 (2015)
Dot 2 Dot (2014)
Don't Worry Baby (2015)
Clearskin (2012)
Butter (2011)
Secret of the Wings (2012)
Salvador Martinha – Tip of the Tongue (2016)
Rumble in Hong Kong (1973)
The Poltergeist if Borley Forest (2014)
Mystic Pizza (1988)
Mickey's Twice Upon a Christmas (2004)
Hope Springs (2012)
Blow (2001)
American Poltergeist (2015)
20/30/40 (2004)
Leprechaun (1993)
Just the Way You Are (2015)
The House of Small Cubes (2008)
Harvest Moon (2015)
Autum Dreams (2015)
Street (2015)
The Specialist (1994)
Lethal Seduction (2015)
Hoovey (2015)
Dana Carvey: Straight White Male, 60 (2016)
The Pink Mirror (2003)
Ghost Rider: Sprit of Vengeance (2012)
Black Book (2006)
The Late Bloomer (2016)
17 New Documentaries Streaming on Netflix AU
Wild North (Season 1)
Wild Australia with Ray Mears (Season 1)
When Two Worlds Collide
The Wheelchair President (Season 1)
Walking with Wolves
Untangling Alzheimer's
Under Arrest (Season 3)
The Lion in Your Living Room
In Their Shoes (2015)
Happy People: A Year in the Taiga (2010)
Flyod Norman: An Animated Life
A Dog's Life (2013)
David Blaine: Real or Magic? (2013)
Capture Wild School (Season 1)
Deprogrammed (2016)
The Ivory Game (2016)
My Way (2016)
20 New TV Series Streaming on Netflix AU
Taratabong: The World of the Meloditties (Season 1)
Santa Pac's Merry Berry Day (2016)
Pac's Scary Halloween
Love you (Season 1)
Love Now (Season 1)
Love Me or Leave me (Season 1)
Love Around (Season 1)
Just You (Seaons 1)
Inborn Pair (Season 1)
Chewing Gum (Season 1)
Que Pena tu Serie (Season 1)
Mutant Busters (2015)
The Expanse (Season 1)
World of Winx (Season 1)
Shetland (Season 1)
Shetland (Season 2)
Mossad 101 (Season 1)
The Crown (Season 1)
Eyewitness (Season 1)
Love Family (Season 1)