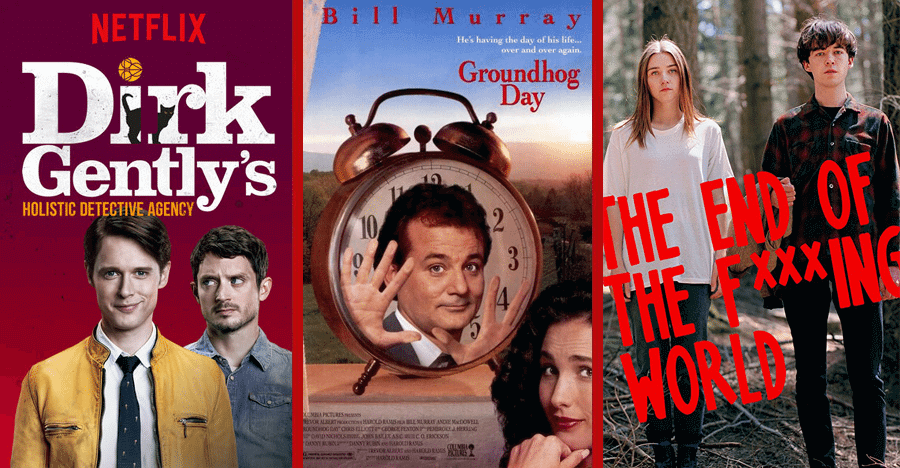 The first week of 2018 has brought plenty of new and exciting titles to Netflix Austalia. A total of 126 titles have been added since last week, including 73 new movies, 19 documentaries, 33 TV series and one new Netflix stand-up show. Among this wave of new titles are some real gems so we have taken time to pick them out and highlight three individually. Of course, with such a large list, we are bound to not highlight everything you might be interested in so feel free to study the list and if you spot something you like, let us know in the comments below.
Our first pick for this week is the brand new Netflix original 'The End of the F***ing World'. The drama stars Alex Lawther (Black Mirror) who plays James, a 17-year-old kid who's pretty sure he's a psychopath. He makes an uneasy companionship with the new girl from school, Alyssa (Jessica Barden). They embark on a road trip to find Alyssa's real father. Since the shows release, it has received many positive reviews and has been widely binge-watched.
An addition, we thought was worthy of a mention was the classic 1993 film 'Groundhog Day' with Bill Murray in the main role. A lot of you will be familiar with the film, or at least it's plot. Bill Murray plays a somewhat frustrated weatherman who is sent to cover the story of a weather forecasting groundhog. But on waking the following day he finds himself living the same painful day, over and over, seemingly stuck in an eternal loop. Since 1993 this plot has been endlessly recycled in other movies, but this will always be known as the best and most well known.
Our third pick for this week is another Netflix original. The second season of 'Dirk Gently's Holistic Detective Agency' is now available to watch on Australian Netflix. The show is based on the novels by Douglas Adams (of The Hitchhikers Guide to the Galaxy fame) and follows the adventures of Dirk Gently (Samuel Barnett) as he attempts to solve supernatural cases without appearing to have any detective skills at all. The series has been met with praise and many will be glad to see the second season available to stream.
Here is the full list of 126 titles added to Netflix Australia this week:
73 New Movies Streaming to Netflix Australia
You Can Tutu (2017)
Yanda Kartavya Aahe (2006)
WarGames: The Dead Code (2008)
Walking on Sunshine (2014)
Vincent N Roxxy (2016)
Time Please (2013)
The Woman in Black 2: Angel of Death (2014)
The Place Beyond the Pines (2012)
The Lego Batman Movie (2017)
The Karate Kid (1984)
The Intouchables (2011)
The Girl Who Played with Fire (2009)
The Fifth Element (1997)
The Damned Rain (2009)
The Da Vinci Code (2006)
The Cobbler (2014)
Super Dark Times (2017)
Son of a Gun (2014)
Shahanpan Dega Deva (2011)
Scary Movie 5 (2013)
Sanai Choughade (2009)
Ruby & Quentin (2003)
Riddick (2013)
Raging Bull (1980)
Pollock (2000)
Philomena (2013)
Personal Shopper (2016)
Neighbor For Sale (2010)
Murder on the Cape (2017)
Mud (2012)
Monsters: Dark Continent (2014)
Mi Shivajiraje Bhosale Boltoy (2009)
Maza Pati Karodpati (1988)
Maacher Jhol (2017)
Kay Dyache Bola (2005)
Just Go With It (2011)
Irrational Man (2015)
Infinity Chamber (2017)
Ideachi Kalpana (2010)
I, Frankenstein (2014)
Hridaynath (2012)
Hook (1991)
Happy Hunting (2017)
Groundhog Day (1993)
Girl, Interrupted (1999)
Gangster Squad (2013)
Fracture (2007)
Don Jon (2013)
Devrai (2004)
Camp Cool Kids (2017)
Cabin Fever: Patient Zero (2014)
Burlesque (2010)
Bruno and Boots: The Wizzle War (2017)
Black or White (2014)
Big Fish (2003)
Big Daddy (1999)
Beauty Shop (2005)
Barbie Dolphin Magic (2017)
Badha (2006)
Aata Pita (2010)
Aajcha Divas Majha (2013)
A Walk in the Woods (2015)
27 Dresses (2008)
21 (2008)
Mustang Island (2017)
Mongol (2007)
Jora 10 Numbaria (2017)
Heartthrob (2017)
Green White Green (And All The Beautiful Colours In My Mosaic Of Madness) (2016)
Manhattan Nocturne (2016)
By the Sea (2015)
Ride Along 2 (2016)
My Big Fat Greek Wedding 2 (2016)
19 New Documentaries Streaming to Netflix Australia
Twice (2010)
Treasures from the Wreck of the Unbelievable (2017)
The Jack King Affair (2015)
Numbered (2012)
Not Alone (2017)
Metallica Through The Never (2013)
Martin Luther: The Idea that Changed the World (2017)
Maddman: The Steve Madden Story (2017)
He Named Me Malala (2015)
Functional Fitness (2016)
Empire of Scents (2014)
Elles ont toutes une histoire (2016)
Elles étaient en guerre (1914-1918) (2014)
Cave of Forgotten Dreams (2010)
Born Strong (2017)
Blurred Lines: Inside the Art World (2017)
AlphaGo (2017)
House of Z (2016)
The Untold Tales of Armistead Maupin (2017)
33 New TV Series Streaming to Netflix Australia
Zoo – Season 3 (2015)
Zack & Quack – Season 1 (2014)
Young Justice – Season 2 (2012)
Weeds – Season 8 (2012)
Trotro – Season 1 (2004)
Towies – Season 1 (2016)
Totally Spies! – Season 1 (2001)
Total Drama – Season 2 (2009)
The Fighting Season – Season 1 (2015)
Teen Wolf – Season 6 (2014)
Teen Titans Go! – Season 3 (2015)
Scrotal Recall – Season 3 (2014)

Netflix Original

Mister Maker – Season 1 (2007)
Lockup: County Jails – Season 1 (2013)
Little Princess – Season 1 (2006)
Hot Wheels: Battle Force 5 – Season 1 (2010)
Horrid Henry – Season 1 (2006)
Highway Thru Hell – Season 5 (2012)
Fullmetal Alchemist – Season 1 (2003)
Eastsiders – Season 3 (2015)
Can't Cope, Won't Cope – Season 1 (2016)
Bat Pat – Season 1 (2016)
The End of the F***ing World – Season 1 (2017)

Netflix Original

The Backyardigans – Season 1 (2004)
Sin Senos sí Hay Paraíso – Season 2 (2016)
Gotham – Season 2 (2015)
Dirk Gently's Holistic Detective Agency – Season 2 (2016)

Netflix Original

Comedians in Cars Getting Coffee – Season 3 (2017)

Netflix Original

Beyblade: Metal Fusion – Season 1 (2009)
Bakugan: Battle Brawlers – Season 1 (2009)
Tundukkan Playboy Itu – Season 1 (2016)
So You Think You'd Survive? – Season 1 (2015)
Frenemies: Loyalty Turned Lethal – Season 1 (2014)
1 New Standup Shows Streaming to Netflix Australia
Dave Chappelle: Equanimity & The Bird Revelation – Season 1 (2017)

Netflix Original