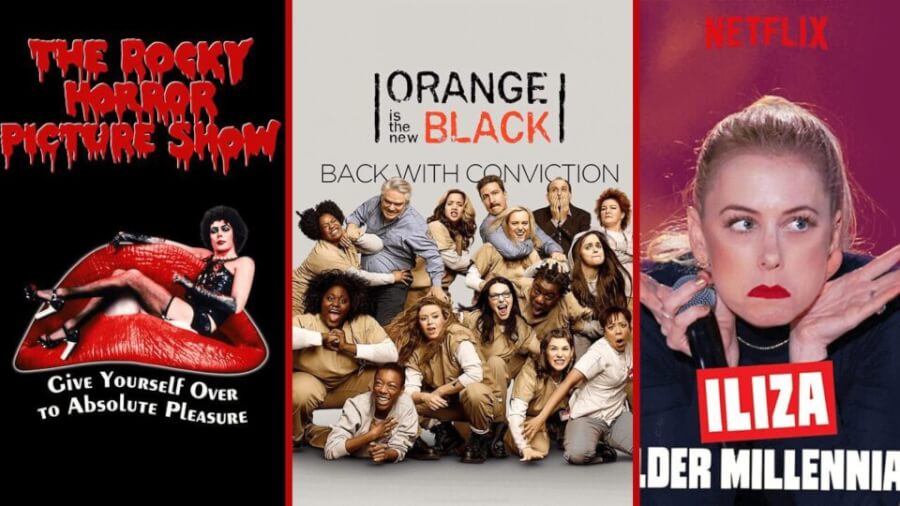 Just 30 new releases for Australia this week and, as usual, we have selected three for special attention. The list includes some Thai and Hong Kong movies which should not be discounted but there's plenty of English language release for you too.
There are cult movies and there are cults. The Rocky Horror Picture Show is both. Well over 40 years old now, the movie still has regular cinema showings around the world at which the audience dresses as their favorite characters, know all the dance moves and sing along to the songs. Cinema doyenne Susan Sarandon as Janet (Dammit Janet) was a mere stripling when the movie was made and Tim Curry puts in a masterpiece performance Dr. Frank-N-Furter. The Academy of Science Fiction, Fantasy & Horror Films clearly had a vision when the film was inducted to the Hall of Fame as soon as 1980. This movie is an absolute must for your all-time list of "I have seen this movie" movies.
What can we say about Orange is the New Black that hasn't already been said as Season 6 arrives on Netflix Australia? Piper Chapman was sentenced to a year and a half in prison back in 2013and has surely done her time. Incidentally, Taylor Schilling is the only cast member who has appeared in every single episode. Standing alongside Breaking Bad, Game of Thrones and Walking Dead, Orange is the New Black is up there with the best TV series ever made. Hats off to Netflix. As with all Netflix Original programming, all episodes are instantly available so please binge to your heart's content.
Netflix has embraced and endorsed stand up comedy big time. And with the Edinburgh fringe festival rapidly approaching, surely we can expect a lot more. Iliza Shlesinger, we should point out, has never done the Fringe but definitely has a worldwide following. Iliza Shlesinger: Elder Millennial is a brand new release for 2018. Now there's an incongruity here. The pitch of the show is that Schlesinger is newly engaged. Odd since she got married in May 2018. Anyway, this is a high paced observational comedy show with a laugh a line. Beware of the F-bomb if you're thinking of watching with the family…
Here is the full list of the weeks 30 releases on Netflix Australia.
21 New Movies
Bad Moms (2016)
Bang Rajan 2 (2010)
Blow (2001)
Fathers & Daughters (2015)
Focus (2015)
Geostorm (2017)
My True Friend (Friends Never Die) (2012)
Oh My Ghost (Hor taew tak 2) (2009)
Oh My Ghost 2 (Hor taew tak 3) (2011)
Oh My Ghost 4 (Hor taew tak 4) (2015)
Pahuyut Fighting Beat (FB: Fighting Beat) (2007)
Parmanu: The Story of Pokhran (2018)
The 5th Wave (2016)
The Bund (Shang Hai tan xu ji) (1983)
The Holy Man (2005)
The Iron Ladies (Satree lek) (2000)
The Iron Ladies 2 (Satree lek 2) (2003)
The Rocky Horror Picture Show (1975)
The Warning (2018)

Netflix Original

Train of the Dead (Chum thaang rot fai phii) (2007)
Waterschool (2018)
5 New TV Series
Orange is the New Black (Season 6)

Netflix Original

Project Runway (Season 4)
Roman Empire (Season 2)

Netflix Original

Smoking (Season 1)
The Worst Witch (Season 2)

Netflix Original
3 New Documentaries
44 Pages (2018)
The Bleeding Edge (2018)

Netflix Original

The Devil and Father Amorth (2017)
1 New Standup Special
Iliza Shlesinger: Elder Millennial (2018)

Netflix Original