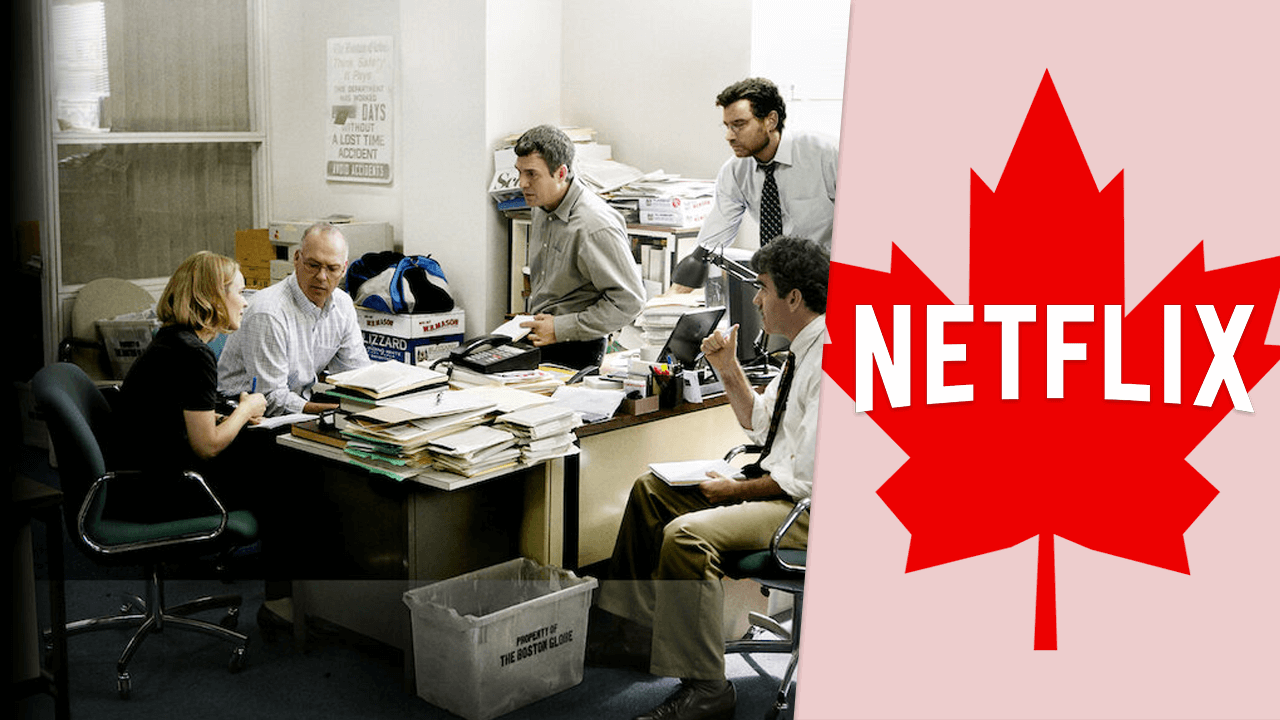 It's a strong start to the month on Netflix Canada thanks to the 64 new movies and TV shows added to the library this week.
First of all, here are some of the week's highlights:
---
Spotlight (2018)
Director: Tom McCarthy
Genre: Drama | Runtime: 128 Minutes
Cast: Mark Ruffalo, Michael Keaton, Rachel McAdams, Liev Schreiber, John Slattery,
Article Continues Below...
A team of reporters and editors at the Boston Globe relentlessly investigate a shocking child molestation cover-up by the Catholic Church.
---
Pacific Rim (2013)
Director: Guillermo del Toro
Genre: Action, Adventure, Sci-Fi | Runtime: 131 Minutes
Cast: Charlie Hunnam, Idris Elba, Rinko Kikuchi, Charlie Day, Ron Perlman
When the world's defenses fail against the threat of alien sea creatures, the task of saving the planet falls to a former pilot and a raw trainee.
---
Peppermint (2018)
Director: Pierre Morel
Genre: Action, Adventure | Runtime: 101 Minutes
Cast: Jennifer Garner, John Ortiz, John Gallagher Jr., Juan Pablo Raba, Annie Ilonzeh
After her family is murdered, a mild-mannered mom remakes herself into a badass vigilante in order to exact violent justice.
---
Here Are All of the Latest Additions to Netflix Canada This Week
51 New Movies Added to Netflix Canada This Week: May 5th, 2023
3 Ninjas: Kick Back (1994)
50 to 1 (2014)
A Sense of Humour (2011)
Against All Odds (1984)
American Gangster (2007)
Amrutham Chandamamalo (2014)
Are We Done Yet? (2007)
Bait (2012)
Battle of the Year (2013)
Blood Quantum (2019)
Boogie (2021)
Child 44 (2015)
Code Name: The Cleaner (2007)
Cry Macho (2021)
Fifty Shades of Grey (2015)
Flight (2012)
Haywire (2011)
Hell or High Water (2016)
Henry Danger (Season 2)
Hop (2011)
How to Be Single (2016)
I, Frankenstein (2014)
Kangaroo Jack (2003)
Land (2021)
Little Fockers (2010)
Meet the Fockers (2004)
Meet the Parents (2000)
Meter (2023)
Official Secrets (2019)
Pacific Rim (2013)
Papillion (2017)
Peppermint (2018)
Punisher: War Zone (2008)
Rowdy Fellow (2014)
Simply Irresistible (1999)
Snowtime! (2015)
Spotlight (2015)
Stuart Little (1999)
Thammudu (1999)
The Adventures of Elmo in Grouchland (1999)
The Brothers (2001)
The Butterfly Effect (2004)
The Call (2013)
The Cobbler (2014)
The Host (2013)
The Invention of Lying (2009)
The Order of Things (2022)
Three (2012)
Tu Jhoothi Main Makkaar (2023)
Yellowbirds (2017)
Yogi (2007)
10 New TV Shows Added to Netflix Canada This Week: May 5th, 2023
Demon Slayer: Kimetsu no Yaiba (Season 3)
Grizzy and the Lemmings (Season 3)
Larva Family (Season 1)

N

Mermaze Mermaidz (Season 1)
Queen Charlotte: A Bridgerton Story (Limited Series)

N

Rainbow High (Season 3)
Sanctuary (Season 1)

N

The Tailor (Season 1)

N

Thomas & Friends: All Engines Go (Season 2)
When the Weather Is Fine (Season 1)
2 New Reality Shows Added to Netflix Canada This Week: May 5th, 2023
Jewish Matchmaking (Season 1)

N

Love Village (Season 1)

N
1 New Stand-Up Special Added to Netflix Canada This Week: May 5th, 2023
AY: Spotting the Difference (2023)
---
What are you going to be watching on Netflix Canada this