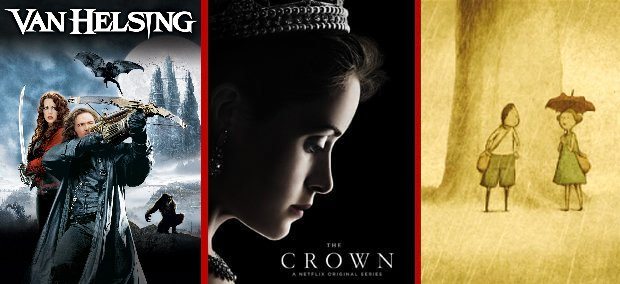 The second week of November has brought a total of 18 new titles to Canadas screens, a relatively low amount compared to last weeks 50. This week unfortunately only had 1 documentary added but we think it's more about quality than quantity. We've chosen 3 titles that out of the selection we feel need to be highlighted.
The crown is a new Netflix original that follows the life of Queen Elizabeth the 2nd from her early life. It addresses the conflicts she dealt with and the problems she, and the country had at those times. It's been praised by critics since its release and has currently 10 episodes available to stream now. 6 seasons have been planned, so if you loved the first season, you have plenty to look forward to.
Our second pick is the Short Animation from Japan 'The Houses of Small Cubes' which is about an Old man reliving his past as he tries to save his house from rising flood waters. It does sound very poetic, doesn't it? It won 1 Oscar for best Animated short with 3 other awards. And if you are someone who likes a meaningful, nostalgia-filling short film, then you should definitely give this a change.
My last pick is the 2004 film 'Van Helsing' starting Hugh Jackman. This is a slightly different choice, as this is more for fans of James Bond/Indiana Jones type movies. With its over-the-top humour and action, accompanied with some not-so-convincing CGI special effects, is what make theses sort of monster movies charming in a way. It's a bit of well-needed cheesy fun that you can enjoy.
Read on for the full list of all 18 new releases:
12 New Movies Streaming to Netflix Canada
When a Stranger Calls (2006)
The House of Small Cubes (2008)
Dana Carvey: Straight White Male, 60 (2016)
Lonon Has Fallen (2016)
A Grand Night in: The Story of Aardman (2015)
Tom And Jerry: Santa's Little Helpers (2014)
The Very Hungry Carerpillar and Other Stories (1993)
The Late Bloomer (2016)
Street (2015)
Sunset Song (2015)
Van Helsing (2004)
Dark Skies (2013)
1 New Documentaries Streaming to Netflix Canada
The Ivory Game (2016)
5 New Tv Series Streaming to Netflix Canada
The Crown (2016) [Season 1 Added]
Taratabong: The World of the Meloditties (2009) [Season 1 Added]
Winx Club Wow: World of Winx (2016) [Season 1 Added]
Mutant Busters (2016) [Season 1 Added]
Danger Mouse [Season 2 Added]