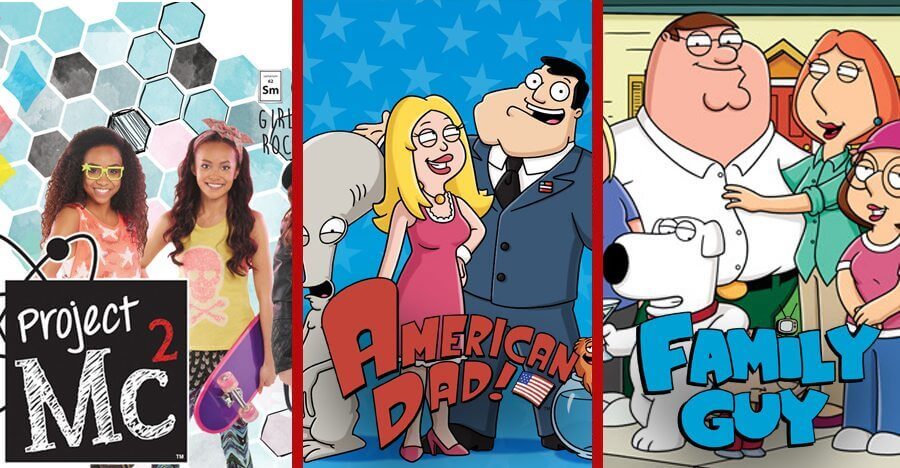 47 new titles have been added to Canadian Netflix this last week. This includes 35 new movies, 5 Documentaries and a further 7 new TV series. This isn't particularly that many, but there is defiantly some good titles amongst this list. As usual, we have picked out three titles to highlight below. But if you spot something that you think we should have pointed out, please let us know in the comments below.
Our first pick for this week is the popular family show 'Project Mc2'. The show follows four super intelligent girls who are recruited to join the spy organization NOV8. The show is now in its 6th season and has been taken on as a Netflix Original. It's mostly aimed at young "tween" kids and has been quite successful since it's debut in 2015.
Frequent Netflix users might have been noticing a lot of shows disappearing recently, to the disappointment of many. One of those shows have been Family Guy, that's why we're pleased to tell you that season 15 of the popular animated show 'Family Guy' has come to Canadian Netflix this past week. The show follows a ridiculously dysfunctional family located in Quahog who get into countless hilarious situations.
Another animated show that has been welcomed to your screens has also been co-created by Seth MacFarlane, just like Family Guy. The 11th season of 'American Dad!' is now available to stream. This time the show follows Stan Smith, a CIA agent and his odd but funny family. Along with Stan, the show includes his wife, teenage children, and of course an Alien from Area 51, and a German-speaking goldfish (of course).
See the full list of 47 titles added to Netflix Canda this week:
35 New Movies Streaming to Netflix Canada
Band Aid (2017)
The Veil (2017)
Mubarakan (2017)
Page 3 (2005)
Malamaal Weekly (2006)
Love Breakups Zindagi (2011)
Inteqam: The Perfect Game (2003)
Home Delivery (2005)
Hanuman (2006)
Dil Maange More (2004)
Deha (2007)
Darna Zaroori Hai (2006)
Corporate (2006)
Ab Tak Chhappan (2004)
Vaastu Shastra (2004)
Tum… Ho Na (2005)
The Human Centipede 2: Full Sequence (2011)
The Dinner (2017)
Tathastu (2006)
Strangers (2007)
Pyaar Mein Twist (2005)
Prateeksha (2006)
Pehchaan: The Face of Truth (2005)
Netaji Subhas Chandra Bose: The Forgotten Hero (2005)
My Name Is Anthony Gonsalves (2008)
Katputtli (2006)
Kaccha Limboo (2011)
James (2005)
Film Star (2005)
Felon (2008)
White Palace (1990)
Mallrats (1995)
Jetsons: The Movie (1990)
Cowboys & Aliens (2011)
Carlito's Way: Rise to Power (2005)
5 New Documentary Streaming to Netflix Canada
Williams (2017)
Let It Fall: Los Angeles 1982-1992 (2017)
Jerry Seinfeld: Comedian (2002)
Rolling Papers (2015)
Meet the Mormons (2014)
7 New TV Series Streaming to Netflix Canada
Food, Booze & Tattoos – Season 1 (2015)
People Just Do Nothing – Season 4 (2015)
Project Mc² – Season 6 (2015) Netflix Original
Fate/Apocrypha – Season 1 (2017) Netflix Original
Family Guy – Season 15 (2015)
American Dad! – Season 11 (2015)
Iron Man: Armored Adventures – Season 2 (2011)