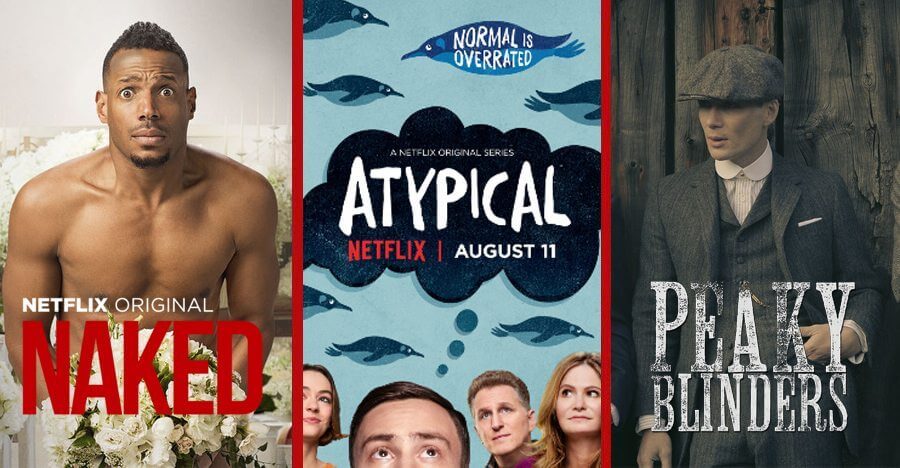 It's now the second week of August and Canadian Netflix welcomes a total of 35 new titles for you to enjoy. This week consists of 27 Movies, 2 Documentaries, and 6 TV series, from this we are going to pick out three titles and briefly outline them in the hope of convincing you to give them a watch. If you look through the list and spot something that you think we should have mentioned, please let us know in the comments below.
Our first choice for this week is the new Netflix Original series 'Atypical', a comedy/drama that follows Sam, an autistic 18-year-old who is trying his hardest to get through School. Sam's seeking independence and hopefully a girlfriend at the same time. Episodes of this lighthearted comedy are releasing weekly starting today, so that gives you plenty of time to keep up to date.
The second season of the popular British Crime, Drama 'Peaky Blinders' has also made it's way to Canadian Netflix. The show takes places in Birmingham in 1919 and follows the gangster family named the Peaky Blinders. The period drama has been critically praised and is a fresh take on the genre as a whole. If you are even slightly interested in period drama's of this nature then this show should definitely be on your watch list.
Naked is a brand new Netflix Original about a Groom on his wedding day who just can't seem to get it right. Luckily for him (and his soon to be wife), he is being forced to live out the same nerve-wracking hours over and over until he eventually does something right. The film might sound like another retreading of 'Groundhog Day'… and it is. But the comedy still does offer plenty of new unique gags and plotlines that merit a watch.
This week's honourable mentions include: Pitch Black (2000), Scarface (1983) and Allied (2016).
Read on for the full list of all 35 new releases.
27 New Movies Streaming to Netflix Canada
Sky on Fire (2016)
Operation Mekong (2016)
Enter the Warriors Gate (2016)
LEGO Marvel Super Heroes: Avengers Reassembled! (2015)
The Black Room (2016)
Mission: Destroy Love (2014)
Baahubali: The Beginning (Hindi Version) (2015)
Baahubali 2: The Conclusion (Hindi Version) (2017)
Denis Leary: No Cure For Cancer (1992)
Black Site Delta (2017)
The Saint (2017)
The Rugrats Movie (1998)
Superstar (2017)
Spy Game (2001)
Ricki and the Flash (2015)
Rama Rama Re… (2016)
Psycho (1998)
Pitch Black (2000)
Kids in Love (2016)
Diary of an Exorcist – Zero (2016)
Chocolate (2016)
Scarface (1983)
Naked (2017)

Netflix Original

Doom (2005)
Arsenal (2017)
Allied (2016)
Accepted (2006)
2 New Documentary Streaming to Netflix Canada
Nat King Cole: Afraid of the Dark (2014)
Flatball: A History of Ultimate (2016)
6 New TV Series Streaming to Netflix Canada
Abnormal Summit – Season 2 (2016)
Jake's Buccaneer Blast (2014)
Peaky Blinders – Season 2 (2014)
Home – Season 3 (2016)
Class of '92: Out of Their League – Season 2 (2016)
Atypical – Season 1 (2017)

Netflix Original