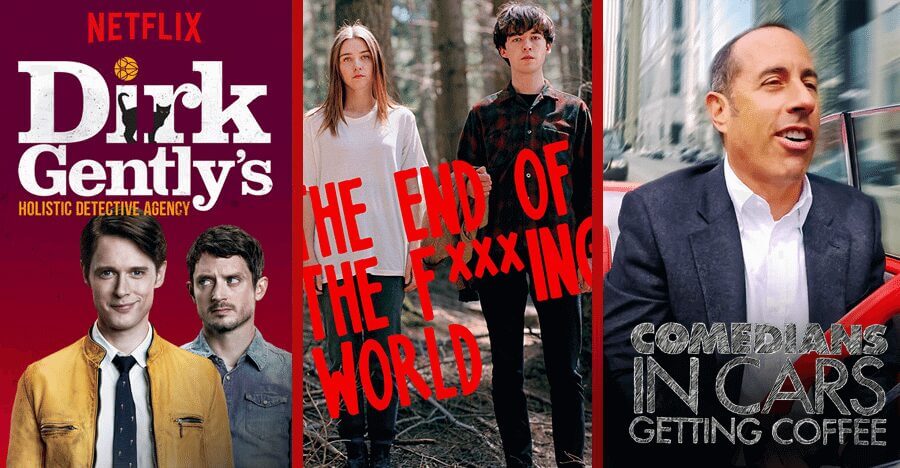 The second week of January has come around already and we hope you're all getting settled into 2018. Although this past week of Candian additions hasn't added quite as much as the 120 titles that came the week before, there is still plenty more for you to be excited about. Below we have listed all 24 new titles that have come to Canadian Netflix. The list includes 7 new movies, 5 documentaries and 6 new TV series. As usual, we have highlighted three additions and briefly talked about them.
Our first pick for this week is the new Netflix Original 'The End of the F***ing World'. The show stars both Alex Lawther (Black Mirror) and Jessica Barden (The Lobster) as a pair of slightly unhinged 17-year-olds. Lawther plays James, a kid who's pretty sure he's a psychopath, who after meeting Alyssa is convinced to go on a road trip to find her real father. Since the show's debut, it has received countless positive reviews and been binged watched by many. The comedy, drama should definitely be on your watch list now it's available to stream.
Another great show that's also just arrived is the 2nd season of the partial Netflix original 'Dirk Gently's Holistic Detective Agency'. The show is based on the popular novels by Douglas Adams (Hitchhikers Guide to the Galaxy) and is based on the detective Dirk Gently as he somehow attempts to solve supernatural cases that seem to be way out of his league. The show stars Samuel Barnett as the lead, accompanied by Elija Wood and Hannah Marks.
Article Continues Below...
Our final highlight is the comedy/talk-show 'Comedians in Cars Getting Coffie' hosted and directed by Jerry Seinfeld. The first 9 seasons of the show were distributed by Crackle, with the 10th moving over to Netflix's platform. The show is pretty much what it says on the tin, each episode features a new guest who accompanies Seinfeld in an often stunning car to get coffee. The new season consists of 24 new episodes, with nearly all of the previous seasons becoming available as well.
See the full list of 24 new titles available on Netflix Canada this week:
7 New Movies Streaming on Netflix Canada
The Twilight Saga: Breaking Dawn: Part 2 (2012)
Incendies (2010)
Don Quixote: The Ingenious Gentleman of La Mancha (2015)
All Eyez on Me (2017)
The Journey (2016)
Killing Ground (2016)
Elser (2015)
5 New Documentaries Streaming on Netflix Canada
Julian Schnabel: A Private Portrait (2017)
House of Z (2016)
The Untold Tales of Armistead Maupin (2017)
On Yoga The Architecture of Peace (2017)
Alien Contact: Outer Space (2017)
6 New TV Series Streaming on Netflix Canada
The End of the F***ing World – Season 1 (2017)

Netflix Original

Dirk Gently's Holistic Detective Agency – Season 2 (2017)

Netflix Original

Comedians in Cars Getting Coffee – Season 4 (2017)

Netflix Original

Borderline – Season 2 (2016)
Tundukkan Playboy Itu – Season 1 (2016)
So You Think You'd Survive? – Season 1 (2015)