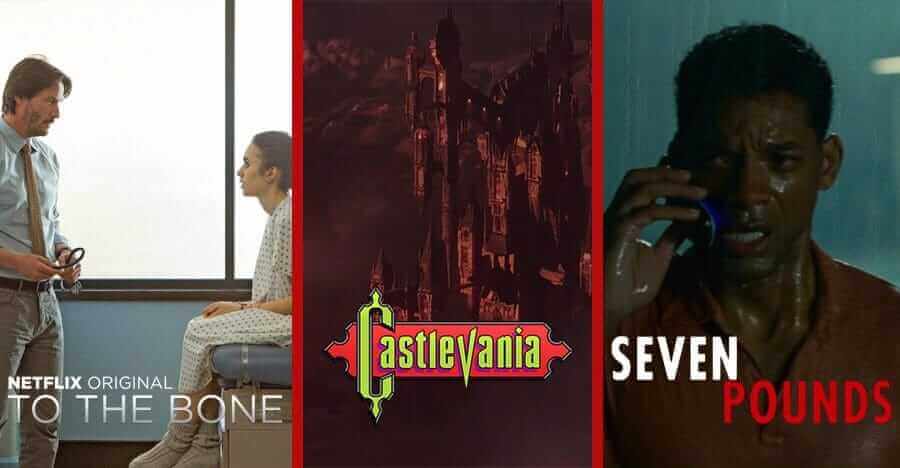 This week Canadian Netflix has a total of 94 new titles being added to its database, including 61 new movies, 3 new documentaries and 30 new TV series. We have decided to pick out three titles individually that stand out to us and briefly highlight them. Even though this week welcomes fewer titles compared to last week, there are definitely some good ones in the mix. If there are any we have missed from the list, feel free to tell us in the comments, and why it stands out to you.
First, we have picked out the New Netflix Original 'Castlevania' an Anime based off the old Nintendo video game. The show has already been received very well, which makes a change when it comes to Video game adaptations. The show is about a vampire hunter who ventures into Dracula's domain with the intent of slaying him and all his evil minions. If you are into dark, adult Anime shows then this is defiantly worth your time.
Our second pick for this week is another new Netflix Original titled 'To the Bone', a Drama Comedy based on a young girl and her ongoing struggle with anorexia. The film is a heartwarming and tear-jerking tale of a girl, who after meeting an unconventional doctor (Keanu Reeves) learns to embrace and enjoy her life once again. People have already connected with this film on many different levels, as it really expresses mental illness and how it effects everyone involved.
Our last highlight for this week is definitely one of Will Smiths more underrated classics, 'Seven Pounds'. Smith plays Ben Thomas a man with a hidden secret who plans to transform the lives of seven strangers out of the goodness of his heart, or is it guilt? This is defiantly an unexpected beauty that needs to be appreciated as a great Drama.
We think there were too many good titles this week to not mention them, so we have created a little Honourable Mentions list. They include the 1990 film Ghost, the 6th Season of Suits, Easy A, Jack Reacher: Never Go Back, Angels & Demons, and The Social Network.
Read on for the full list of all 94 new releases.
61 New Movies Streaming to Netflix Canada
1 Mile to You (2017)
2012 (2009)
A Gentleman's Dignity – Season 1 (2012)
American Pie (1999)
Angels & Demons (2009)
Baby Geniuses (1999)
Bad Teacher (2011)
Blue Lagoon: The Awakening (2012)
Buddy Thunderstruck: The Maybe Pile (2017)

Netflix Original

Burlesque (2010)
Cowboy (2011)
D.L. Hughley: Clear (2014)
Demon Inside (2013)
Don't Hang Up (2016)
Dr. Seuss' The Lorax (2012)
Easy A (2010)
Eat Pray Love (2010)
Friends with Benefits (2011)
Gabriel Iglesias Presents The Gentleman Jerry Rocha (2015)
Ghost (1990)
Gridiron Gang (2006)
Ho Mann Jahan (2015)
Horse Dancer (2017)
How Do You Know (2010)
It's Complicated (2009)
Jack Reacher: Never Go Back (2016)
Julieta (2016)
Jumping the Broom (2011)
Last Vegas (2013)
Legion (2010)
Matilda (1996)
Moneyball (2011)
Motu Patlu: King of Kings (2016)
Not Another Teen Movie (2001)
Pineapple Express (2008)
Pixels (2015)
Salt (2010)
Seven Pounds (2008)
Solace (2015)
Soul Surfer (2011)
Speech & Debate (2017)
Spider-Man 3 (2007)
Step Brothers (2008)
Take Me (2017)
The Blues Brothers (1980)
The Bounty Hunter (2010)
The Electric Horseman (1979)
The Green Hornet (2011)
The Holiday (2006)
The Karate Kid (2010)
The Other Guys (2010)
The Perfect Man (2005)
The Smurfs (2011)
The Social Network (2010)
The Ten Commandments (1956)
The Tourist (2010)
To the Bone (2017)

Netflix Original

Tom Segura: Completely Normal (2014)
Waar (2013)
Wrong No. (2015)
Zombieland (2009)
3 New Documentary Streaming to Netflix Canada
Chasing Coral (2017)

Netflix Original

Sea Nomads (2012)
Vegas Baby (2016)
30 New TV Series Streaming to Netflix Canada
Bad Guys – Season 1 (2014)
Barbie Life in the Dreamhouse – Season 1 (2012)
Castlevania – Season 1 (2017)

Netflix Original

Cheo-Yong – Season 2 (2015)
Dawn of the Croods – Season 4 (2015)
Diamond Lover – Season 1 (2015)
El Capo – El Amo del Tunel – Season 1 (2016)
Friends from College – Season 1 (2017)

Netflix Original

Gab-Dong – Season 1 (2014)
In Need of Romance – Season 1 (2011)
In Need of Romance 2012 – Season 1 (2012)
In Need of Romance 3 – Season 1 (2014)
It's Okay, That's Love – Season 1 (2014)
King's War – Season 1 (2012)
Let's Eat 2 – Season 1 (2015)
Let's Eat – Season 1 (2013)
Luna Petunia – Season 2 (2016)
Men on a Mission – Season 1 (2017)
Mi-saenng, Incomplete Life – Season 1 (2014)
Nine: Nine Time Travels – Season 1 (2013)
Oh My Ghost – Season 1 (2015)
Qin Empire: Alliance – Season 1 (2012)
Quiz From God – Season 4 (2014)
Release the Hounds – Season 2 (2014)
Reply 1994 – Season 1 (2014)
Reply 1997 – Season 1 (2012)
Suits – Season 6 (2015)
The Legend of Bruce Lee – Season 1 (2008)
Vinnie Jones Toughest Cops – Season 1 (2008)
Смешарики – Season 2 (2010)