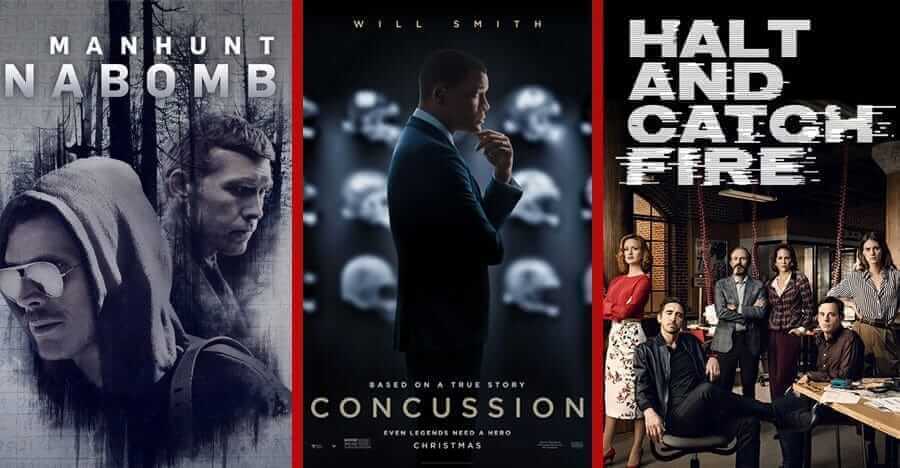 December is already flying past, and 2018 grows ever closer, with many great titles set to be joining us. But before we get carried away with next years releases, lets focus on the last week, and the titles that have been added to Canadian Netflix. A total of 4 movies, 5 TV shows and an additional 1 stand-up show have been added. This may not sound like a lot, but we expect more movies and shows to be added closer to the end of the month. As usual we have picked out three titles that have caught our eye, and briefly highlighted them.
Our first pick for this week is the brand new Netflix Original TV show titled 'Manhunt: Unabomber', a crime drama following the FBI hunt for an extremely deadly postal bomber. The show stars Sam Worthington (Avatar) and Paul Bettany (Marvel's Vision), and since it's recent release has received many positive reviews.
Secondly, we have chosen the 2014 AMC show 'Halt and Catch Fire'. Set in the 1980's the show mainly focuses on the computerised boom though the eyes of a visionary who's challenging the technology giants of the time. The shows has been very popular with many recognising it's great writing and acting. The fourth and latest season is now available to stream on Canadian Netflix.
Article Continues Below...
Our final choice for this week is the film 'Concussion' staring Will Smith and Alec Baldwin. The drama follows Pathologist Dr. Bennet Omaul who after performing an autopsy uncovers a dangerous truth about brain damage in football players. Although one of the most powerful institutions will fight viciously to keep this shocking truth out of public knowledge. The film is based on the real events and was an important breakthrough for the sporting world.
See the full list of 15 new titles available on Netflix Canada this week:
4 New Movies Streaming on Netflix Canada
The Little Hours (2017)
LEGO: Justice League: Gotham City Breakout (2016)
It Comes at Night (2017)
Concussion (2015)
5 New TV Series Streaming on Netflix Canada
Manhunt – Season 1 (2017) Netflix Original
Dawai Asmara – Season 1 (2016)
Ash vs. Evil Dead – Season 1 (2015)
Murderous Affairs – Season 2 (2016)
Halt and Catch Fire – Season 4 (2015)
1 New Standup Special Streaming on Netflix Canada
Judd Apatow: The Return (2017)

Netflix Original