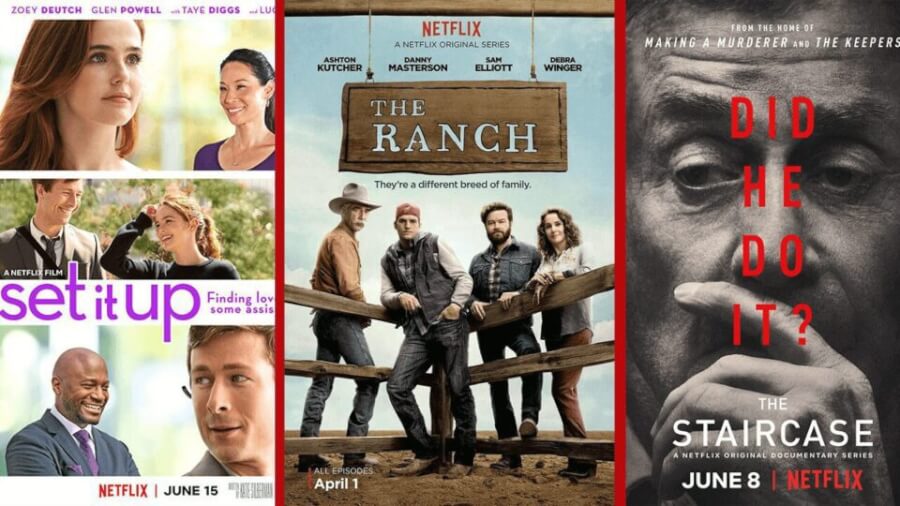 June is already flying past and the last week has seen plenty of new titles arrive to Canadian Netflix. Below you will find a list of 6 new movies, 2 documentaries and 10 TV series for you to get stuck into. Often we know it can prove hard to pick out a new film or show to suddenly start watching. That's why we've taken some time below to pick out and highlight three titles from the list that we think you should watch.
First of all this week has seen the return of the popular Netflix TV sitcom 'The Ranch'. The 5th part of the comedy has arrived and stars Ashton Kutcher, Debra Winger, Sam Elliot, and Danny Masterson as the Bennett's, a family living on a Colorado farm. But after the oldest son returns from his semi-pro football career to help with the business the dysfunctional family clashes once again.
Our next pick for this week is another Netflix Original. 'Set it Up' is a new romantic comedy following two corporate assistants who hatch a deviant plan in order to get their two bosses up together and make happier. The film stars Zoey Deutch, Lucy Liu and Pete Davidson and has already received positive reviews from many. Netflix has been producing some great rom-coms recently and this is another one to add to your list.
Article Continues Below...
Finally, we have chosen to pick out the new Netflix documentary called 'The Staircase'. The intriguing crime documentary is reminiscent of the 'making a murderer' series and follows the case around Michael Peterson, a novelist who in 2001 claimed his wife died after falling down the stairs. What followed was a lengthy criminal trial that saw many twists and turns.
See the full list of 18 new titles available on Netflix Canada this week:
6 New Movies Streaming on Netflix Canada
Lights Out (2016)
Lust Stories (2018)

Netflix Original

Maktub (2018)

Netflix Original

Set it Up (2018)

Netflix Original

The Shallows (2016)
The Tribes of Palos Verdes (2017)
2 New Documentary Streaming to Netflix Canada
A New Capitalism (2017)
The Staircase – Season 1 (2005)

Netflix Original
10 New TV Series Streaming on Netflix Canada
Champions – Season 1 (2018)
Marcella – Season 2 (2018)
Marlon – Season 1 (2018)

Netflix Original

Nicky, Ricky, Dicky & Dawn – Season 2 (2015)
Queer Eue – Season 2 (2018)

Netflix Original

Série noire – Season 2 (2015)
The Ranch – Season 5 (2018)

Netflix Original

True: Magical Friends – Season 1 (2018)

Netflix Original

True: Wonderful Wishes = Season 1 (2018)

Netflix Original

Voltron: Legendary Defender – Season 6 (2018)

Netflix Original