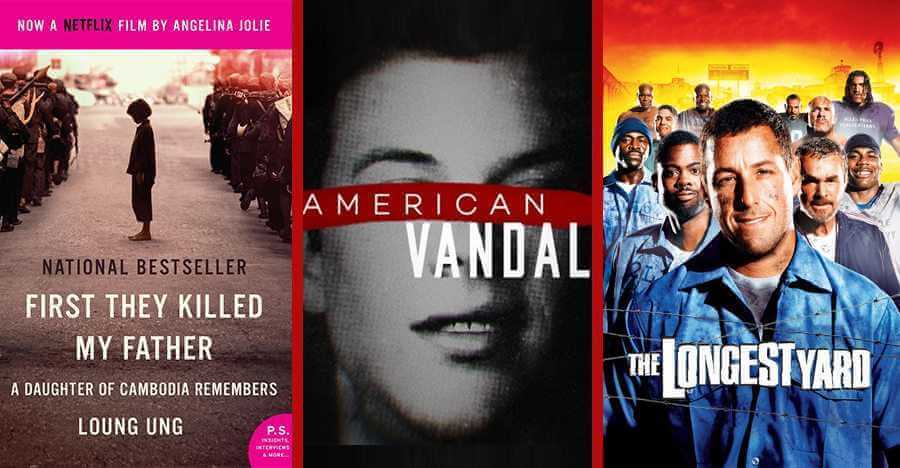 This month has welcomed a number of new and exciting titles for Canadian Netflix viewers. To be more exact, 48 titles have been added including 27 Movies, 7 Documentaries, 14 TV series, with an additional 2 Stand-up comedy shows. In order to help you pick something you might like, we have decided to highlight three from the list that you might find appealing. Of course, if you read through the list and something else catches your eye, please tell us in the comments below.
Our first highlight of this week is a new comedy series 'American Vandal', a true-crime spoof that focuses on a costly vandalism where twenty-seven cars were vandalized with phallic images. The blame falls on the doorstep of Dylan Maxwell, but he is convinced he's been framed on purpose and is determined to clear his name. The new Netflix Original is so far just an 8 episode series, but we wouldn't be surprised if Netflix took this series further in the future.
Next we welcome the new Netflix Original, 'First they Killed by Father' directed by Angelina Jolie. The 2-hour films tells the story of Loung Ung, an author and human rights activist retelling the horrors that she experienced in her childhood, during the brutal reign of Khmer Rouge in Cambodia. It's a tear-jerking adaptation of the original book, that Angelina has done a great job at directing.
Article Continues Below...
'The Longest Yard' is a 2005 Adam Sandler movie following Paul "Wrecking" Crewe a football superstar who's career has since gone down the drain, especially after a particularly messy drunk driving escapade. Paul is sent to prison, and thanks to his previous notoriety when it came to his football skill is tasked by the warden to assemble a team to take on the brutal guards. We understand that not everyone likes Adam Sandler movies, but this is definitely one of the better ones.
This week's honourable mentions include: Heroin(e) Netflix Orginal, VeggieTales in the City and the 5th season of Nashville.
Read on for the full list of all 48 new releases.
27 New Movies Streaming to Netflix Canada
20th Century Women (2016)
30 Days in Atlanta (2014)
A Soldier's Story (2015)
Aroni Takhon (2017)
Couple of Days (2016)
Definitely, Maybe (2008)
Falling (2015)
First They Killed My Father (2017)

Netflix Original

Half Baked (1998)
Half Nelson (2006)
Head Gone (2014)
Janaan (2016)
Larceny (2017)
Mum, Dad, Meet Sam (2014)
Mummy Deartest (2014)
Rumble (2016)
Dead Awake (2016)
Frantz (2016)
Ghost of the Mountains (2017)
The Longest Yard (2005)
The Little Rascals (1994)
Fighting (2009)
When Love Comes Around (2014)
The Visit (2015)
The Department (2015)
The Comedian (2016)
Taxi Driver (2015)
7 New Documentary Streaming to Netflix Canada
Foo Fighters: Back and Forth (2011)
George Harrison: Living in the Material World (2011)
Secrets of Ancient Rome – Season 1 (2015)
Last Men in Aleppo (2017)
Heroin(e) (2017)

Netflix Original

Tales of Masked Men: A Journey through Lucha Libre (2012)
Strong Island (2017)
14 New TV Series Streaming to Netflix Canada
American Vandal – Season 1 (2017)

Netflix Original

Dragon's Den – Season 1 (2015)
Listen to Love – Season 1 (2016)
Project Mc2 – Season 5 (2015)

Netflix Original

Silver Spoon – Season 2 (2017)
Strong Girl Bong-soon – Season 1 (2017)
Son of Zorn – Season 1 (2017)
Nashville – Season 5 (2014)
Offspring – Season 7 (2014)
Romance of Our Parents – Season 1 (2014)
Panama Canal: Prized Possession – Season 1 (2015)
VeggieTales in the City – Season 2 (2017) 

Netflix Original

Time: The Kalief Browder Story – Season 1 (2017)
The Five – Season 1 (2016)
2 New Stand up Series Streaming to Netflix Canada
Foresti Party (2012)
Jeff Dunham: Relative Disaster (2017)

Netflix Original