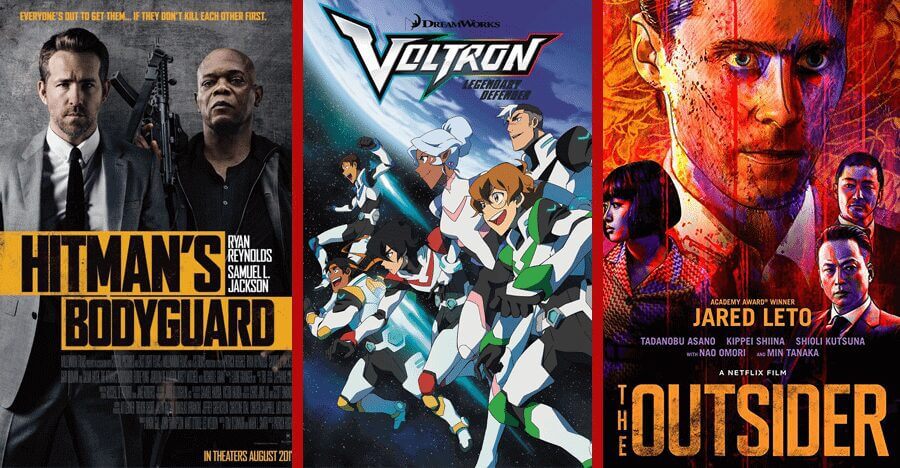 So far March has brought plenty of great titles to our Netflix screens, especially in Canada. In this article, we will be taking a look at all the titles that have arrived in the last week. A total of 41 have been added, consisting of 25 new movies, 4 documentaries, 9 TV series and 3 new Netflix stand-up shows. We know better than anyone that sometimes picking something new to watch on Netflix can prove quite difficult, that's why we've taken some time to pick out three titles that have stood out to us, and we think are worth a watch.
Our first pick for this week is the brand-new Netflix film 'The Outsider'. The film stars Jared Leto as an ex-American soldier from the second world war, who finds himself imprisoned in post-war Japan. In order to earn his freedom, he joins the deadly crime syndicate known as the Yakuza. The film has been met with slightly mixed reviews, but overall as a Crime, Drama we think it's still definitely worth a go.
Next, comes the partial Netflix Original 'The Hitman's Bodyguard'. The Action comedy follows Ryan Reynolds as one of the worlds most prestigious bodyguards. But after he's tasked with protecting a deadly international hitman (Samuel L. Jackson), things become slightly heated as they are pursued by the mercenaries of a dictator. Both Reynolds and Jackson perform great on screen and for anyone who didn't go see this film at the cinemas, now is a good time to get stuck in.
Our last pick for this week's additions is the fifth season of the popular animated show 'Voltron: Legendary Defender'. The first season released back in 2016 and is a reboot of the 80's TV series Voltron: Defender of the Universe. The new show, which has been produced by DreamWorks animations, follows a group of five teenagers who after uncovering frozen crypto-pods become the front-line defense against an evil alien civilization lead by King Zarkon. DreamWorks has recently been doing a fantastic job regarding their Netflix Originals, and Voltron is no exception.
See the full list of 41 new titles available on Netflix Canada this week:
23 New Movies Streaming on Netflix Canada
Transformers: The Last Knight (2017)
Wind River (2017)
A Week In Watts (2017)
The Outsider (2017)

Netflix Original

Bling (2016)
Yuva (2004)
Benji (1974)
Bewafaa (2005)
Super Nani (2014)
Welcome 2 Karachi (2015)
Insan (2005)
Gook (2017)
Amanda And Jack Go Glamping (2017)
Legal Eagles (1986)
Aitraaz (2004)
Rahasya (2015)
Teen Patti (2010)
Balu Mahi (2017)
St. Vincent (2014)
Troy: The Odyssey (2017)
Stretch Armstrong: The Breakout (2018)

Netflix Original

Boone: The Bounty Hunter (2017)
The Art Of Loving (2017)
Mango Dreams (2016)
Hitman's Bodyguard (2017)

Netflix Original
4 New Documentaries Streaming on Netflix Canada
Mega Builders: Season 1 (2006)
Before The Flood (2016)
LA 92 (2017)
Very Bad Men: Season 1 (2012)
9 New TV Series Streaming on Netflix Canada
Bad Guys: Vile City: Season 1 (2018)

Netflix Original

Nailed It: Season 1 (2018)

Netflix Original

Borderliner: Season 1 (2017)

Netflix Original

Fairground Attractions: Season 1 (2011)
Slasher: Season The Executioner (2017)

Netflix Original

Voltron: Legendary Defender: Season 5 (2016)

Netflix Original

Powder: Season 1 (2010)
Children Of The Whales: Season 1 (2017)

Netflix Original

Terrace House: Opening New Doors: Season 1 (2017)

Netflix Original
3 New Stand Up Shows Streaming on Netflix Canada
Malena Pichot: Estupidez Compleja (2018)

Netflix Original

Natalia Valdebenito: El Especial (2018)

Netflix Original

Ricky Gervais: Humanity (2018)

Netflix Original