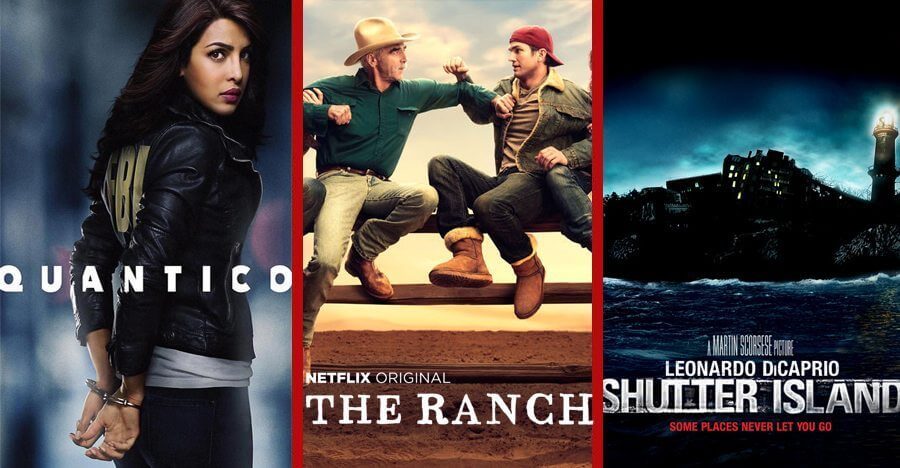 On the third week of June, a total of 67 titles has been added to Canadian Netflix for your enjoyment. As usual, we have picked out three titles to specifically highlight, in the hope of giving users an idea where to start.
This week welcomes the popular Netflix comedy 'The Ranch' back for it's 4th season. The show follows the return of a semi-pro footballer who finds himself back at his family's ranch in Colorado after many years. The show has resonated with fans for having well-written characters and is defiantly one of the better American comedies that call Netflix there home.
Our second pick for this week is the 2010 Thriller 'Shutter Island' directed by Martin Scorsese and starring Leonardo DiCaprio and Mark Ruffalo. Set in the 1950s a U.S. marshal is sent to the infamous 'Shutter Island' (which is home to an Insane Asylum) to investigate the disappearance of a patient. The Marshal played by Leo starts to suspect something even more sinister is going on and investigates further. The film is written and directed spectacularly and leaves you debating what is real and what is a figment of insanity. If you are a Thiller fan this is a must-see.
Lastly, this week has also included the return of the Crime Drama 'Quantico' an ABC show about young FBI recruits undergoing brutal training to become agents. But after a horrific terrorist attack is carried out by one the group they must hunt down one of their best FBI agents. The show has plenty of twists and turns throughout that keeps you on the edge of your seat. The third season has been added this week and if you haven't already, we recommend that you have this title a watch.
Read on for the full list of all 67 new releases:
26 New Movies Streaming to Netflix Canada
Sword Master (2016)
Havenhurst (2016)
Days of Grace (2011)
Daughters of the Dust (1991)
Black Snow (2017)
Battle: Los Angeles (2011)
The Big Wedding (2013)
Vacation (2015)
The Crash (2017)
Oh, Hello On Broadway (2017) – Netflix Original
Dragonheart: Battle for the Heartfire (2017)
The Grudge 2 (2006)
American Violence (2017)
The Precipice Game (2016)
The Ghost and Mr. Chicken (1966)
Shutter Island (2010)
Miami Vice (2006)
Marco Luque: Tamo Junto (2016) – Netflix Original
Kanavu Variyam (2017)
Cave (2016)
The Legend of Bhagat Singh (2002)
Soldier (1998)
Saare Jahaan Se Mehnga (2013)
Mr Joe B. Carvalho (2014)
Mere Baap Pehle Aap (2008)
Manorama Six Feet Under (2007)
Main Aur Mr. Riight (2014)
Luck (2009)
Life Partner (2009)
Kyaa Super Kool Hain Hum (2012)
Kidnap (2008)
Khuda Gawah (1992)
Khakee (2008)
Golmaal Returns (2008)
Gold (2014)
Dus (2005)
Deewaar (2004)
Deadly Target (2015)
Apartment: Rent at Your Own Risk (2010)
Ab Tak Chhappan 2 (2015)
A Man Called Ove (2015)
3 New Documentary Streaming to Netflix Canada
Harry Benson: Shoot First (2016)
The Russian Revolution (2017)
S Is for Stanley (2016)
What the Health (2017)
The Real Miyagi (2015)
Counterpunch (2017) – Netflix Original
11 New TV Series Streaming to Netflix Canada
The Homecoming – Season 1 (2015)
The Golden Years with Javed Akhtar – Season 1 (2016)
Lost & Found Music Studios – Season 1 (2016)
Degrassi: Next Class – Season 3 (2016)
Turn – Season 3 (2015)
Gabriel Iglesias Presents Rick Gutierrez: I'm Not Mad, I'm Just a Parent (2014)
Travelers – Season 1 (2016)
Miniforce – Season 1 (2016)
Orange Is the New Black – Season 5 (2017)

Netflix Original

My Only Love Song – Season 1 (2017)

Netflix Original

All Quiet in Peking – Season 1 (2014)