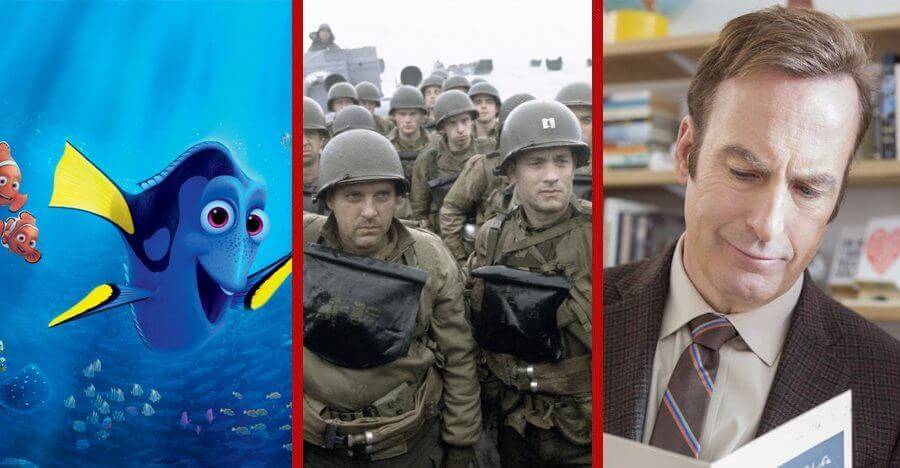 It's the middle of February and this week has introduced a total of 54 new titles to Canada's Netflix database. A total of 38 new Movies, 8 Documentaries and another 8 new TV series will be added for your enjoyment. As usual, we have picked out three titles that we think deserve to be highlighted and talked about, so you can consider giving them a watch.
Our first pick is the 1998 war classic 'Saving Private Ryan' starring Tom Hanks, Matt Damon and Tom Sizemore. The film follows a group of U.S. Soldiers who are sent way behind enemy lines to find and rescue Private James Ryan after all three of his brothers are killed in action. This epic recreation of the struggle real service men went though has been regarded as one of the best war movies ever made and with the fantastic directing of Steven Spielberg has was a total of 5 Oscars and a whole host of awards. Even if you aren't into war films that much, and you haven't yet seen Saving Private Ryan, it is definitely worth all 2 hours and 40 minutes.
Our second choice for this week is the new Netflix Original 'Girlfriend's Day' starring Bob Odenkirk (Best known from Braking Bad's Saul Goodman) and Amber Tamblyn. The world the film is set in is a unique one, to say the least. Greetings card writers are regarded as A-list celebrities and Bob Odenkirk plays a romance writer who used to be extremely successful and treated like a king but has now fallen on hard times. After the town creates a new holiday 'Girlfriend's Day' he attempts to rekindle his passion and flair for writing in order to create the perfect card and win the competition. In doing so he gets wrapped into a dark plot involving murder and deception. Anyone who loves quirky dark stories should enjoy this movie.
Article Continues Below...
The sequel to the much loved Disney animated film Finding Nemo was released in 2016, titled Finding Dory. To the delight of both young children and the now Adult audience that loved the 2003 film. The new film follows Dory as she attempts to find herself by intern finding her long lost parents, which eventually leads them to a Marine Life Institute where they make many friends to aid them in their search for Dory's parents. The long-awaited sequel has been received very well and if you didn't go and see it in the cinema then we hope you won't be disappointed.
After reading this list of titles arriving in February, you might want to know what titles are leaving Netflix in March.
Read on for the full list of all 39 new releases:
38 New Movies Streaming to Netflix Canada
Grillo vs Grillo (2017)
Deuce Bigalow: European Gigolo (2005)
David Brent: Life on the Road (2016)
A Dangerous Woman (1993)
Stronger Than the World (2016)
I Am Not a Serial Killer (2016)
Girls Lost (2015)
The Darkness (2016)
The Land Before Time: Journey of the Brave (2016)
The Woman in Black 2: Angel of Death (2014)
Blinky Bill: The Movie (2015)
Baires (2015)
Me and the Alien (2016)
Katherine Ryan: In Trouble (2017)
Girlfriend's Day (2017)
Violet & Daisy (2011)
The Two Faces of January (2014)
Step Up: All in (2014)
Shall We Dance? (2004)
Septembers of Shiraz (2016)
Scream 4 (2011)
Night Train to Lisbon (2013)
The Memory of Water (2015)
Manhattan Nocturne (2016)
Le Week-end (2013)
Jack and Jill vs. the World (2008)
He's Just Not That Into You (2009)
Gangs of New York (2002)
The Fury of a Patient Man (2016)
Ella Enchanted (2004)
The Canstant Gardener (2005)
Cheap Thrills (2013)
Astro Boy (2009)
Saving Private Ryan (1998)
Parts Per Billion (2014)
Q (2014)
Kill Ratio (2016)
Finding Dory (2016)
8 New Documentary Streaming to Netflix Canada
Metallica: Some Kind of Monster – Season 1 (2004)
Hitler – A Career (1977)
Abstract: The Art of Design – Season 1 (2017)
Magicians: Life in the Impossible (2016)
Top 10 Secrets and Mysteries – Season 1 (2016)
Close Quarter Battle – Season 1 (2012)
Changing Seas – Season 3/6 (2009)
CODE: Debugging the Gender Gap (2015)
8 New TV Series Streaming to Netflix Canada
Cyborg 009: Call of Justice – Season 1 (2017)
Silver Spoon – Season 1 (2014)
White Nights – Season 1 (2016)
Project Mc2 – Part 4 (2015)
Talking Tom and Friends – Season 1 (2015)
Nightmare High – Season 1 (2016)
The New Frontier – Season 1 (2015)
Pioneers of African-American Cinema – Season 1 (1946)