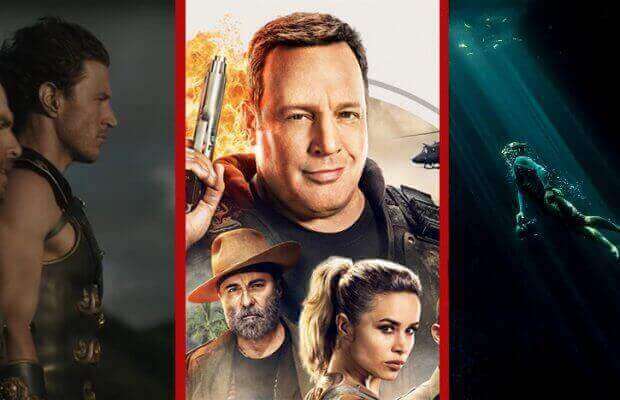 This week of November has brought a total of 28 new shows and movies to Netflix for their Canadian customers to sink their teeth into. 20 Movies, 2 Documentaries and 6 New TV series are all now streaming. As usual, we have chosen three interesting titles to highlight that we think you should check out from this week's additions.
Our first pick is the New Netflix Original Film 'True Memoirs of an International Assassin' Staring Kevin James who writes Spy novels, but his publishing company releases the book as nonfiction and after it becomes extremely popular and a best seller he attracts the attention of some very bad people. This Comedy, Action is not for everyone but if you just want to relax we would recommend it.
Second is series 1 of 'Roman Empire: Reign of Blood', also a relatively new Netflix Original based on the reign of Commodus and the beginning of the end for Rome and its Empire. If you are into the Spartacus series or any Roman Gladiator films, or just overall interested in Roman times as a whole then you will enjoy this title very much so. You can tell that many details have been researched and they are spot on.
Our final pick is the awe-inspiring documentary mini-series 'Tales by Light'. Which takes photographers from all around the world and delivers a unique and powerful story about the world from the perspective of individuals who really have a passion for this work. It's also meant to inspire watchers to get out and see the world while they can and experience the incredible journeys that are possible on this planet.
Read on for the full list of all 28 new releases:
20 New Movies Streaming to Netflix Canada
Onve Upon a Holiday (2015)
True Memoirs of an International Assasin (2016)
Ms. Mayched (2016)
Take me to the River (2015)
The Innocents (2015)
Green Room (2015)
Chalk it Up (2016)
Small Town Santa (2014)
Love by Chance (2016)
Men go to Battle (2015)
Porong Porong Rescue Mission (2014)
Noel (2004)
Miss India Americ (2015)
Million Pound Motors (2015)
Jedi Junior High (2014)
Fireflies in the Abyss (2015)
Miracle At Sage Creek (2005)
Christmas is Here Again (2007)
God's Not Dead 2 (2016)
The Christmas Bunny (2010)
2 New Documentaries Streaming to Netflix Canada
Tales By Light (2016)
Jimi Hendrix: Voodoo Child (2010)
6 New Tv Series Streaming to Netflix Canada
Kathleen Madigan: Bothing Jesus
Roman Empire: Reign of Blood (2016) [Season 1 Added]
All Hail King Julien (2016) [Season 4 Added]
Stephen Fry in America (2008) [Season 1 Added]
The Untold History of the United States (2012) [Season 1 Added]
Last Chance to See (2009) [Season 1 Added]