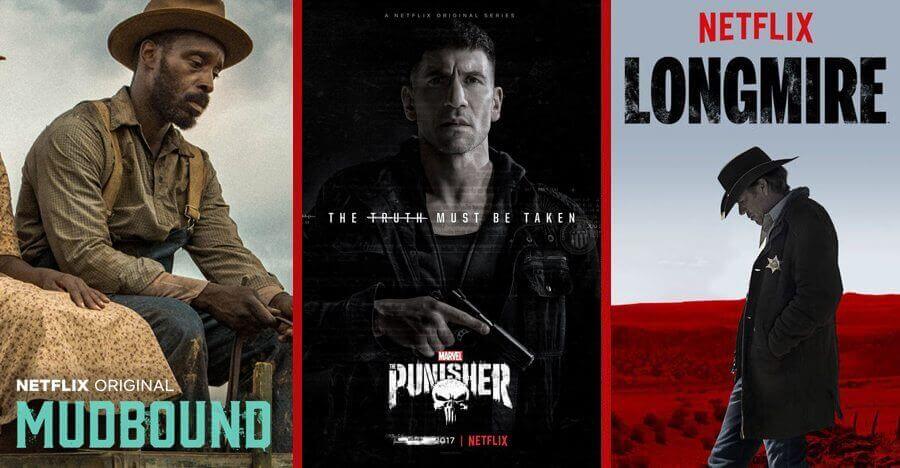 We're quickly getting through November, soon enough we'll be talking about Christmas. But for the time being, Canadian Netflix has welcomed 23 new titles to its screen over the last week. The additions have included 16 new movies, 1 new documentary, 6 TV series and a further 1 standup show. As usual, we have picked out three titles to briefly explained them, in the hope if you'll know where to start watching.
Out first pick for this week is the long-awaited new Marvel series coming to Netflix. 'The Punisher' stars 'Jon Bernthal' as Frank Castle, who first appeared in the second season of Daredevil. Frank is an ex-marine who's family was brutally murdered to ensure he keeps quiet. Now he must make sure anyone involved is punished, by any means necessary. Netflix has been bringing many great Marvel series over the last couple of years and The Punisher will be another one to get stuck into.
Another popular Netflix Original that's just arrived on Netflix is 'Longmire'. The 6th and final series stars Robert Taylor as Walk Longmire, a recently widowed Sherrif of Absaroka County. Since it's debut in 2012 the show has built up a large number of fans who are sad to see the show coming to an end.
Lastly, for this week we have chosen once again another Netflix Original. 'Mudbound' is a drama about two men who return to Mississippi after World War II. The two-hour film addresses the many struggles soldiers faced upon returning home, whether it's racial issues, or just adjusting to rural life again. This powerful movie has been received well by many and is defiantly worth a watch if you like meaningful dramas.
Article Continues Below...
See the full list of 23 titles added to Netflix Canda this week:
16 New Movies Streaming to Netflix Canada
Free Fire (2016)
American Pie Presents: Band Camp (2005)
Sydney White (2007)
Point Break (2015)
O21 (2014)
Mariah Carey's Merriest Christmas (2015)
Lucky: No Time for Love (2005)
I, Daniel Blake (2016)
Hickok (2017)
Bluebeard (2017)
Blind (2016)
A Flying Jatt (2016)
The Night Before (2015)
Midnight Run (1988)
Green Zone (2010)
Cheech & Chong's Next Movie (1980)
1 New Documentary Streaming to Netflix Canada
6 New TV Series Streaming to Netflix Canada
Method – Season 1 (2015)
Lockup: State Prisons – Season 1 (2016)
Chuck Chicken – Season 1 (2017)
The Punisher – Season 1 (2017)

Netflix Original

Mudbound – Season 1 (2017)

Netflix Original

Longmire – Season 6 (2017)

Netflix Original
1 New Standup Show Streaming to Netflix Canada
DeRay Davis: How to Act Black (2017)