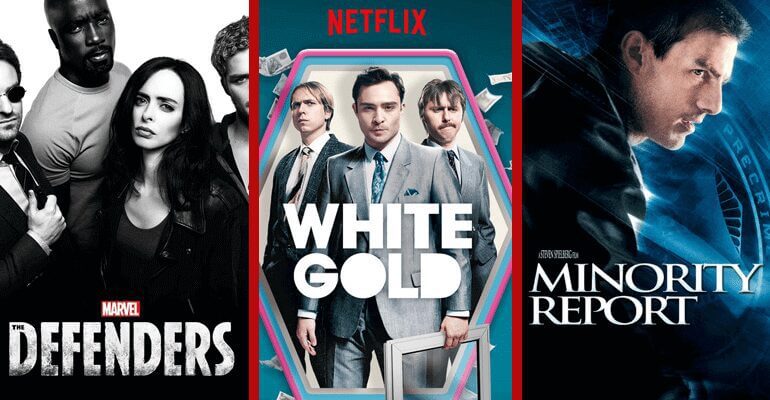 It's time to see all the new Netflix additions in Canada over the past 7 days and I'm going to be filling in for Alex this week while he's away on vacation. There have been superb new additions this week so let's get started with your highlights.
Starting with the biggest and most ambitious Netflix Original series yet, The Defenders season 1 is finally streaming on Netflix. The Marvel series which pulls together all of the heroes who have all now had their initial solo outings to team up against one common enemy, the Hand who is stopping at nothing to destroy New York City.
Sticking with Netflix Originals, there's plenty to keep the kids busy with after Netflix has added the fifth season of Dinotrux to the service as well bring new episodes of Glitter Force and adding the second season of Little Witch Academia.
Elsewhere, Minority Report starring Tom Cruise is now streaming on Netflix Canada. The sci-fi movie depicts a future where the police can predict a crime before it even happens.
Netflix has also managed to gain two BBC titles this week. One is the return of Peaky Blinders with season 3 and has also made an acquisition in the form of White Gold, a new drama-comedy set in the 1980's starring two of the boys from The Inbetweeners.
There are some fantastic new documentaries now available in Canada including Louis Theroux's unorthodox documentary on Scientology called My Scientology Movie. There's also a documentary covering the rise of Bitcoin as well as one covering some of the world's toughest prisons.
21 New Movies
2 Alone in Paris (2008)
An Off-Day Game (2015)
Chocolate City: Vegas Strip (2017)
Donald Cried (2016)
Lee Daniels' The Butler (2013)
Los Herederos (2015)
Minority Report (2002)
Pan (2015)
Pray for Rain (2017)
Robin Hood (2010)
RV (2006)
Six Feet High (2014)
Sports Adventure (2012)
The 'Burbs (1989)
The Bye Bye Man (2017)
The Outcasts (2017)
The Sweet Life (2016)
Urban Hymn (2015)
We're No Animals (2015)
What Happened to Monday (2017) Netflix Original
XX (2017)
18 New TV Series
20 Minutes (Season 1)
Age of Glory (Season 2)
Bones (Season 12)
Dinotrux (Season 5) Netflix Original
Exclusive Edition (Season 1)
Glitter Force Doki Doki (Season 1) Netflix Original
Glowing Embers (Season 1)
Hogie the Globehopper (Season 1)
Little Witch Academia (Season 2) Netflix Original
Marvel's The Defenders (Season 1) Netflix Original
Million Yen Women (Season 1) Netflix Original
Murderous Affairs (Season 1)
Norsemen (Season 1)
Peaky Blinders (Season 3)
Persona (Season 1)
The Iron Lady (Season 1)
White Gold (Season 1)
Women on the Breadfruit Tree (Season 1)
9 New Documentaries
A New Economy (2016)
All These Sleepless Nights (2016)
Banking in Bitcoin (2017)
Barbecue (2017)
Changing Seas (Season 1)
Inside the World's Toughest Prisons (Season 1)
Mission Control: The Unsung Heroes of Apollo (2017)
My Scientology Movie (2015)
The Polarman (2016)
1 New Stand-up Special
Brad Paisley's Comedy Rodeo (2017) Netflix Original
What are you watching on Netflix at the moment? Let us know in the comments below.