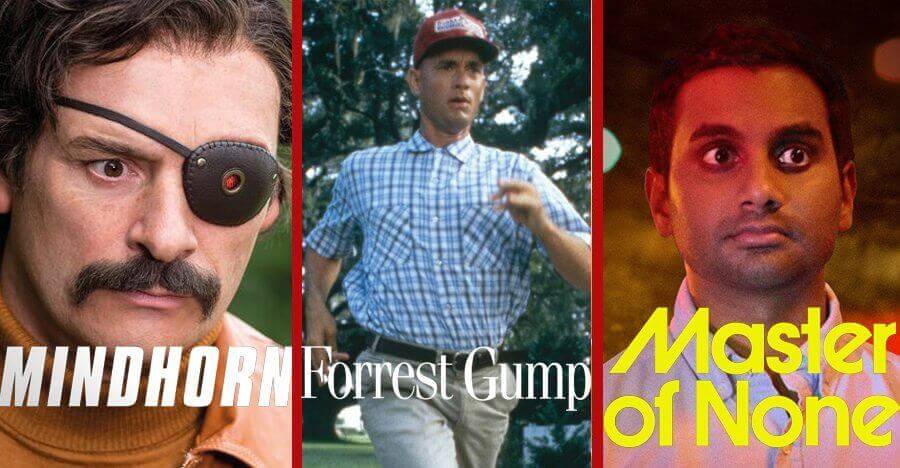 Another week passes for Canadian Netflix and a total of 40 new titles have been added all for your enjoyment. 24 new Movies, 9 Documentaries, and 7 new TV series. But because every title is available at the click of the button, you might not know where to start. That's where we come in, and we have taken it upon ourselves to pick of three titles out of the long list to individually highlight just for you.
With all the new shows and movies being added on a daily basis, some might say that Netflix is "like a box of chocolate, you never know what you're gonna to get". Unless you check this article of course and find that the 1994 cult classic 'Forrest Gump' is now available to stream. This film won a total of 6 Oscars along with another 39 awards and is regarded as one of the best films ever made starring an amazing performance from Tom Hanks. If you have never got round to watching Forrest Gump, now is defiantly your chance.
Article Continues Below...
Our second choice for this week is the new Comedy movie 'Mindhorn', starring Julian Barrat as a washed up actor who now has a beer belly and a receded hairline. He used to play an 80's cop detective who used an eyepatch to literally "see the truth". Due to unforeseen events, Richard Thorncroft must dig out his old costume once again, after a serial killer surfaces and tells the police that the only person he would contact would be the fictional character Mindhorn. The film has had mixed reviews since it's release but it is definitely a British comedy worth watching.
Lastly, we have chosen to highlight the new series of the popular comedy 'Master of None' which stars Azizi Ansari (Best known from Parks and Recreation) who plays a 30-year-old actor named Dev. Dev Struggles a little with relationships and does all he can to hold his professional and personal live together in the crowded and busy city of New York. The first season released back in 2015 so fans have had a significant wait, but they will be glad to see the Master of None is back.
Read on for the full list of all 40 new releases:
24 New Movies Streaming to Netflix Canada
Sahara (2017)
Mindhorn (2017)
Love Actually (2003)
End of a Gun (2016)
The People vs. Fritz Bauer (2015)
The Intent (2016)
Television (2012)
Tag (2015)
Somewhere in the Middle (2015)
Ram Jaane (1995)
Lovesong (2016)
Lída Baarová (2016)
Kabhi Haan Kabhi Naa (1994)
Hidden (2015)
Chamatkar (1992)
Ant Story (2013)
Angry Indian Goddesses (2015)
Tracy Morgan: Staying Alive (2017)
Christine (2016)
Wild Oats (2016)
Big Fat City (2017)
30 Days in September (2017)
Long Time Dead (2002)
Forrest Gump (1994)
9 New Documentary Streaming to Netflix Canada
Get Me Roger Stone (2017)
Diving Into the Unknown (2016)
Smash: Motorized Mayhem (2017)
Sinatra: To Be Frank (2015)
Natascha Kampusch: The Whole Story (2010)
Command and Control (2017)
City of Trees (2015)
Bowie: The Man Who Changed the World (2016)
Emmanuel Macron: Behind the Rise (2017)
7 New TV Series Streaming to Netflix Canada
Master of None – Season 2 (2015)
All Hail King Julien: Exiled – Season 1 (2017)
Mike Tyson Mysteries – Season 3 (2016)
Classic Legends – Season 1 (2012)
Buddha – Season 1 (2013)
Yanik Koza – Season 1 (2005)
Love is in the Air – Season 1 (2010)