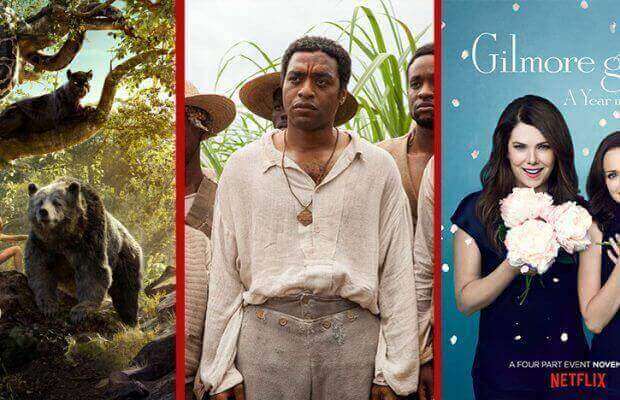 As the Festive Season starts, a staggering amount of movies have been added to Canda's Netflix, 31 out of 35 titles are fresh movies, and I'm sure many more great titles will be added as the month goes on. But first let's talk about the ones that have just been added.
Our first pick is the 2013 film '12 Years a Slave' based on the true memoirs of Solomon Northup who was a free black man who was kidnapped in Washinton, DC in 1841 and sold into slavery, he was enslaved for 12 years (hence the title), before being set free. The film was very well received and won 3 Oscars, another 234 wins with 312 nominations. It's a tearjerker and really worth a watch.
Next is the new Netflix Revival 'Gilmore Girls: A Year in the Life' where the girls who fans love so much, come back after a decade for a 4 episode season. The series has some die-hard fans that have enjoyed this revival very much and are left wanting more. Maybe you will be as well?
Article Continues Below...
Our final pick is the reasonably new remake of 'The Jungle Book' that came out earlier this year. Everyone remembers the bear necessities, and although the new remake probably doesn't focus on the musical element quite as much as the original, the overall movie does still have the same classic Disney feel. Anyone who fell in love with the original should be pleased with it's (impressive) CGI successor.
Read on for the full list of all 34 new releases:
31 New Movies Streaming to Netflix Canda
Michael Che Matters (2016)
Len and Company (2015)
Silver Skies (2016)
Philomena (2013)
Blood in the Water (2016)
Ghost Team (2016)
A Sunday Horse (2016)
I Dream too Much (2016)
The Call Up (2016)
The Jungle Book (2016)
Traded (2016)
A Dogwalker's Christmas Tale (2015)
Moster-in-Law (2005)
Merry Kissmas (2015)
A Light Beneath Their Feet (2015)
The Hurt Locker (2008)
The Fabulous Baker Boys (1989)
Sin City (2005)
Quills (2000)
Madagascar (2005)
Hobo With a Shotgun (2011)
Get on Up (2014)
Calvary (2014)
Too Late (2015)
Gnomeo & Juliet (2011)
Triple 9 (2016)
My Boss's Daughter (2003)
Hereafter (2010)
Eagle Eye (2008)
12 Years a Slave (2013)
Due Date (2010)
4 New TV Series Streaming to Netflix Canda
3% – Season 1 (2016)
Gilmore Girls: A Year in the Life – Season 1 (2016)
Jane The Virgin – Season 1-2 (2016)
When Calls the Heart – Season (2016)