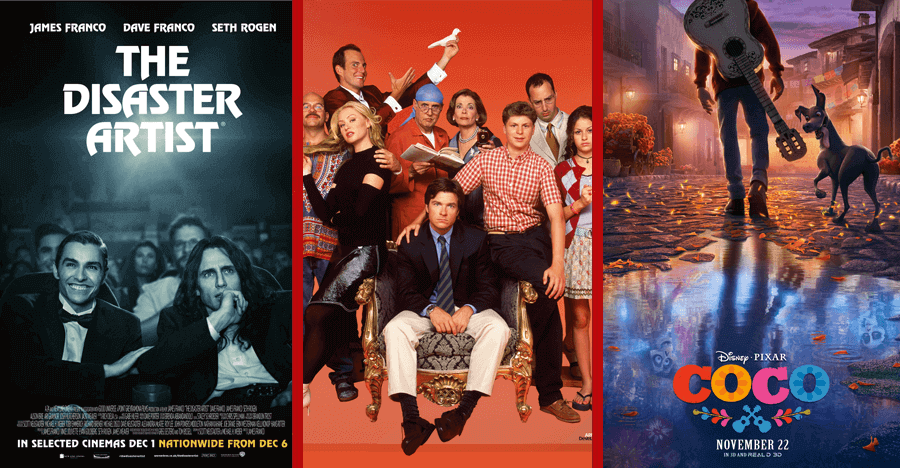 The first of June is upon us and along with all the titles that we usually see arrive on the 1st of the month, this article will also over the titles that arrived in the last week of May. We have seen 34 Movies, 9 TV shows and 3 Documentaries arrive to our screens. Below you will find that we have taken some time to pick out three highlights from the list, where we have talked about them and why we think you should give them a watch.
Our first pick for this week is the 2017 Disney film 'Coco'. The animated film will surely be a future classic and follows the aspiring guitarist Miguel. Miguel dreams of following in the footsteps of his great-great-grandfather, and despite his family's strict ban on music decides to prove his talent anyway. He soon finds himself transported to the mythical Land of the Dead where we must find the true story of his family.
The fifth season of the Netflix Original 'Arrested Development' has also just arrived to our screens. After the third season released and everyone thought the show had come to an end, Netflix bought the series and produced the fourth season as an Original. Despite a slightly bumpy start due to a change in format, Netflix decided to re-release season 4, but remixed. This seems to have been popular with fans and filled many people with more confidence when it comes to the fifth season.
Finally, we have chosen to mention the 2017 comedy film 'The Disaster Artist'. Based on the true story of Tommy Wiseau the film follows the eccentric as he tries to make his own film after Hollywood rejects him. Teamed up with the aspiring actor Greg Sestoero, 'The Room' is made, which reached cult status for being awful.
See the full list of 46 new titles available on Netflix Canada this week:
34 New Movies Streaming on Netflix Canada
About a Boy (2002)
Anaconda (1997)
B.A. Pass 2 (2017)
Baby Mama (2008)
Bad Genius (2017)
Barbie Video Game Hero (2017)
Charlie Wilson's War (2007)
Cinderella Man (2005)
Coco (2017)
Gridiron Gang (2006)
Hail, Caesar! (2016)
Jarhead (2005)
La dictadura perfecta (2014)
Lock, Stock and Two Smoking Barrels (1998)
Monster High: Electrified (2017)
Monster High: New Ghoul at School (2010)
Monster High: Scaremester Collection (2014)
Monster High: Welcome to Monster High (2016)
mother! (2017)
My Big Fat Greek Wedding 2 (2016)
Natsamrat (2016)
Nick and Norah's Infinite Playlist (2008)
Notting Hill (1999)
Outside In (2018)
Panic Room (2002)
Sara's Notebook (2018)
Savages (2012)
Sense and Sensibility (1995)
Stealth (2005)
The Bone Collector (1999)
The Boxtrolls (2014)
The Cave (2005)
The Disaster Artist (2017)
The Mothman Prophecies (2002)
3 New Documentaries Streaming to Netflix Canada
Pedal the World (2014)
Terms and Conditions May Apply (2013)
The Power of Myth – Season 1 (1988)
9 New TV Series Streaming on Netflix Canada
100% Hotter – Season 1 (2016)
Animal Kingdom – Season 2 (2017)
Arrested Development – Season 5 (2018)

Netflix Original

Escape to the Continent – Season 1 (2014)
Le clan – Season 1 & 2 (2016)
The Break with Michelle Wolf – Season 1 (2018)

Netflix Original

The Indian Detective – Season 1 (2017)
Unbreakable Kimmy Schmidt – Season 4 (2018)

Netflix Original

W1A – Season 3 (2017)