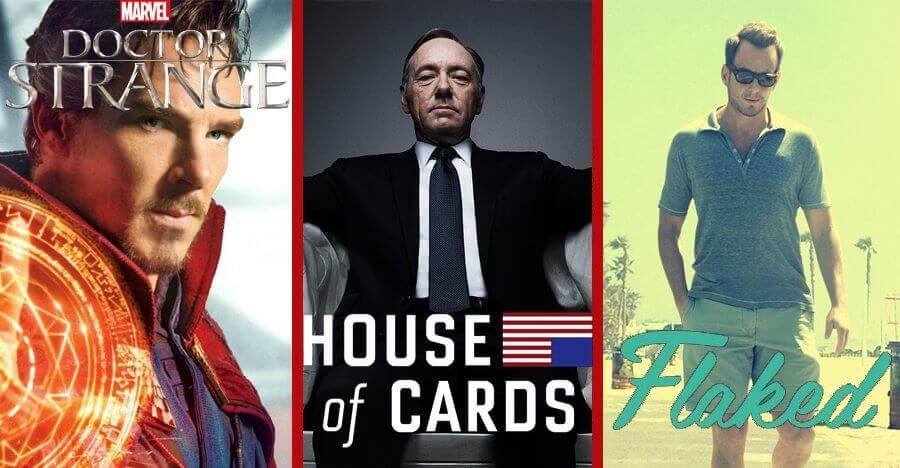 June has now dawned, and along with it has come many new and exciting titles for Canadian Netflix viewers to sink their teeth into. A total of 82 new movies and shows have been added, that content includes 40 new movies, 24 new documentaries and a further 18 TV series. With such a large amount it is hard to know where to start watching, that's why we are going to pick out three titles that stand out to us, and briefly highlight them.
This month welcomes the return of one of Netflix's most popular and largest original series 'House of Cards', a political drama that stars Kevin Spacey as Francis Underwood, a power hungry politician who is determined to use manipulation and ruthlessness to get himself to the top. The show is extremely popular with critics and currently has 2 Golden Globes under its belt. If you even slightly enjoy TV dramas we definitely recommend this great show, and now the fifth season is available, you have plenty to catch up and binge on.
Speaking of Netflix originals returning, this week also marks the season 2 Premiere of 'Flaked', a comedy starring Will Arnett about a self-guru who is really struggling to keep his life afloat, let alone helping anyone else. The show is praised for its witty and dark humour that sets it apart from some other comedies that are available. Unfortunately, the new season only has six episodes but hopefully, this will be enough to satisfy fans.
Our last pick for this week is the 2016 Marvel film 'Doctor Strange' which debuted another character into the Marvel cinematic universe. Benedict Cumberbatch plays Dr. Stephen Strange, a talented but cocky Neurosurgeon, who after a serious car crash is left with seriously injured hands that mean he can no longer operate on patients. While searching for a way to repair his now broken body, Strange discovers a hidden dimension full of metaphysical artifacts and abilities that he learns how to harness. The film is a worthy addition to the MCU and if you missed it at the cinema it is now available to stream straight from Netflix.
Read on for the full list of all 82 new releases:
40 New Movies Streaming to Netflix Canada
Raees (2017)
Crossing Point (2016)
David vs. Goliath: Battle of Faith (2016
Rangoon (2017)
Gallows (2015)
Sarah Silverman: A Speck of Dust (2017)
Doctor Strange (2016)
Chappie (2015)
You're Not You (2014)
Turbo: A Power Rangers Movie (1997)
The Muppets Take Manhattan (1984)
The Long, Hot Summer (1958)
The Birth of a Nation (2016)
That's My Boy (2012)
SUPERMODEL (2016)
Smokin' Aces (2006)
Smoke & Mirrors (2016)
Ride (2015)
Qila (1998)
Prince (1969)
Oh Darling Yeh Hai India (1995)
Move Over, Darling (1963)
Morgan (2016)
Miss Peregrine's Home for Peculiar Children (2016)
Mighty Morphin Power Rangers: The Movie (1995)
Maya Memsaab (1992)
Love.com (2017)
London Town (2016)
Little Boxes (2016)
Lens (2015)
Kissing Jessica Stein (2001)
Gambit (2012)
Fatal Attraction (1987)
Doctor Dolittle (1967)
Devil's Bride (2016)
Chingo Bling: They Can't Deport Us All (2017)
Blackway (2015)
Aashik Awara (1993)
13 Going on 30 (2004)
1 Night (2016)
24 New Documentary Streaming to Netflix Canada
Joshua: Teenager vs. Superpower (2017)
I Am Jane Doe (2017)
After Porn Ends 2 (2017)
Forever Pure (2016)
A New High (2015)
They Call Us Monsters (2016)
Is Genesis History? (2017)
Yarn (2016)
World of Compulsive Hoarders (2007)
Without Gorky (2011)
Virgin School (2007)
The Woman with 7 Personalities (2004)
The Real Sleeping Beauty (2007)
The Mitfords: A Tale of Two Sisters (2017)
The Girl Whose Muscles are Turning to Bone (2005)
Michael Lost and Found (2015)
Kardashian: The Man Who Saved OJ Simpson (2016)
Jackie: A Tale of Two Sisters (2017)
How to Stage a Coup (2017)
El Escape de Hitler (2011)
Burlesque: Heart of the Glitter Tribe (2017)
Betting on Zero (2017)
Amelia: A Tale of Two Sisters (2017)
40 Year Old Virgins (2013)
18 New TV Series Streaming to Netflix Canada
Can't Run From Love – Season 1 (2014)
House of Cards – Season 5 (2016)
F is for Family – Season 2 (2015)
American Crime – Season 3 (2015)
Rouge – Season 1 (2016)
Best Get Going – Season 1 (2015)
West Coast Customs – Season 3 (2011)
The Dream Job – Season 1 (2016)
The Day Will Come – Season 1 (2016)
Tarzan and Jane – Season 1 (2017)
Pyaar Tune Kya Kiya – Season 1 (2014)
Mutant Busters – Season 2 (2016)
Mind Game – Season 1 (2015)
Jhansi Ki Rani – Season 1 (2009)
Intersection – Season 2 (2016)
Homeland – Season 5 (2013)
Glee – Season 2 (2014)
Fear Files… Har Mod Pe Darr – Season 1 (2015)
Flacked – Season 2 (2016)