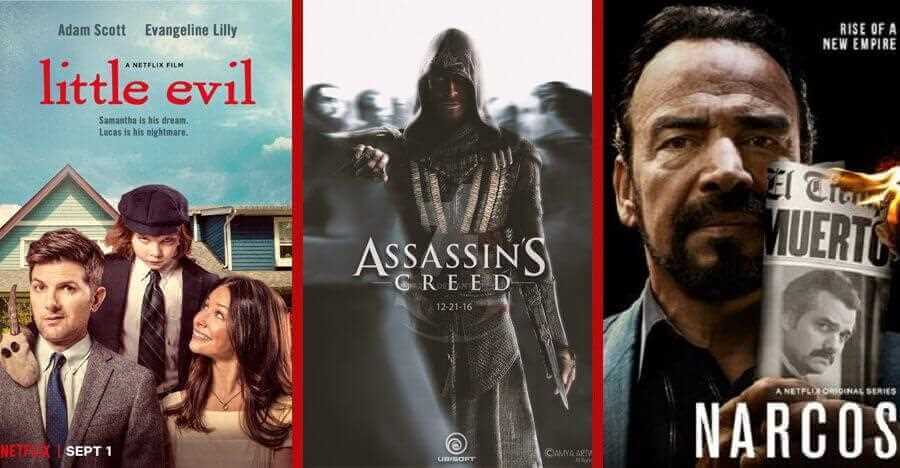 A total of 104 new and exciting titles have found their way to Canadian Netflix over the past week. And we are here to give the run down of some you might be interested in giving a watch. If you read through the list that we have compiled below and find something that you think deserved to be pointed out, please tell us in the comment section below. This week 71 new Movies, 10 Documentaries and 23 new TV series have been added, and out of this mass, we have picked out three to briefly outline.
Our first highlight is the third season of the Netflix original 'Narcos' which has just returned. The first two seasons of the show followed the rise and fall of the notorious drug lord Pablo Escobar, and the DEA officers who were tasked with taking him down. The series has reached critical acclaim and initially, after the conclusion of the second season many were curious where Netflix was going to take it. This new season has promised to be bigger and better regarding the cocaine business, as it's following the much larger operations of the Cali Cartel.
Next, we have chosen 'Little Evil' another Netflix Orignal that looks quite promising. The comedy/horror stars Adam Scott and Evangeline Lilly, newly-weds with a six-year-old boy who might just be the Antichrist, no big deal. The show is a Horror movie spoof about a dad trying to bond with his new step-son, which might prove a little harder than initially thought.
Article Continues Below...
Our last pick is the 2016 video-game adaptation 'Assassin's Creed' with Michael Fassbender at the helm. Cal (Fassbender) is captured by the elusive and secretive company Absergo and forced to relive the memories of his ancestor using a device named the Animus, in order to find a historic artefact called 'The Apple of Eden.' The film received quite heavy criticism at first, but if you are a fan of the original games and missed this at the cinema, now is the time to give it a go
This week's honourable mentions include: Gone Girl (2014), Airplane! (1980) and the 2011 film Paul.
Read on for the full list of all 104 new releases.
71 New Movies Streaming to Netflix Canada
The House Bunny (2008)
Personal Shopper (2016)
Madre (2016)
Buster's Mal Heart (2016)
The Hippopotamus (2017)
Ryan Hamilton: Happy Face (2017)

Netflix Original

Bring It On: Worldwide Showdown (2017)
Beyond Valkyrie: Dawn of the Fourth Reich (2016)
War Room (2015)
The Perfect Guy (2015)
The Eichmann Show (2015)
Paul (2011)
Airplane! (1980)
Wiggle Town! (2016)
Why Him? (2016)
When Love Happens (2014)
Werewolf: The Beast Among Us (2012)
The Wiggles: Go, Santa, Go! (2013)
The Wiggles: Dial E for Emma (2016)
The Thin Red Line (1998)
The Swan Princess: Princess Tomorrow, Pirate Today (2016)
The Squid and the Whale (2005)
The Siege (1998)
The Paper Chase (1973)
The Ice Storm (1997)
The Guardian Brothers (2016)
The Drowning (2017)
The Distinguished Citizen (2016)
The Chase (1966)
Teesri Aankh (2016)
Stretch (2014)
Sohni Mahiwal (1984)
Smokin' Aces 2: Assassins' Ball (2010)
Silence (2016)
She's Gotta Have It (1986)
Say Anything (1989)
Sam (2015)
Robin Hood: Men in Tights (1993)
Offline – Das leben ist kein bonuslevel (2016)
Not Safe for Work (2014)
No Estamos Solos (2016)
Naruto the Movie: Ninja Clash in the Land of Snow (2004)
Naruto the Movie 3: Guardians of the Crescent Moon Kingdom (2006)
Naruto the Movie 2: Legend of the Stone of Gelel (2005)
Naruto Shippuden: The Movie: The Lost Tower (2010)
Naruto Shippûden the Movie: The Will of Fire (2009)
Naruto Shippuden : Blood Prison (2011)
Mujrim (1989)
Mercy (2014)
Manoranjan (1974)
Lunch Time Heroes (2015)
Lorai: Play to Live (2015)
Little Evil (2017)

Netflix Original

Kingsglaive: Final Fantasy XV (2016)
Khoon Khoon (1973)
InuYasha: The Movie: Affections Touching Across Time (2001)
InuYasha: The Movie 4: Fire on the Mystic Island (2004)
InuYasha: The Movie 3: Swords of an Honorable Ruler (2002)
InuYasha: The Movie 2: The Castle Beyond the Looking Glass (2002)
Hidden Figures (2016)
Gone Girl (2014)
Everybody Loves Somebody (2017)
Ek Jaan Hain Hum (1983)
Curve (2015)
Chadi Jawani Budhe Nu (1976)
Berserk: The Golden Age Arc III – The Advent (2013)
Berserk: The Golden Age Arc II – The Battle for Doldrey (2012)
Barefoot in the Park (1967)
Backcountry (2014)
Assassin's Creed (2016)
Aakhri Adaalat (1988)
10 New Documentary Streaming to Netflix Canada
Dying to Know: Ram Dass & Timothy Leary (2016)
Who the F**K is that Guy (2017)
Todo Sobre El Asado (2016)
The Last Shaman (2016)
The Great Canadian Toy Story (2014)
The B-Side: Elsa Dorfman's Portrait Photography (2016)
Rocco (2016)
Resurface (2017) Netflix Original
Concrete Football (2016)
Alias JJ, la celebridad del mal (2017)
23 New TV Series Streaming to Netflix Canada
Keep the Marriage as Jade – Season 1 (2016)
The Story of Diana – Season 1 (2017)
The Royals – Season 1 (2013)
Great World Hotels – Season 1 (2011)
Cheer Squad – Season 1 (2016)
YooHoo & Friends – Season 2 (2012)
Wissper – Season 1 (2015)
West Coast Customs – Season 5 (2011)
Tip the Mouse – Season 1 (2014)
Timeless – Season 1 (2017)
The Wiggles – Season 2 (2015)
Shark Tank – Season 2 (2016)
Robocar Poli – Season 4 (2012)
Prisoner Zero – Season 1 (2016)
Nexo Knights – Season 2 (2015)
Narcos – Season 3 (2017)

Netflix Original

Love Through a Millennium 2 – Season 1 (2016)
LEGO Elves: Secrets of Elvendale – Season 1 (2017)
FINAL FANTASY XIV Dad of Light – Season 1 (2017)

Netflix Original

Archer – Season 8 (2015)
All About Love – Season 1 (2017)
A House of Blocks – Season 1 (2017)
A Boy Name Flora A – Season 1 (2017)