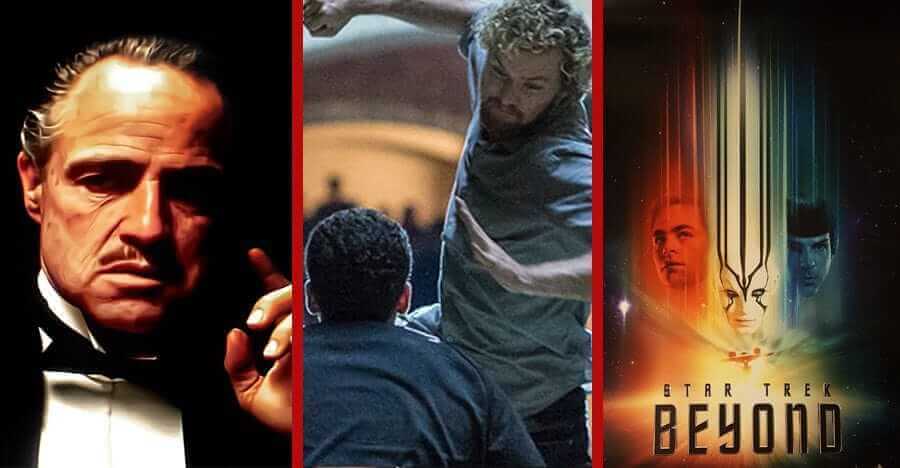 We're past the halfway mark for March already, but the titles being added to Netflix sure aren't slowing down, a total of 74 new titles have been added for Canadian customers. This article will show you everything that has been added in the last week, and we have also picked out three titles that we feel need to be mentioned on their own, for you to consider giving a watch.
Our First pick for this week is the absolute timeless 1972 classic 'The Godfather' starring Marlon Brando, Al Pacino and James Caan in what has been voted hands down one of the greatest movies of all time. It follows the brutal organized crime of the Mob empire and how the power transfers to the Mob Boss's son. The picture won 3 Oscars and has a perfect score on Metacritic and a 99% on rotten tomatoes. This film defines the crime, drama genre, and it is now available to stream at any time on Netflix.
Next, we have chosen to mention the brand new Marvel series 'Iron Fist', which is the latest Netflix Original 'Defender' to reach our screens. The series follows Danny Rand who has been missing and presumed dead for 15 years after he and his parents were involved in a Plane crash in the Himalayas. On return, he discovers a dark entity that has embedded deep inside his company, and it is his destiny to defeat this evil. The show does a great job setting up the upcoming 'Defenders' that will unite Daredevil, Jessica Jones, Luke Cake and Danny Rand against their enemy, The Hand. Iron Fist did get some bad press shortly before it's release but we strongly recommend you give it a watch for yourself, as many people think it is on par with all the other great Marvel Originals on Netflix.
Lastly, we have picked the 2016 Star Trek film 'Star Trek Beyond' which is part of the new rebooted franchise directed by JJ Abrams. The film stars Chris Pine, Zachary Quinto and Simon Pegg and follows the crew of the Starship Enterprise as they explore the far reaches of undiscovered space. They encounter a ruthless race of aliens on a distant planet that test all they believe and the Federation they stand for.
After reading this list of titles arriving in March, you might want to know what titles are leaving Netflix in April.
Read on for the full list of all 74 new releases:
31 New Movies Streaming to Netflix Canada
A Heavy Heart (2015)
Showroom (2014)
Pete's Dragon (2016)
Jim Norton: Mouthful of Shame (2017)
The Trap (2014)
Sunrise (2014)
Sugar Mountain (2016)
Silent Hill (2006)
One 2 Ka 4 (2001)
O Último Cine Drive-in (2015)
Namour (2016)
Magnus (2016)
Gigantic (2008)
Fracture (2007)
Exposed (2016)
Bon Cop, Bad Cop (2006)
Asoka (2001)
Alone in the Dark (2005)
17 Again (2009)
Which Way is Up? (1977)
The Hollow Point (2016)
The Godfather (1972)
The Godfather: Part II (1974)
The Godfather: Part III (1990)
Star Trek Beyond (2016)
Pandora (2016)
Deidra & Laney Rob a Train (2017)
Train to Busan (2016)
Come and Find Me (2016)
3 Days to Kill (2014)
Parker (2013)
19 New Documentary Streaming to Netflix Canada
Future Baby (2016)
Viking Apocalypse (2011)
Untamed Americas – Season 1 (2012)
The Big One (1997)
Notes of Blindness (2016)
Megafamilies (2011)
Les Bleus – Une autre histoire de France, 1996-2016
Inside Twin Town (2012)
Ken Burns: The West (1996)
Inside the Mobs Bloody Valentine (2011)
Inside Russias Toughest Prison (2011)
Inside Pint Sized Preachers (2011)
Inside Muslim Brothergood (2011)
Inside Medical Marijuana (2011)
Hunt for the Giant Squid (2011)
Hunt for the Abomibable Snowman (2011)
Naledi: A Baby Elephant's Tale (2016)
Look at Us Now, Mother! (2015)
Best Worst Thing that Ever Could Have Happened (2016)
24 New TV Series Streaming to Netflix Canada
Halt and Catch Fire – Season 3 (2015)
Wild Scene Investigation – Season 1 (2011)
The Witch Doctor Will See You Now – Season 1 (2011)
Swamp Men – Season 1 (2011)
Night Stalker – Season 1 (2011)
Mystery Science Theater 3000 Season 1 (1999)
Most Haunted – Season 1 (2014)
Lucha Underground – Season 2 (2016)
Hive Alive – Season 1 (2014)
Drugs, Inc. (2012)
Dangerous Encounters with Brady Barr – Season 2 (2012)
Chasing UFOs – Season 1 (2012)
Built for the Kill – Season 2 (2013)
Britain's Underworld – Season 1 (2010)
Brain Games – Season 2 (2015)
Border Wars – Season 2 (2011)
Alien Deep with Bob Ballard – Season 1 (2012)
Sword Art Online (2012)
Hotel Beau Sejour – Season 1 (2017)
Agatha Christie's Poirot (2010)
Samurai Gourment – Season 1 (2017)
Robocar Poli – Season 2 (2012)
Marvel's Iron Fist – Season 1 (2017)
Julie's Greenroom – Season 1 (2017)