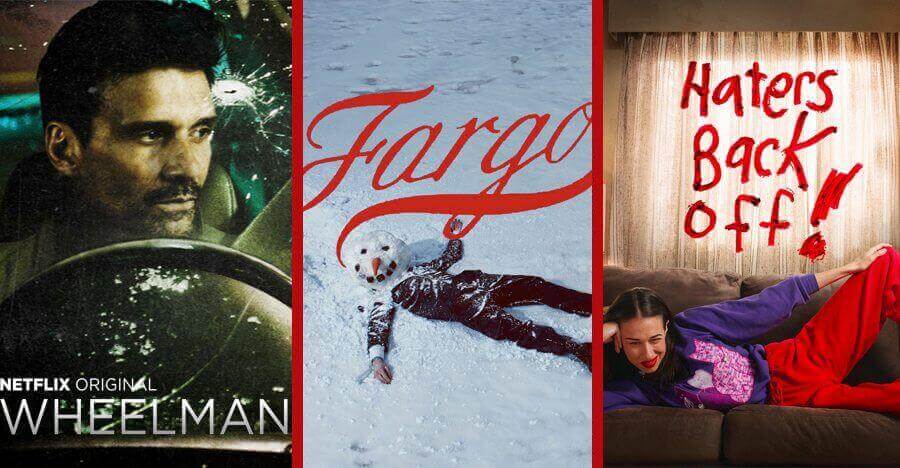 October is already spinning past, and this last week has welcomed a total of 61 new titles to Canadian Netflix. The list below consists of 34 Movies, 7 new Documentaries, 18 TV series and an additional 1 Stand-up show. As usual, we have taken the time to pick out three titles that have stood out to us and briefly highlighted them below. If you spot anything in the list below that you think we should have mentioned, please tell us the in the comments below.
Our first pick for this week is the popular Crime, Drama 'Fargo'. The series takes place in the snowy state of Minnesota, with each season taking place in a different era, but all involving a secretive crime syndicate that operates out of Fargo. The show has starred many well-known actors, including Martin Freeman, Billy Bob Thornton, Ewan, McGregor, and many others. The second season is now available to stream right now on Canadian Netflix.
'Wheelman' is a brand new Netflix Original staring Frank Grillo as an infamous getaway driver. During a bank heist, the talented wheelman is told that he has been betrayed, and his family is in grave danger. Now he must race against the clock to find the double-crosser. The film is perfect for fans of The Transporter, Bullit, and Baby Driver.
Our final highlight the extremely popular Youtube born series 'Haters Back Off', following the odd life of Miranda Sings, a untalented but confident star who believes above all else that she was born to be famous. Season 2 of Miranda's antics have just debuted on Netflix to the delight of many, and we're sure a lot of her fanbases will be over to binge watch it. Will you be one of them?
Read on for the full list of all 61 new releases.
34 New Movies Streaming to Netflix Canada
두 얼굴의 여친 (2007)
This is Not What I Expected (2017)
Zila Ghaziabad (2013)
What We Did on Our Holiday (2014)
Veerappan (2016)
Ujala (1959)
Teshan (2016)
Tamanchey (2014)
Story of an Egg (2017)
Singapore (1960)
Sardaarji 2 (2016)
OtherLife (2017)
One Night Stand (2016)
Money (2016)
Machhli Jal Ki Rani Hai (2014)
Learning to Drive (2014)
Kahi (2016)
Jal (2013)
I Love You Both (2016)
Gour Hari Dastaan: The Freedom File (2015)
Darra (2016)
Calendar Girls (2015)
Ankur Arora Murder Case (2013)
Aisa Yeh Jahaan (2015)
A Scandall (2016)
Lucknow Central (2017)
Baadshaho (2017)
Colossal (2016)
War of the Worlds (2005)
EDtv (1999)
Amnesia (2015)
Wheelman (2017)

Netflix Original

Do the Right Thing (1989)
1922 (2017)

Netflix Original
7 New Documentary Streaming to Netflix Canada
She Makes Comics (2016)
El Crazy Che (2015)
El Che (2017)
Belief: The Possession of Janet Moses (2015)
The Journey: Márama y Rombai (2016)
In Search of Israeli Cuisine (2017)
One of Us (2017)

Netflix Original
19 New TV Series Streaming to Netflix Canada
West Coast Customs – Season 6 (2011)
Tiger & Bunny – Season 2 (2011)
Solomon's Perjury – Season 1 (2016)
Seven and Me – Season 1 (2017)
Power Rangers Ninja Steel – Season 1 (2017)
LEGO: City – Season 1 (2017)
Jane the Virgin – Season 4 (2016)
Laws of Attraction – Season 1 (2012)
La Femme – Season 1 (2016)
In Laws – Season 1 (2016)
Harry & Bunnie – Season 1 (2017)
Fargo – Season 1 (2015)
Slasher – Season 2 (2016)
Guerra De Idolos – Season 1 (2017)
Tempel – Season 1 (2016)
Sab Jholmaal Hai – Season 1 (2017)
Guru Aur Bhole – Season 1 (2017)
The Day I Met El Chapo – Season 1 (2017)

Netflix Original

Haters Back Off – Season 2 (2016)

Netflix Original
1 New Standup Shows Streaming to Netflix Canada
Patton Oswalt: Annihilation (2017)

Netflix Original