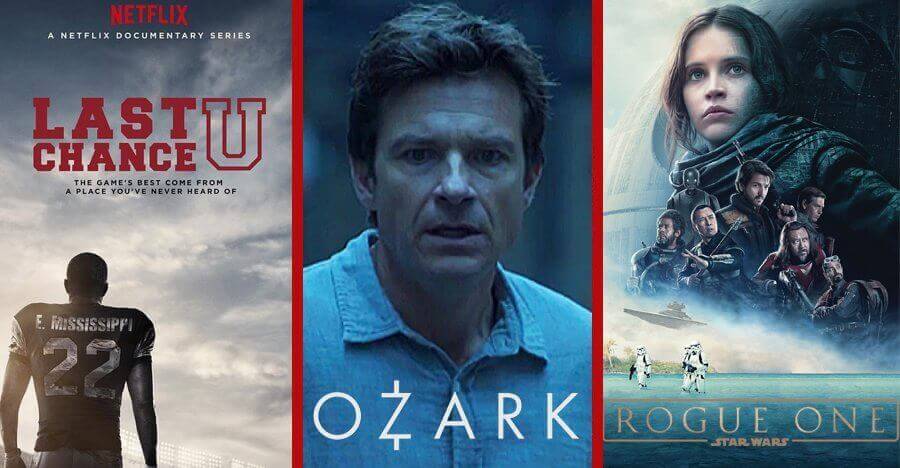 This week, July brings a total of 39 new exciting titles to Canadian Netflix, including 22 new movies, 3 Documentaries and an additional 14 new TV series all for your enjoyment. Just like we do every week, we have picked out three titles that have stood out to us and briefly highlighted them in the hope of helping you find something to watch. If you read through the list and spot something that we haven't mentioned, tell us in the comments why you think we should have.
Our first pick for this week is the brand new (released 21st July) Netflix series 'Ozark', a Crime Thriller that follows Marty (Jason Bateman), a financial advisor who's been secretly laundering money for a Mexican cartel to pay for his family; who just want an ordinary life. If you are a fan of either Breaking Bad or Fargo, this show will defiantly appeal to you and we can't wait to see what's in store.
A film that has just become available to stream this week is the 2016 StarWars spin-off/prequel 'Rogue One' set just before the events of Episode 3: A New Hope. Many StarWars fans were defiantly pleased with this addition to the canon and regarded it has the "prequel that StarWars deserved". As well as being a great standalone film Rogue One also fills in some well-needed gaps regarding the weakness of the Deathstar. If you didn't manage to catch this film at the cinema, or you just want to watch it again, you can now Stream it on Netflix.
Article Continues Below...
Our last pick for this week is the second season of the Netflix Original Series 'Last Chance U' an inspiring story about young men training to become future NFL starts. The series is a thought-provoking Documentary about the pure talent that is needed to go far in NFL, and is based at the East Mississippi Community College, which is notorious for giving athletes their "Last Chance".
This week's honorable mentions include: The new kids Netflix original show 'The Worst Witch' and the 2003 film 'Bruce Almighty'.
Read on for the full list of all 39 new releases.
22 New Movies Streaming to Netflix Canada
Vitti Dandu (2014)
Think Like a Man (2012)
The Painted House (2015)
The Candidate (2016)
Singh Saab the Great (2013)
Shavam (2015)
Ottakolam (2016)
Open Season 3 (2010)
Kanyaka Talkies (2013)
Halla Bol (2008)
Amar (2017)
A Cowgirl's Story (2017)
Rogue One: A Star Wars Story (2016)
Aditi Mittal: Things They Wouldn't Let Me Say (2017)
The Tarnished Angels (1985)
The Talented Mr. Ripley (1999)
The Best Man (1999)
Houston, We Have a Problem! (2016)
Handsome Devil (2016)
Dragnet (1954)
Bruce Almighty (2003)
The Axe Murders of Villisca (2016)
3 New Documentary Streaming to Netflix Canada
Innsaei (2016)
Fittest on Earth: A Decade of Fitness (2017)
Imba Means Sing (2015)
14 New TV Series Streaming to Netflix Canada
West Coast Customs – Season 4 (2011)
Rake – Season 4 (2014)
Kikoriki – Season 2 (2010)
Ari Shaffir: Double Negative – Season 1 (2017)
Shark Tank – Season 1 (2016
Killer Women with Piers Morgan – Season 1 (2016)
Intelligence – Season 2 (2007)
Dora the Explorer – Season 2 (2010)
Bella and the Bulldogs – Season 2 (2015)
The Worst Witch – Season 1 (2017)

Netflix Original

Ozark – Season 1 (2017)
Last Chance U – Season 2 (2016)

Netflix Original

Kibaoh Klashers – Season 1 (2017)
Delhis vackraste Hander – Season 1 (2017)