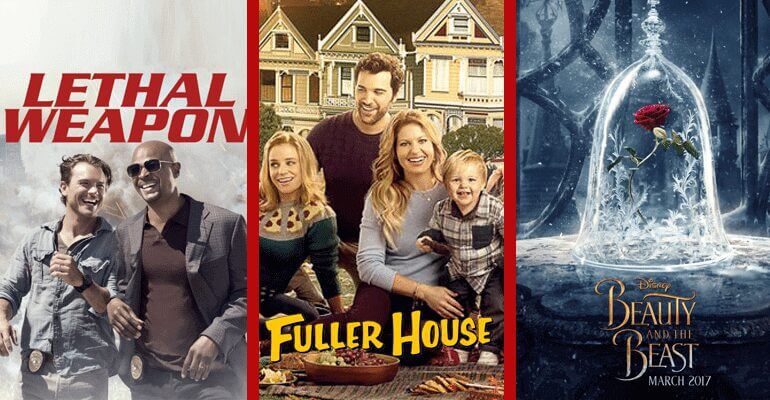 In this article, we will be taking a look at all the titles that have been added to Canadian Netflix throughout the last week. A total of 28 have been added, consisting of 15 new Movies, 2 Documentaries, and a further 11 TV series. Sometimes it can be a little hard to keep on top of all the additions. That's why we're here, we've picked three highlights that we're going to briefly talk about.
Our first highlight is the live-action adaptation of the Disney Classic 'Beauty and the Beast'. This 2017 fantasy, musical stared Emma Watson as Belle and re-tells the story of how a young woman falls in love with a cursed prince. The film still incorporates the classic musical elements exceptionally well but did receive criticism regarding the quality of CGI. Despite this, the film is still a great choice for an evening with the kids.
Season 3 of the popular family sitcom 'Fuller House' is now available to stream on Netflix. The show is an continuation of the 1987 series 'Full House', and follows D.J. Tanner-Fuller, a recently widowed mother, who must now take care of her three, tricky children. After realizing that she is unable to cope, she seeks help from her sister and best friend, who also bring their family, and troubles along for the ride. Since it's release in 2016, the comedy has gained momentum and fans. Three seasons in one year is pretty impressive.
Based on the original films, the new TV adaptation of 'Lethal Weapon' stars Damon Wayans and Clayne Crawford as the deadly duo set out to deal justice. Fans of the original films might at first hesitate to give this show a watch, but many have been pleasantly surprised. The first season has become available to stream, just in time to catch up before it's season 2 premiere on September 26th.
Read on for the full list of all 28 new releases.
15 New Movies Streaming to Netflix Canada
Miss Sloane (2016)
Trash (2014)
Jerry Before Seinfeld (2017) Netflix Original
Beauty and the Beast (2017)
The Deer Hunter (1978)
Land of Mine (2015)
Hate Story 2 (2014)
Carlos Ballarta: El amor es de putos (2016) Netflix Original
Breakfast at Tiffany's (1961)
Beauty and the Beast (Canadian French Version) (2017)
The Bad Batch (2016)
Monster Trucks (2016)
I Am Happiness On Earth (2014)
2 New Documentary Streaming to Netflix Canada
Mr. Gaga: A True Story of Love and Dance (2015)
Gaga: Five Foot Two (2017) Netflix Original
11 New TV Series Streaming to Netflix Canada
Super Genius – Season 1
Click for Murder – Season 1 (2017)
The Adjusters – Season 2 (2010)
Forget Me Not – Season 1 (2011)
Timeless Season – Season 1 (2009)
The Good Place – Season 1 (2016)
Wentworth – Season 5 (2015)
This Is Us – Season 1 (2016)
Scream Queens – Season 2 (2015)
Lethal Weapon – Season 1 (2017)
Fuller House – Season 3 (2016)