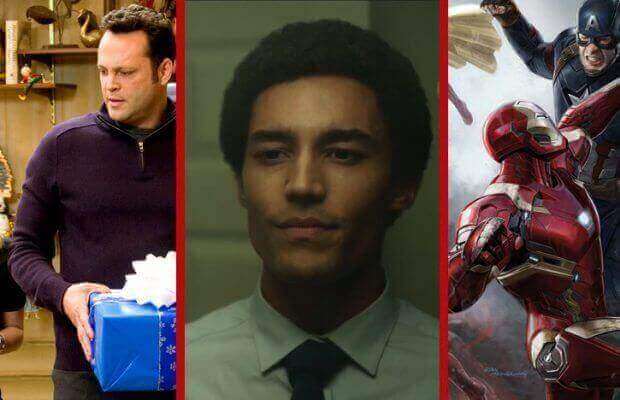 It's only a couple days till Christmas, and now is the time many people settle down with the family on an evening, and what a better way to do it than watching Netflix. This week there has been a total of 43 new titles added. 23 movies, 4 documentaries and 16 New TV series for you to get stuck into. Out of this list we have selected 3 that we feel need a shout out.
Out first mention is the recent Marvel movie 'Captain America: Civil War', which once again proves that Marvel truly has a working formula for making these action/adventure films. Whether you're team 'Stark' Or team 'Rogers', this film will keep you hooked in the action throughout, and entertained by the witty comedy. If you are a Marvel fan and have been waiting for this to become available to stream, you need wait any longer.
Our next pick is going to be a Christmas film. 'Four Christmases' is a film starring Vince Vaughn and Reese Witherspoon as they try to escape their divorced parents for the Christmas. After having their flight cancelled, they are caught on the news, alerting all their family that they were in fact avoiding them. With no other option they must visit all 4 parents, which leads to Christmas hilarity. This is a cute little rom-com for the season.
Finally we have chosen the Biographical Drama 'Barry', based on the early life of Barack Obama and the problems he faced when growing up, regarding race and finding where he belonged. The film is an in-depth look into the U.S. Presidents life, and the sort of experiences he had. If you are even vaguely interested in Barack Obama and what shaped him as a man than you should definitely give this film some of your time.
Read on for the full list of all 43 new releases:
23 New Movies Streaming to Netflix Canada
Winder of Our Dreams (1981)
Taladega Nights (2006)
Sendero (2015)
The Last Days of Chez Nous (1992)
The Interview (1998)
Head on (1998)
Four Christmases (2008)
Captain America: Civil War (2016)
Barry (2016)
Annie (2014)
Miss Stevens (2016)
Gabriel Iglesias: I'm Sorry For What I Said When I Was Hungry (2016)
The Art of the Steal (2013)
Sister Cities (2016)
The Meddler (2015)
Honetmoon (2015)
Holiday Breakup (2016)
The Christmas Project (2016)
Goat (2016)
Don't Blaim the Kit (2016)
Garfunkel and Oates: Trying to be Special (2016)
Daemonium (2015)
07:19 (2016)
4 New Documentaries Streaming to Netflix Canada
Theo Who Lived (2016)
The End of Malice (2016)
Eddie – Strongman (2015)
Rats (2016)
16 New TV Series steaming on Canada
The OA – Season 1 (2016)
Call me Francis – Season (2016)
The Adventures of Puss in Boots – Season 4 (2015)
Van Helsing – Season 1 (2016)
The Fall – Series 3 (2013)
Call My Agent! – Season 1 (2015)
The Break – Season 1 (2016)
Sonic Boom – Season 1 (2014)
Sadqay Tumhare – Season 1 (2014)
Matador – Season 1 (2014)
Keeping up with the Joneses – Season 1 (2010)
Ice Fantasy – Season 1 (2016)
Humsafar – Season 1 (2011)
Zindagi Gulzar Hai – Season 1 (2012)
Trollhunters – Season 1 (2016)
The Mindy Project – Season 5 (2012)