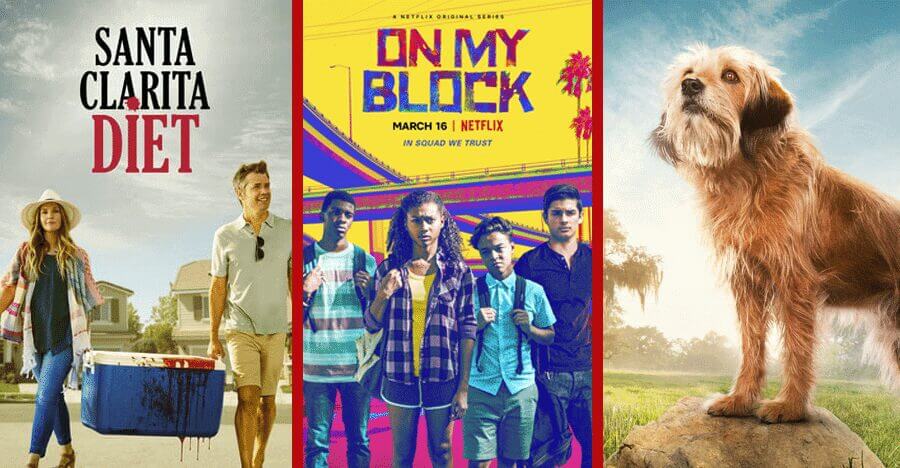 So far 2018 has been a great year for Netflix viewers, with plenty of new and exciting titles to keep you all interested and glued to the screen. In this article, we will be taking some time to cover all the new titles that have come to Canadian Netflix in the past week. 17 movies, 3 documentaries, 10 TV series and 2 standup shows have been added. As usual, it can sometimes prove quite difficult to pick out something to start watching on Netflix, especially with so much being added on a weekly basis. That's why below you will find a brief description and overview of three titles that we believe deserve some extra attention.
One of the biggest Netflix original additions for this week has been the second season of 'Santa Clarita Diet' starring both Drew Barrymore and Timothy Olyphant. The first season debuted back in February of last year and has since picked up a quite substantial following. The show follows Sheila and Joel, estate agents living in Santa Clarita whose lives are forever changed after the shocking death… and resurrection of Sheila. Many fans will be glad to see the series return and if you haven't checked out this Comedy/Horror (more comedy) yet, you should definitely give it a go.
Our next pick for this week is the brand new Netflix Original 'Benji'. The show comes from the creators of the original 1974 film of the same name and follows two school kids who come across an orphaned puppy. They quickly adopt the dog and name him Benji. But after the kids get in danger the unlikely hero, above all odds comes to the rescue. Although at first glance might appear to be just aimed at kids, this Netflix Original is a little darker than the original and more serious.
Finally, we have chosen to highlight once again another Netflix Original. The new TV series 'On my Block' has just been added and is a comedy following a group of high school kids in the rough inner city of Los Angeles. The coming-of-age show does a great job covering some serious topics in a comedic and pleasant manner. If this sounds like your sort of thing, don't hesitate to check this one out.
See the full list of 32 new titles available on Netflix Canada this week:
17 New Movies Streaming on Netflix Canada
In This Corner Of The World (2016)
68 Kill (2017)
I Love You (2016)
Bad Match (2017)
Grand Masti (2013)
Kyun! Ho Gaya Na (2004)
Hamara Dil Aapke Paas Hai (2000)
Guru (2007)
Bitch (2017)
Dil Se (1998)
Kanika (2017)
Khalnayak (1993)
Y.M.I.: Yeh Mera India (2008)
In Search Of Fellini (2017)
Steel Rain (2018)
Benji (2018)

Netflix Original

No Entry (2005)
3 New Documentaries Streaming on Netflix Canada
Take Your Pills (2018)

Netflix Original

Deep Undercover Collection: Season 1 (2016)
Wild Wild Country: Season 1 (2018)

Netflix Original
10 New TV Series Streaming on Netflix Canada
Secret Of The Nile: Season 1 (2016)
Collateral: Season 1 (2018)

Netflix Original

A.I.C.O.: Season 1 (2018)

Netflix Original

Live: Season 1 (2018)

Netflix Original

Mary Portas: Secret Shopper: Season 1 (2011)
On My Block: Season 1 (2018)

Netflix Original

Tabula Rasa: Season 1 (2018)

Netflix Original

Saimdang, Memoir Of Colors: Season 1 (2017)
Edha: Season 1 (2018)

Netflix Original

Santa Clarita Diet: Season 2 (2018)

Netflix Original
2 New Stand Up Shows Streaming on Netflix Canada
Blanche Gardin: I Talk To Myself (2017)
Yoo Byung Jae: Too Much Information (2018)

Netflix Original