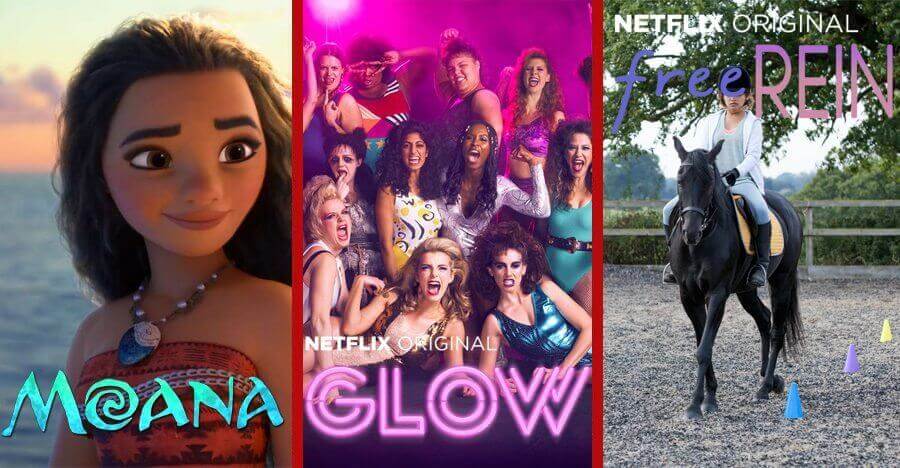 We've only got another week left of June and a total of 23 new titles have been added to Canadian Netflix. 23 may not seem like a total lot, but this is because the month is drawing to a close and Netflix love releasing alot of titles at the start of months. This week we have chosen to highlight three titles in specific in the hope of giving you an idea where to start watching.
Netflix has just welcomed the 2016 movie 'Moana', one of Disneys latest animated smash hits. The story takes place on a tropical island following the life of Moana Waialiki, the daughter of the Chief. She has always felt like she has been destined for greatness and after the island's food supplies start to decline she is drawn to the ocean once again in order to restore the heart of Te Fiti and save her people. The if a perfect Disney classic perfect for a relaxing family evening.
'Free Rein' is a new Netflix original about a 15-year-old girl named Zoe who after spending a summer in the English countryside befriends a seemingly mystical horse. The show is currently 10 episodes long and is also a lovely family friendly experience. If you have a love for horses this is definitely the show for you.
Netflix also welcomes the new Comedy/Drama/Sport show 'GLOW' that focusses on the lives of women who are recruited for a wrestling organization in Los Angeles 1986. Unlike the other two choices for this week, this show is defiantly not suitable for the younger audience as it contains quite a lot of nudity and bad language. Apart from that, the show has been received quite well since it's release due to its witty nature. Fans of Orange is the new Black will feel at home with this show and it's definitely worth a viewing.
Read on for the full list of all 23 new releases.
12 New Movies Streaming to Netflix Canada
Beyond the Gates (2016)
The Incident (2014)
Puss in Book: Trapped in an Epic Tale (2017)
Moana (2016)
Amar Akbar & Tony (2015)
Dangal (2016)
Uncle Buck (1989)
True Grit (2010)
Mughal-E-Azam (1960)
Bokeh (2017)
You Get Me (2017)
The Host (2006)
3 New Documentary Streaming to Netflix Canada
Who Killed Pablo Escobar? (2014)
Nobody Speak: Trials of the Free Press (2017)
American Anarchist (2016)
8 New TV Series Streaming to Netflix Canada
Rory Scovel Tries Stand-Up for the First Time (2017) –

Netflix Original

Highway to Heaven – Season 5 (1988)
Freddy Heineken – Season 1 (2013)
Women Behind Bars – Season 3 (2009)
Rab Se Sohna Isshq – Season 1 (2012)
Queen of the South – Season 1 (2016)
Free Rein – Season 1 (2017) –

Netflix Original

GLOW – Season 1 (2017)