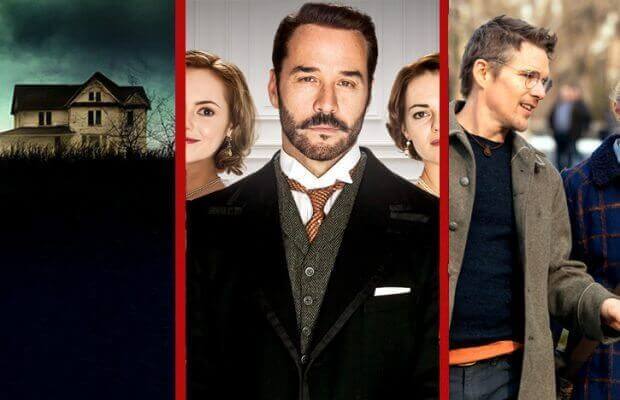 The last week of New Releases for Netflix Canada in November brings a total of 34 new titles. 21 Movies, 4 New TV Series and a reasonably high, 9 New Documentaries. As usual, we have chosen 3 special we think might stand out above the others.
Our first pick is the Comedy, Drama, Romance 'Maggie's Plan' and has the feel of a modern indie film with charm. The film follows 'Maggie' an Independent woman who has her heart set on raising a child by herself. Due to a mix-up at her work she meets John a married part-time professor and her life plan goes down the drain as she falls for him, and so does he, apparently. This film (if you like this genre) is a little something you can stream on an evening and relax.
'Mr Selfridge' is a period drama set in the 1910s, centred around Harry Gordon Selfridge and the founding of 'Selfridge & Co' in London. It has been praised highly as well acted, well written and overall a joyful feel. Along with the amazing musical score this show, it really immerses you into the world that's portraits. It's the sort of show that you can get involved and invested in overtime. Sit back and enjoy this costume drama that the British just seem to keep pulling off.
Our final pick is the relatively new film '10 Cloverfield Lane' a Horror, Drama that is the spiritual successor to Cloverfield. But make no mistake it does not bare much resemblance to it's predecessor. It's a compelling story that keeps you glued to the screen due to the excellent performances by all the cast, especially John Goodman. If you are into suspenseful Horror/Thrillers then their isn't many better than this, and deserves streaming in December if you haven't seen it already, or just want to revisit it.
Read on for the full list of all 34 new releases:
21 New Movies Streaming to Netflix Canada
A Royal Affair (2012)
Love is all you need (2012)
Mumbai's King (2012)
Mean Streets (1973)
Divines (2016)
Date with Love (2016)
Colin Quinn: The new York Story (2016)
Angel of Christmas (2015)
Bad Boys II (2003)
Criminal (2016)
Sacrifice (2016)
By the Gun (2014)
Earth to Echo (2014)
Kevin Hart: I'm a Grown Little Man (2009)
Mercy (2016)
Luto (2013)
Night of the Living Deb (2015)
Sing Street (2016)
Maggie's Plan (2015)
The Intervention (2016)
10 Cloverfield Lane (2016)
9 New Documentaries Streaming to Netflix Canada
Cristina (2016)
Sour Grapes (2016)
Putin's Hidden Treasure (2014)
Goldman Sachs – The Bank that Rules the World (2012)
Global Waste: The Scandal of Food Waste (2011)
Pele: Birth of a Legend (2016)
Dictator: One Crazy Job (2012)
Finding Vivan Maier (2013)
Dark Horse (2015)
4 New Tv Series Streaming to Netflix Canada
Paranoid – Season 1 (2016)
Lovesick – Season 2 (2016)
Beat Bugs – Season 2 (2016)
Mr Selfidge – Season 1-4 (2016)