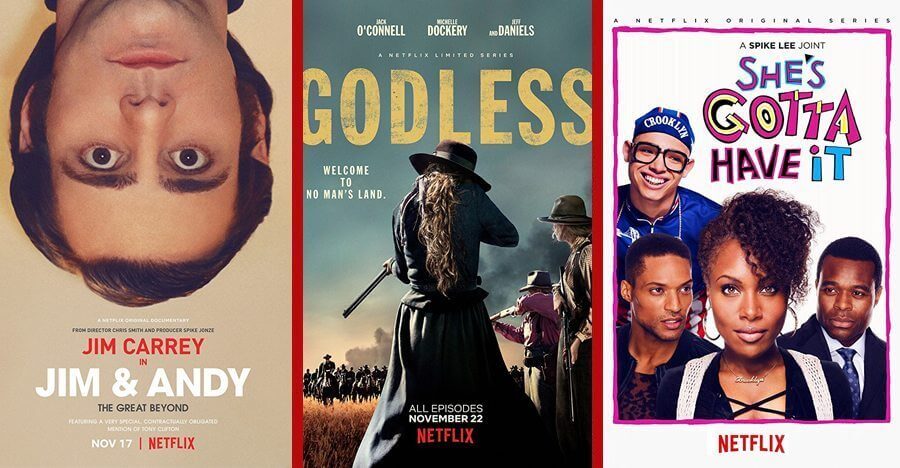 We're only one week away from December now, but before we get too excited, let us cover all the titles that were added to Candian Netflix over the last week. A total of 27 titles have been introduced, consisting of 15 movies, 2 documentaries, 9 new TV series and an additional 1 original standup show. We know better than anyone that sometimes it's hard to choose what to start watching, so that's why we have highlighted three titles individually that you might enjoy. Of course, if you spot something in the list below that we didn't mention but should have, we would love you to let us know in the comments below.
Our first pick for this week is a brand-new Netflix Original 'Godless'. The show is a western following the infamous outlaw Frank Griffin who is hunting his old partner Roy Goode for betraying him. Frank's hunt eventually leads him to a mysterious town made up entirely of women. Despite the show having released only a couple of days ago, it has already been received very well and even referred to as one of the best westerns in recent years. If you are a fan of the genre you should defiantly check this one out.
Our next pick is a little bit of an odd one, in more than one way. 'Jim & Andy: The Great Beyond – Featuring a Very Special, Contractually Obligated Mention of Tony Clifton' is a Netflix Original Documentary which follows the production of Man on the Moon starring Jim Carrey as his comedic hero Andy Kaufman. The film goes into depth of how faithfully Jim adopted the persona and how he somewhat game his identity over to become Andy. Fans of either the original movie or Andy Kaufman himself should be pleased to see this documentary on Netflix.
Based on the 1986 film by Spike Lee comes a new Netflix Original 'She's Gotta Have It'. The film has a pretty simple concept and follows Nola Darling and her three different lovers. She refuses to be "owned" by one single man, so she has all three. The first season has just released and stars DeWanda Wise.
See the full list of 27 titles added to Netflix Canda this week:
15 New Movies Streaming to Netflix Canada
The Case for Christ (2017)
Krish Trish and Baltiboy: Face Your Fears (2017)
A Christmas Prince (2017)
The Prison (2017)
Métamorphoses (2014)
Beat Bugs: All Together Now (2017)
Wakefield (2016)
The Dilemma (2011)
Teen Thay Bhai (2011)
Field of Dreams (1989)
Dharm (2007)
Deep (2017)
Cherry Pop (2017)
Bushwick (2017)
Barbra: The Music … The Mem'ries … The Magic! (2017)

Netflix Original
2 New Documentary Streaming to Netflix Canada
Jim & Andy: The Great Beyond – Featuring a Very Special, Contractually Obligated Mention of Tony Clifton (2017)

Netflix Original

Saving Capitalism (2017)

Netflix Original
9 New TV Series Streaming to Netflix Canada
Stretch Armstrong & the Flex Fighters – Season 1 (2017) 

Netflix Original

Spirit Riding Free – Season 3 (2017)

Netflix Original

Shot in the Dark – Season 1 (2017)

Netflix Original

Luna Petunia – Season 3 (2016)

Netflix Original

Zoo – Season 3 (2015)
She's Gotta Have It – Season 1 (2017)

Netflix Original

Religion of Sports – Season 1 (2016)
Godless – Season 1 (2017)

Netflix Original

Bright: The Music Videos – Season 1 (2017)
1 New Standup Show Streaming to Netflix Canada
Brian Regan: Nunchucks and Flamethrowers (2017)

Netflix Original