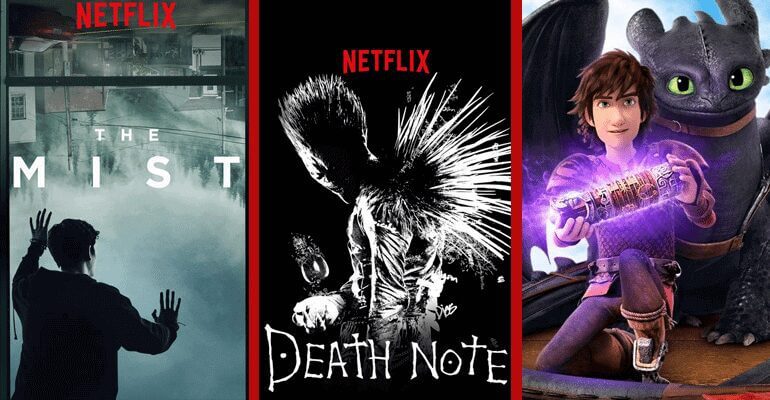 Only one week of August remains, and soon the 1st of September will welcome a mass of titles that normally come with the start of each month. This last week has welcomed 80 new titles, including 36 new titles, 13 documentaries, and a further 31 new TV series. We will be highlighting three individual titles, but if you look through the list and spot something that you think deserved to be picked out, please tell us in the comments below.
Our first pick for this week is the new Netflix Original 'Death Note', a live-action adaptation of the very popular anime show. The film follows Light Turner, a promising high-school student, but not a particularly popular one. After stumbling on an unknown and mystical notebook, Light soon discovers he has been granted with the ability to kill anyone he wishes, just be writing the attended victim's name in the pages of the book. Many fans of the anime have been hesitative regarding the new adaptation, but this Horror/Thriller is worth a watch.
The fifth season of the very popular animated Dreamworks show 'Dragons: Race to the Edge'. The series is a follow up from the 'How to Train Your Dragon films' and continues following the adventures of Hiccup and his trusted Dragon Toothless. The show originally aired on Cartoon Network but was taken over by Netflix after the second season because of a deal made between Dreamworks and Netflix. What made the films and the subsequent TV series so successful is that even though it is initially aimed at kids, many age ranged have enjoyed this franchise. Fans will be pleased to see season 5 on their screens.
'How to Get Away with Murder' is a Crime, Drama based around a group of law students being taught by their seemingly brilliant criminal defense professor Annalise Keating, played by Viola Davis. Soon the whole university gets wrapped up in an in-depth murder plot which puts everyone at risk. The show has been met with amazing critical acclaim and is loved by many. Season 3 has just been added for you to get stuck into.
This week's honourable mentions include: The Mist – Season 1, School of Rock and Disjointed – Season 1.
Read on for the full list of all 80 new releases.
36 New Movies Streaming to Netflix Canada
Pray For Rain (2017)
Los Herederos (2015)
Chocolate City: Vegas Strip (2017)
Urban Hymn (2015)
The Outcasts (2017)
Pan (2015)
2 Alone in Paris (2008)
We're No Animals (2015)
The Sweet Life (2016)
Six Feet High (2014)
Brad Paisley's Comedy Rodeo (2017)
An Off-Day Game (2015)
RV (2006)
Lee Daniels' The Butler (2013)
Donald Cried (2016)
XX (2017)
The 'Burbs (1989)
Robin Hood (2010)
Minority Report (2002)
The Bye Bye Man (2017)
Railroad Tigers (2016)
Hide and Seek (2016)
Rembat (2015)
KL Zombi (2013)
The Intern (2015)
Lynne Koplitz: Hormonal Beast (2017)

Netflix Original

AWOL (2016)
Ace Ventura: Pet Detective (1994)
The Adjustment Bureau (2011)
Sixteen Candles (1984)
School of Rock (2003)
Fences (2016)
Pekak (2016)
Love & Mercy (2014)
Death Note (2017)

Netflix Original

Berlin Syndrome (2017)
13 New Documentary Streaming to Netflix Canada
Mission Control: The Unsung Heroes of Apollo (2017)
Banking on Bitcoin (2017)
Barbecue (2017)
A New Economy (2016)
My Scientology Movie (2015)
All These Sleepless Nights (2016)
The Polarman (2016)
Unacknowledged (2017)
Bad Rap (2016)
Feel Rich (2017)
Pygmies: The Children of the Jungle (2011)
Beyond the Mat (1999)
Behind "The Cove": The Quiet Japanese Speak Out (2015)
31 New TV Series Streaming to Netflix Canada
Persona – Season 1 (2015)
Exclusive Edition – Season 1 (2008)
Age of Glory – Season 2 (2010)
Murderous Affairs – Season 1 (2016)
Million Yen Women – Season 1 (2017)
Little Witch Academia – Season 2 (2017)

Netflix Original

Inside the World's Toughest Prisons – Season 1 (2016)
Changing Seas – Season 1 (2014)
Bones – Season 12 (2014)
20 Minutes – Season 1 (2013)
Women on the Breadfruit Tree – Season 1 (2015)
The Iron Lady – Season 1 (2009)
Hogie the Globehopper – Season 1 (2016)
Glowing Embers – Season 1 (2010)
White Gold – Season 1 (2017)

Netflix Original

Sports Adventure – Season 1 (2012)
Norsemen – Season 1 (2016)
Marvel's The Defenders – Season 1 (2017)
Glitter Force Doki Doki – Season 1 (2017)

Netflix Original

Dinotrux – Season 5 (2016)
Peaky Blinders – Season 3 (2014)
The Blacklist – Season 4 (2016)
How to Get Away with Murder – Season 3 (2014)
Hati Perempuan – Season 1 (2015)
Click for Murder – Season 1 (2017)
Top 10 Architecture – Season 1 (2016)
The Mist- Season 1 (2017) Netflix Original
Saving Sirga: Journey into the Heart of a Lion – Season 1 (2016)
Dragons: Race to the Edge – Season 5 (2016)

Netflix Original

Disjointed – Season 1 (2017)

Netflix Original

Commandos – Season 1 (2015)