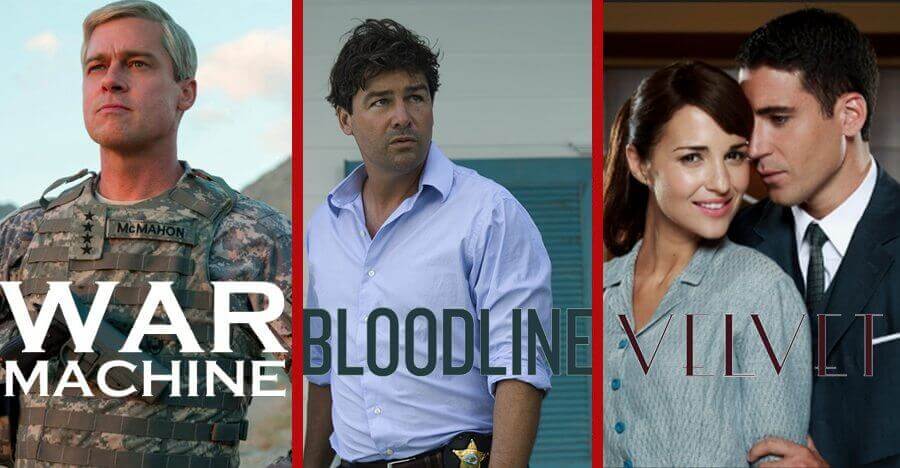 May is drawing to a close and this week has brought a total of 57 new titles to the screens of its Canadian viewers. On the first of June, we will be expecting a mass of new titles being added that will dwarf this weeks' turn out. But for now, 21 New movies, 6 Documentaries and an additional 30 new TV series have been added. As usual, we have picked out three titles in the hope it will give you a good idea on where to start.
Our first pick for this week is the fourth season of 'Velvet' a popular Spanish TV show starring Miguel Ángel Silvestre (Sense8) who is left in charge of a high end, prestigious fashion store in Spain when his father passes away. The show is a period drama set in the 50's/60's and does a great job immersing the viewer by using all the authentic and amazing clothing and cars from that time period. Velvet is praised for its great characters and acting and even if you don't speak Spanish, the show is still thoroughly enjoyable and defiantly worth a watch.
Next is the new Netflix Original 'War Machine' starring Bad Pitt as U.S. General Glen McMahon, a very confident born leader who believes he can easily win the war in Afghanistan by jumping in head first. The film is a Comedy, War, Drama that is half reality and half a parody loosely based on the real General Stanley McChrystal who was fired by the United States Army. The film has just released and so far has been received well by critics. Hopefully, we will see Brad Pitt in some more Netflix originals to come.
One on Netflix's biggest original series has been 'Bloodline', a thriller that follows a seemingly normal family living in the Florida Keys. But anyone who has watched the first 2 seasons knows too well that this is not a "Normal Family" and that they hide some dark secrets. The third season has just been released and has unfortunately been confirmed as the final season of the show, giving you all the more reason to give it a watch if you haven't done so yet.
Read on for the full list of all 57 new releases:
21 New Movies Streaming to Netflix Canada
Tank 432 (2016)
Role Models (2008)
Magic Mike XXL (2015)
Gabriel Iglesias: I'm Not Fat… I'm Fluffy (2009)
Gabriel Iglesias: Aloha Fluffy (2013)
BLAME! (2017)
Silver Linings Playbook (2012)
Moonlight (2016)
Beauty and the Beast (2014)
San Andreas (2015)
Colombia: Wild Magic (2015)
Piya Behrupiya (2017)
Hasan Minhaj: Homecoming King (2017)
Dig Two Graves (2014)
Ares (2016)
What Women Want (2000)
Trespass (1992)
The Vow (2012)
The Girl with All the Gift (2016)
Contraband (2012)
War Machine (2017)
6 New Documentary Streaming to Netflix Canada
Laerte-se (2017)
Killer Legends (2014)
HIGHLAND: Thailand's Marijuana Awakening – Season 1 (2017)
Cropsey (2009)
Batkid Begins: The Wish Heard Around the World (2015)
What's with Wheat (2016)
30 New TV Series Streaming to Netflix Canada
Wicked Attraction – Season 1 (2011)
Untold Stories of the ER – Season 1 (2012)
Unbreakable Kimmy Schmidt – Season 3 (2016)
The Keepers – Season 1 (2017)
The Avengers: Earth's Mightiest Heroes – Season 1 (2012)
Sherlock – Season 4 (2016)
Portal to the Unknown – Season 1 (2013)
Occult Crimes – Season 1 (2015)
My First Home – Season 2 (2013)
Monsters and Mysteries – Season 2 (2015)
Killer Kids – Season 1 (2011)
Inside West Coast Customs – Season 1 (2017)
FBI: Criminal Pursuit – Season 1 (2011)
Deep Fried Masters – Season 1 (2014)
"Chug – Season 1 (2014)"
Behzat Ç – Season 1 (2010)
BBQ Pitmasters Collection – Season 1 (2012)
Bar Hunters – Season 1 (2013)
Mother Goose Club – Season 2 (2011)
Hidden Singer – Season 1 (2015)
Velvet – Season 4 (2016)
This Is My Love – Season 1 (2015)
The Same Sky – Season 1 (2017)
Secret Affair (2014)
Last – Season 1 (2015)
Can We Get Married? – Season 1 (2012)
Beating Again – Season 1 (2015)
12 Years Promise – Season 1 (2014)
Brooklyn Nine-Nine – Season 4 (2015)
Bloodline – Season 3 (2017)