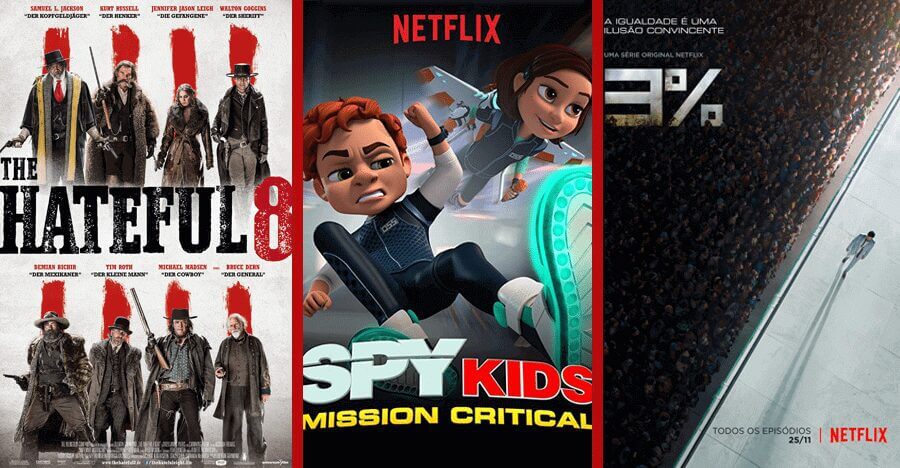 As April draws to a close we're eagerly awaiting the mass of titles that will come along with the 1st of May, but until then we're gonna take some time to look at all the titles that have arrived on Canadian screens in this past week. We've picked out three titles that have caught our eye and briefly highlighted them below. As always, feel free to take a look through the list yourself, and if you spot something especially promising don't hesitate to let us know in the comments below.
Many Tarantino fans will be glad to see that the 2015 film 'The Hateful Eight' is now available to stream on Netflix. The Western is Quentin Tarantino's eighth film starring Samuel L. Jackson, Kurt Russell, Jennifer Jason Leigh and many more great actors. Set in the bitter cold of the Wyoming winter the film follows a couple of bounty hunters who take refuge in a local Haberdashery. After they are greeted by 5 suspicious gentlemen tensions slowly rise within the cabin. If you are a fan of any of Tarantino's works you should feel more than at home in this Western Crime Drama.
Our next pick for this week is the second season of the popular Netflix Original '3%'. The show is set in a dystopian future where the world is drastically divided, between Offshore and Inland. Anyone who wants to get to the better side of this divide must go through a system called The Process. The thing is that only 3% of people who attempt it can make it past alive. The show is spoken in Portuguese, but don't let this put you off if you don't speak the language; Netflix hosts great options for watching foreign titles.
The last highlight is one a bit more suited for the Kids/Parents out there who might be looking for a new show to watch. 'Spy Kids: Mission Critical' is a new Netflix Original following a brother and sister who are enrolled in Spy Kids Academy. But after the forces of S.W.A.M.P. (Sinister Wrongdoers Against Mankind's Preservation) threaten the world it's up to the kids to fight when the adult spies can't manage.
See the full list of 21 new titles available on Netflix Canada this week:
8 New Movies Streaming on Netflix Canada
Candy Jar (2018)

Netflix Original

Fishtronaut: The Movie (2018)
Holy Goalie (2018)
Kickboxer: Retaliation (2018)
Main Hoon Na (2004)
Psychokinesis (2018)

Netflix Original

The Hateful Eight (2015)
The Week Of (2018)

Netflix Original
2 New Documentaries Streaming to Netflix Canada
Bill Nye: Science Guy (2017)
The Magic Pill (2017)
9 New TV Series Streaming on Netflix Canada
3% – Season 2 (2018)

Netflix Original

Call the Midwife – Season 6 (2017)
Dope – Season 2 (2018)

Netflix Original

Jane the Virgin – Season 4 (2017)
Moving On – Season 1 (2009)
REA(L)OVE – Season 1 (2018)
Spy Kids: Mission Critical – Season 1 (2018)

Netflix Original

The Letdown – Season 1 (2017)

Netflix Original

The New Legends of Monkey – Season 1 (2018)
2 New Stand Up Shows Streaming on Netflix Canada
Kevin James: Never Don't Give Up (2018)

Netflix Original

Enissa Amani: Ehrenwort (2018)

Netflix Original